We visited Hai Onn located in Burmah Road, Penang. This coffee shop cum restaurant has been around for many years and is one of the few old style traditional Hainanese restaurant around Georgetown. Just beside Macalister Lane junction, this place has a hawker stall selling  koay teow soup in the morning (same as the outlet in Pitt Street Coffeeshop) which is a favourite Penang food among the locals. From noon onwards, this place operates as a restaurant.
They have a few signature dishes including the Hainanese Pork Chop and Chicken Chop.  Their version is done differently from those sold nowadays. It is really delicious! I like the flavors of the gravy which has some starchy potato in it. I opt for some toast bread to dip with the gravy. I strongly recommend that everyone try it.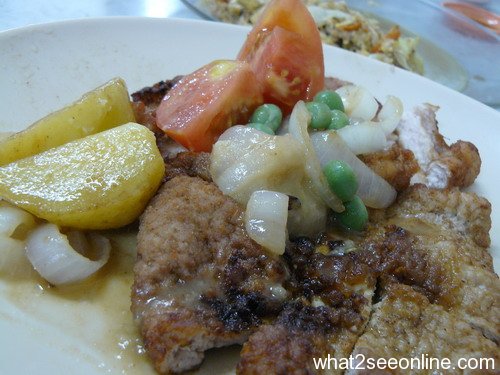 This is the Hainanese Hokkien Char. Noticed the simplicity of this dish which does not have the usual thick black soy sauce that most hawkers will use nowadays in cooking this dish.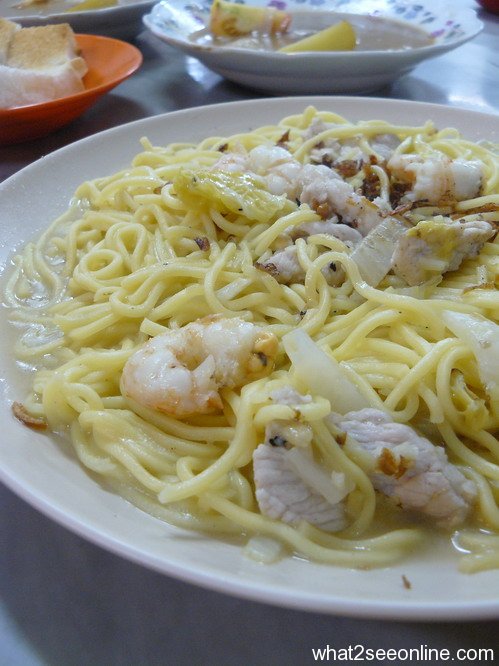 This is the sauce for the Inchi Kabin (fried chicken Haninese style), Roti Babi and Choon Piah (spring roll).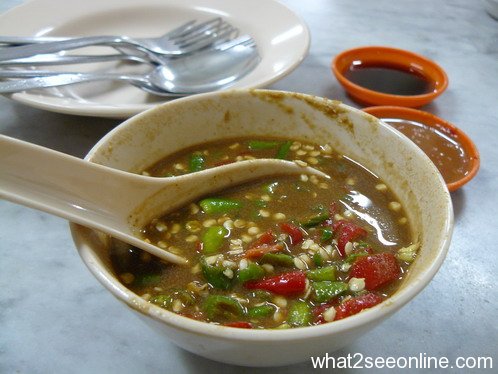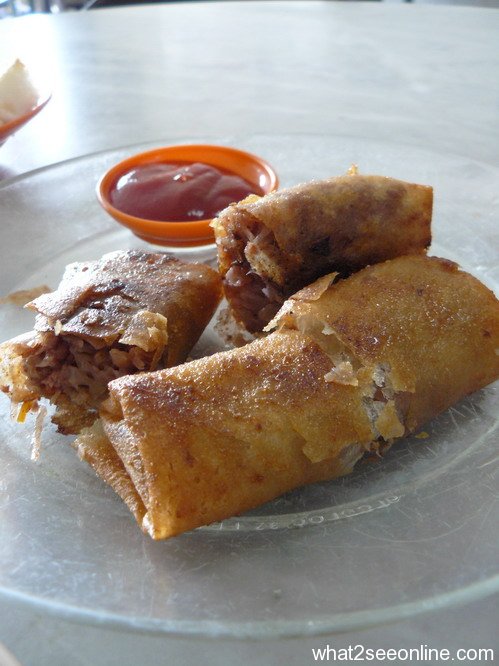 We found the following dishes goes very well indeed with rice. Perfect accompliment for our meaty dishes… fried cabbage with egg.
Pork in thick black soy sauce.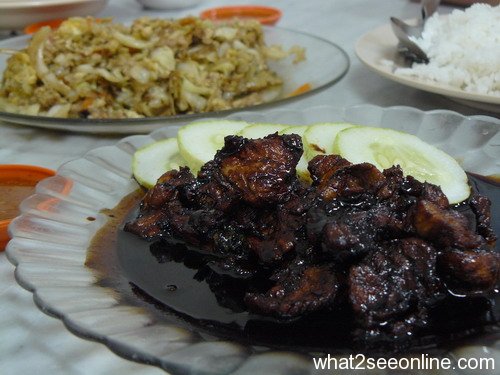 Fried egg with bitter gourd.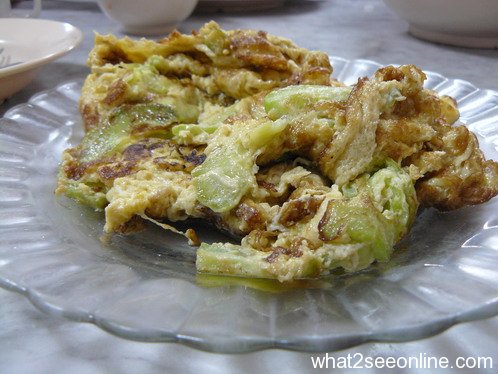 This is the gulai tumis black promfret with lots of lady fingers. This is good….. the sauce is rich in chopped onions, lemon grass and lotus flower.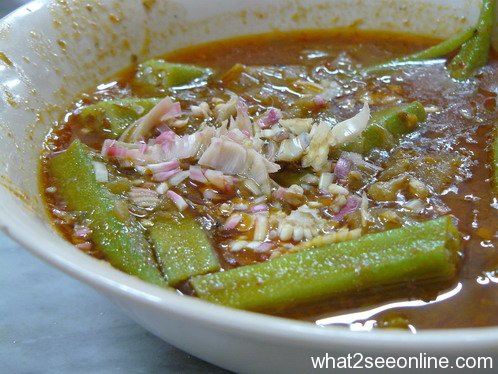 Tanghoon (glass noodles) mushroom soup which is a bit oily.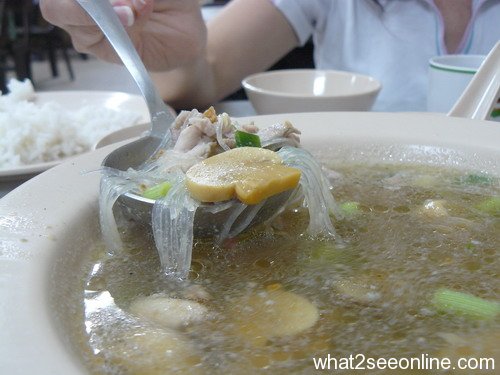 If you have a craving for this type of food, do drop by this restaurant. It's worth trying out the reasonably priced food. Do bear in mind that service can be a bit slow especially when it is crowded as the chef takes his time cooking up the dishes. Business hours are from 8am – 9pm (for the coffee shop) and 11am – 9pm (for the restaurant). It is close on Monday.
Hai Onn Restaurant
53- 55 Burma Road
10050 Penang

Tel : 04 2274751
Click here for Map Location.
GPS Coordinate : N 05 25.049 E 100 19.737
Tags: Array, Babi, Bitter Gourd, Black Promfret, Burma Road, Burmah Road, Chinese Restaurant, Chopped Onions, Coffeeshop, Dish, Dishes, Flavors, Fried Cabbage, Fried Egg, Gallery 3, Georgetown, Gravy, Gulai, Hainanese Food, Hainanese Pork Chop, Hainanese Restaurant, Hawker Stall, Hawkers, Heng Seng, Hopeful, Inchi, Lady Fingers, Lemon Grass, Locals, Lotus Flower, Mushroom Soup, Nostalgia, Old Style, Onn, Penang, Penang Food, Penang Restaurant, People, Piah, Pitt Street, Pork Chop, Signature Dishes, Simplicity, Soy Sauce, Spring Roll, Thng, Toast Bread, Type Of Food