Updated on June 2010 : The restaurant has stopped operation.
Penang has been renowned for its ever-famous hawker & street food for a long time. However, in recent years, there have been a growing number of international restaurants popping out, especially in the regions of Tanjung Bungah and Tanjung Tokong. I was lucky enough to have tried the Swiss, Bulgarian, German, Japanese and Korean food around these area and in Georgetown.
Yesterday, while on our usual family food trips, we stumbled upon Shenanigans, the new Irish Pub & Restaurant along Jalan Tanjung Tokong with its traditional green and splendor. We pop in for a visit but to our surprise, they were holding an opening function. The Manager told us that the ala carte menu is only available on a much later date and he invited us to join in the function with free flow of beer and finger food.
To create the pub with an Irish theme, they have even placed a unique decorative piece called The Blarney Stone. Checking in Wikipedia, shows that …" The Blarney Stone is a block of bluestone built into the battlements of Blarney Castle, Blarney about 8 km from Cork, Ireland. According to legend, kissing the stone endows the kisser with the gift of gab (great eloquence or skill at flattery). The stone was set into a tower of the castle in 1446. The castle is a popular tourist site in Ireland, attracting visitors from all over the world to kiss the Stone and tour the castle and its gardens. The word blarney has come to mean clever, flattering, or coaxing talk."
The place was almost packed but the Manager still managed to find a table for us. As we sat down, we were immediately served with good old chilled Tiger Draft. Fantastic beverage to start off the night. The bar also has a range of Irish beer on tap, such as Kilkenny and Guinness.
All three of us had a beer each. I could not resist either; even though I'm not a big fan of beers, the chilled Tiger really tickled my taste buds.
These are some of the finger food from the buffet spread for the evening…Chicken Satay, Spring Rolls, Potato Wedges, Cocktail Sausages, Fish Fingers, Fried Rice and Fried Noodles. The food is nothing Irish, but still it was a fantastic complement with the beer.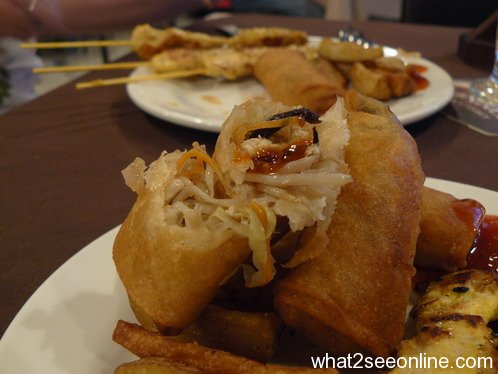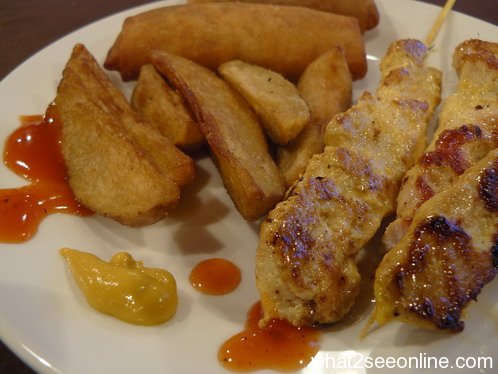 As the evening looms, the bar got more crowded, with all the seats taken up. Its really a great place to kick back and relax, the ambience is not too dodgy as other bars that I have seen.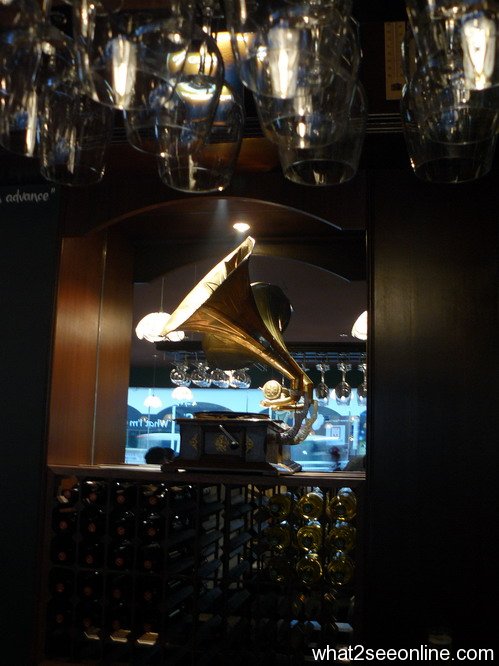 Stumbled upon this on the way out, "I'll have one more and then I'll stay?" I resisted the temptation, and the next sign outside the door made me burst out laughing.
"A little bit of Ireland on the Island?" HAHA! Definitely!
Very cozy place indeed, and the lighting is not too dim either, just right. We will be back here again to try out their ala carte menu, hopefully will see some Irish dishes

This place used to be the Proton Edar Showroom. Click here for the Map Location.

Shenanigans
Irish Pub & Restaurant
129/130 Jalan Tanjung Tokong
Penang
For reservations, kindly contact the General Manager, Mr Sting at 012 265 3250.
Updates : 20/3/2010 – This place has closed down.
Tags: Ala Carte Menu, Amp, Array, Battlements, Blarney Castle, Blarney Stone, Bluestone, Cork Ireland, Cozy Place, Eloquence, Family Food, Finger Food, Flattery, Free Flow, Gift Of Gab, Hawker, International Cuisines, International Restaurants, Irish Beer, Irish Pub, Irish Theme, Kisser, Korean Food, Korean Restaurants, Map Location, Penang, Potato Wedges, Pub Restaurant, Shenanigans, Spring Rolls, Sting, Street Food, Tanjung Tokong, Tanjung Tokong Penang, Taste Buds, Wikipedia
This entry was posted on Tuesday, December 2nd, 2008 at 3:50 pm and is filed under
Drinks
,
International
,
Irish
,
Penang Restaurant
,
Pub
,
Tanjung Tokong
,
Tidbits and Snacks
,
Western Cuisine
. You can follow any responses to this entry through the
RSS 2.0
feed. You can
leave a response
, or
trackback
from your own site.