Penang Hawker Food – Window Sherbet (Ais Tingkap)
In Penang we normally would go for the ice kacang and cendol for desert. Recently, I even posted an article of coconut jelly in my blog and it did create awareness among my readers.
I just got to know from Ken of Foodpoi of a fantastic dessert drink that is no so well known to the public. The chilled sherbet drink is know as 'Ais Tingkap' or 'Window Sherbet' (sold over the window).
The sweet red colour flavored (rose essence) drink is served in a chilled glass with fine shaved ice and pieces of coconut flesh.
Preparation of Ais Tingkap
First, the chilled glass is filled with fine shaved ice and white sugar syrup. The shaved ice causes the drink to have a frosted effect on the glass.
Then a spoonful of getah anggur (olibanum gum resin from tree bark), rose essence and biji selasih (basil seeds) is added on. The basil seed when soak will expand into tadpole like eggs which has a translucent gel covering a crunchy seed.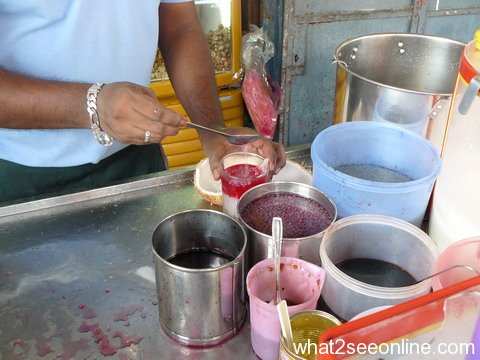 It is then topped up with pieces of coconut flesh and coconut water. The final ingredients of fragrant herbs and root mixture are added in using a spray.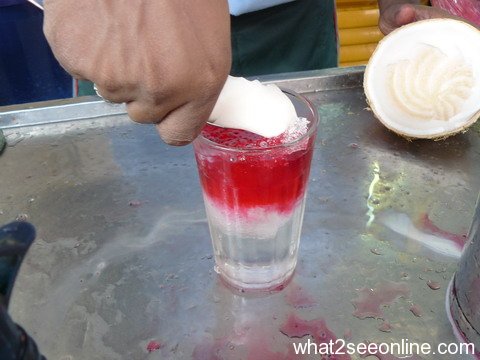 The mixture is then vigorously 'stirred but not shaken'. The result is a cool refreshing glass of Ais Tingkap serve over the 'window'.
This drink is created in the late 1920's with twenty-five different herbs and ingredients. However, over the years, the drink has undergone some changes, and prepared with only a few ingredients.
This glass of Ais Tingkap which cost RM1.50 is a nice complement with all the snacks that are sold around the area. Click here for the Map Location. This hawker stall located on Tamil Street/Penang Road (beside Chowrasta Market) is closed on Sunday.
***It came to my attention that those of you who uses Internet Explorer browser had difficulty assessing my website for the past few days. The problem has been rectified but the original post and all the comments on this Ais Tingkap were lost during the restoration. I apologise for all the inconvenience caused and also thank you to all of you for your support and also to those who informed me about the glitch.***