Canon Singapore recently organized a Photography & Food Hunting Trip to Penang early this month. The group headed by Canon's  Jino Lee, comprises of seasoned photographers and bloggers including Singapore leading food blogger, Dr Leslie Tay of ieatishootipost.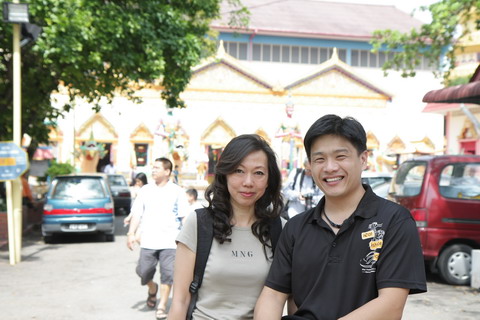 Their first stop was the Temple of the Reclining Buddha and the spectacular Dharmikarama Burmese Temple in Lorong Burma, Pulau Tikus. The enthusiastic photographers immediately took out their "heavy equipments" and started snapping away.
***
Proceed to the Penang Chinese New Year Culture and Heritage Celebration at the enclave of Armenian Street and Khoo Kongsi. Among the performances were the culture exhibition, lion dance and Chinese traditional drum.
***
From Armenian Street, the group went to explore the Kek Lok Si Temple in Ayer Itam. The whole temple was beautifully lighted up with lanterns for the Chinese New Year and is a ideal place for photography.
***
Another famous landmark we went to was the Penang Hill which is around 800m above sea level. We went up by the funicular railway.
The photographers were busy exchanging views while others were snapping away with their cameras trying to capture the picturesque view of the island and the beautiful flora and fauna of the hill. The view of George Town was a bit hazy on that day but the weather was relatively cool, making it a very enjoyable trip.
Wow…heavily armed!
***
The night event was at the Penang Jetty to watch the "pie tee kong" celebration. Its always an art wonder, watching those amazing curvatures on the giant joss sticks.
Besides sight seeing, the group also went around town trying out the hawker food which I will be blogging in my next few post.
Tags: Armenian Street, Array, Bbq Chicken Wings, Bloggers, Blur, Brown Sugar, Buddha, Burmese, Canon, Canon Singapore, Chinese New Year, Ckt, Coconut Milk, Crips Pictures, Crushed Ice, Curvatures, Delicious Fish, Enclave, Fish Ball, Fishball, Flora And Fauna, Food Trail, Fried Oysters, Funicular Railway, Google, Hawker Food, Heavy Equipments, Heavy Guns, Heritage Celebration, Hwa, Itam, Jetty, Jino, Joss Sticks, Kek, Kek Lok Si, Kek Lok Si Temple, Khoo Kongsi, Kidney Beans, Kueh, Kwee, Laksa, Leslie Tay, Lion Dance, Lok, Lorong, Lorong Selamat, Lunch Time, Macro Lens, Majestic Temple, Makan Makan, New Year Dinner, Night Photography, Night Rest, Penang, Penang Hill, Penang Road, Photographers, Phtos, Picturesque View, Pitt Street, Police Station, Pulau Tikus, Reclining Buddha, Sametime, Singapore Famous Food, Singapore Food, Singaporeans, Tikus, Tumbs, Yummy Food