We found ourselves relaxing and indulging in the Afternoon Tea at the elegant Rasa Wing Lounge in Rasa Sayang Resort and Spa, situated in the tourist belt of Batu Feringhi. Our previous visit to this beautiful resort was for the buffer dinner at the Spice Market Cafe, but this time we opted for a relaxing afternoon in the lounge. The lounge was decorated with timber wood panelings and wide ceiling drop down glass with a view overlooking the beautiful landscaped garden.
Once you step into the majestic lounge, you will come across jars filled with tit-bits beautifully displayed on the table. You can have a nibble on the pistachios, peanuts, cashew nuts and the cookies.
The Rasa Wing Lounge has a nice and peaceful ambiance with comfortable sofas and chairs. You can browse through the selection of reading materials such as magazines, novels and newspaper while sitting here sipping your afternoon tea.
Interior of the Rasa Wing Lounge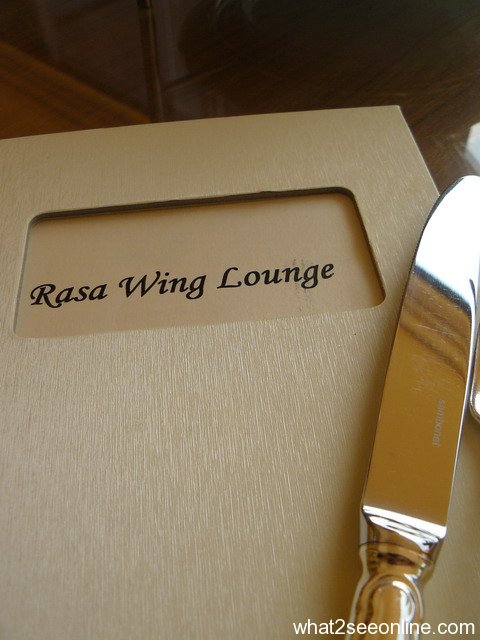 The Afternoon Tea comes with hot and cold beverages, sweets and savories. The food was beautifully presented in a lovely three tiered tray. The first of it consists of many varieties of assorted cakes, the second tray were the scones with accompaniment of fresh whipped cream and cut fresh strawberries, and the lowest tray was the savory.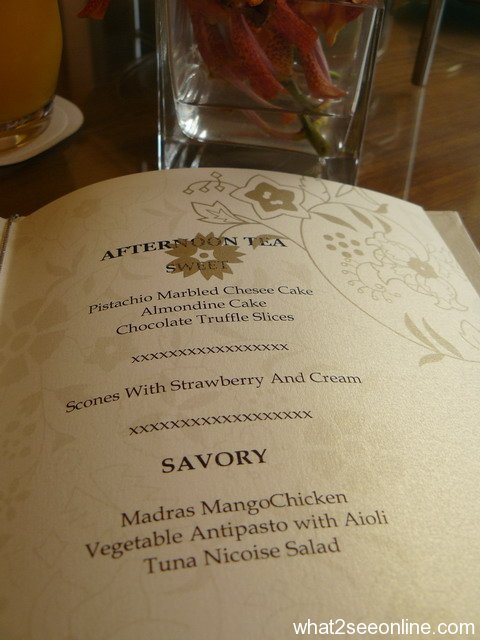 As for the beverages, it comes with a wide selection of tea, coffee, freshly squeezed fruit juices and soft drinks. For the tea, I chose to have the Classic English Tea out of the many varieties. The tea was freshly brewed from tea leaves and served in the elegant Rosenthal Monbijou tea set. Not many places provide tea leaves and this is my personal winning point of this high tea. A sieve was provided to separate the tea leaves, and the tea was indeed strong and full of taste.
Scones with fresh strawberries and whipped cream were simply delicious. For those who prefer to fill their scones with jam, there many individual bottles of flavored jam to choose from.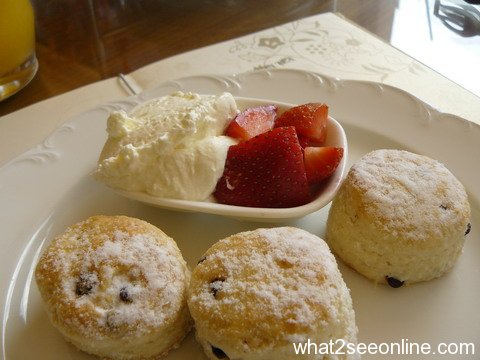 Scones with fresh strawberry slices and cream
Flavours of apricot, blackberry, strawberry and marmalade jam
The savory simply spoke for itself. It was just plain delightful tucking into these mini tea time savories, including the Madras Mango Chicken, Vegetable Antipasto with Aioli and the Tuna Nicoise Salad. All ingredients used were very fresh, and in my opinion, the Madras Mango Chicken really stood out.
For the plate of snacks sweeter than words can say, we were served the Pistachio Marbled Cheese Cake, Almond Cake and the Chocolate Truffle. My particular favourite was the Cheese Cake, very delicious cheese cake while not too overpowering.
While my son had the fresh orange juice, hubby opted for the freshly brewed cup of Cappuccino.
Hubby's cup of Cappuccino
The hospitality and service was excellent and definitely a great place to pop by for the tea treat. The Afternoon Tea goes for RM55++ per person and I personally think its worth given the quality and classy ambiance.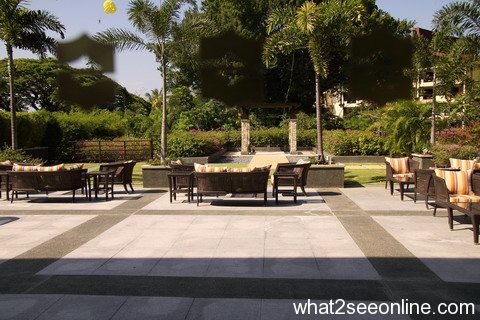 View from the lounge looking out to the garden
Rasa Sayang Resort & Spa
11100 Batu Ferringhi
Penang
Tel : 04 888 8888
Session starts from 3pm – 5pm daily
Tags: Afternoon Tea, Afternoon Tea Menu, Array, Assorted Cakes, Batu Feringgi, Batu Feringhi, Beautiful Hotel, Beautiful Resort, Buffer Dinner, Cake Chocolate, Cheese Cake, Chicken Vegetable, Chocolate Truffle, Coffee Fruit, Cold Beverages, English Breakfast Tea, English Tea, Fresh Strawberries, Fruit Juice, Fruit Juices, Glass Panel, Hi Tea, High Tea, Marmalade Jam, Peaceful Ambiance, Peaceful Ambience, Person View, Raisin Scones, Rasa, Rasa Sayang Resort, Resort And Spa, Resort Spa, Rosenthal Monbijou, Savoury, Scones, Sieve, Soft Drinks, Spa Resort, Spice Market, Strawberry Slices, Tea Coffee, Tea Leaves, Tea Pot, Tea Set, Timber Wood, Tourist Belt, Tourist Spots, Tuna Nicoise Salad, Whipped Cream
This entry was posted on Sunday, March 15th, 2009 at 12:53 pm and is filed under
Afternoon Tea
,
Dessert
,
Drinks
,
Hotels
,
Penang
,
Shangri-La's Rasa Sayang Resort & Spa
,
Tanjung Bungah
,
Tidbits and Snacks
. You can follow any responses to this entry through the
RSS 2.0
feed. You can
leave a response
, or
trackback
from your own site.