A visit to Tai Zi Heen Chinese Restaurant begins from its grand spiral staircase, right up to its location on level two in Prince Hotel, Kuala Lumpur. This award winning Chinese Restaurant is currently having selections of both traditional Hong Kong Dim Sum, Tai Zi Heen's signature Dim Sum and the popular Dim Sum Odyssey.
My visit to this restaurant was made possible when Ken and Big Boys Oven invited me to attend the dim sum food tasting last Saturday.

The elegant restaurant overlooking the origami-based designed chandelier
The Chinese Master Chef, Ricky Thein and Dim Sum Chef Loo Sai Wah has always been creative in their preparation of dim sum, incorporating plenty of fusion. Using different ingredients to prepare unique dim sum items, which is both impressive in quality and presentation. We were privileged to be able to taste some of the recent creations; the spread from the new Southeast Asian Dim Sum Menu and also from the Normal Menu.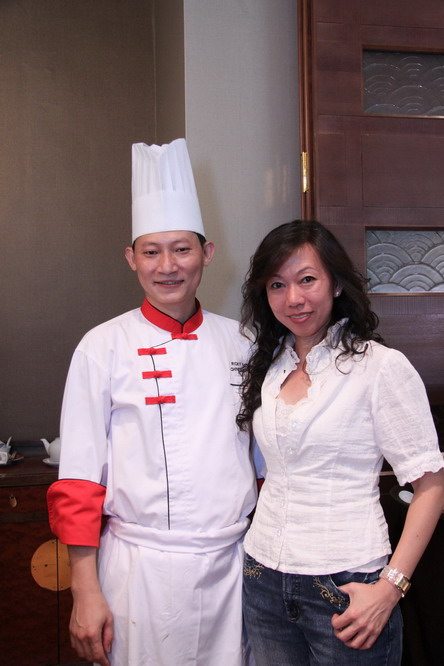 Master Chef Ricky Thein and myself
FROM SOUTHEAST ASIAN DIM SUM MENU

Steamed Singapore Chili Crab Buns
Baked Indonesian-Style Beef Rendang Puffs – very nice combination
Pan-fried Thai Prawn Cakes – bursting with aroma of herbs
Rice-Crusted Chicken Satays Served With Peanut Sauce
…indeed a new way of serving it
NORMAL MENU
Barbecued Chicken Buns – steaming hot and fluffy
Steamed Crystal Dumplings – thin and smooth delicate skin
Steamed Chicken Siew Mai – topped with fish roe
Steamed Bean Curd Skin Roulade topped with Abalone Sauce
Pickled Cabbage With Duck Spring Roll – indeed a great and tasty creation
Crispy Yam Puff  – crispy exterior with moist and warm filling
Pan-Fried Radish Cake
Pan-fried Crispy Bean Curd Skin – drenched mine in the tasty chili sauce
SPECIAL ADDITIONS
These two plates of dim sum were given a fusion touch to its usual fare.
DESSERT & SWEETS
The sumptuous dim sum lunch ended with the sweetened red bean cream with plentiful ingredients of lotus seeds and lily bulbs. What a great way to top off the lunch!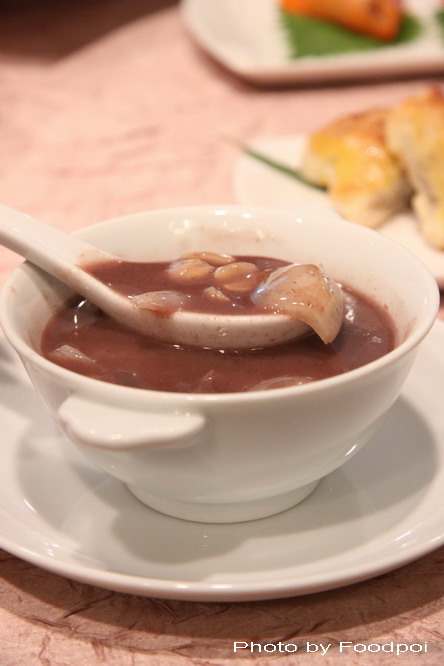 ************
Attendees of the group were BigBoysOven, Foodpoi, Food.drewnity and I.
The two BigBoys and myself!
To conclude it all, this pork free dim sum is indeed a great dining experience. I would like to express my thanks to Big Boys Oven and Ken Chan for inviting me, and also a big thank you to Miss Shirley Hoo and Miss Sharon Lim and the management of Prince Hotel & Residence for accommodating me.
The "All-You-Can-Eat-Dim-Sum" is available on Saturdays, Sundays & Public Holidays; from 11.30am till 2.30pm. It would cost RM45++ for adults while children below the age of 12 are charged half the price. Feel free to visit the website of Prince Hotel & Residence for more information.
Tai Zi Heen
Prince Hotel & Residence Kuala Lumpur
Opposite Pavilion Kuala Lumpur
No 4 Jalan Conlay
50450 Kuala Lumpur
Tel : 03 21708888 ext 8200
GPS Coordinates : N3 09.022   E101 42.854
Website : http://www.princehotelkl.com
Tags: Array, Barbecue Chicken, Bean Curd, Beef Rendang, Big Boys, Bigboys, Buns, Cakes, Chee, Chili Crab, Chili Paste, Chili Sauce, Chinese Master, Crusted Chicken, Delicate Skin, Dessert, Dim Sum, Dim Sum Lunch, Dim Sum Menu, Duck Spring, Dumplings, Elegant Restaurant, Fish Roe, Grand Spiral, Grand Staircase, Harp, Heen, Hot Barbecue, Hotel Kuala Lumpur, Indonesian Style, Invitation, Jalan Conlay, Kao, Latest Innovations, Lily Bulbs, Lotus Seeds, Many Thanks, Master Chef, Miss Shirley, Odyssey, Pan Fried, Pickled Cabbage, Prince Hotel, Prince Hotel Kuala Lumpur, Recent Creations, Sai Wah, Shrimp, South East Asian, Spicy Beef, Spiral Staircase, Spring Roll, Spring Rolls, Supreme Sauce, Thein, Tong, Zi
This entry was posted on Tuesday, April 14th, 2009 at 8:25 pm and is filed under
Chef
,
Chinese
,
Dim Sum
,
Events
,
Hotels
,
Invited Review
,
KL / PJ
,
Restaurant
. You can follow any responses to this entry through the
RSS 2.0
feed. You can
leave a response
, or
trackback
from your own site.