There are numerous Curry Mee stalls in Penang and each stall has its own kind of soup. Some have their coconut based stock reddish while some comes in a lighter pale color version, at times known as White Curry Mee. There are also different kinds of add-on such as curry chicken, fish balls and fish cakes.
These are some of the Curry Mee stalls that I used to patronized. First on the list would be the delicious bowl of Curry Mee from Tuai Pui Curry Mee at Weld Quay. Added with extra pieces of curry chicken, gizzard and chicken legs, this stall has been my favorite for some time now. I find the soup very authentic as well, as it is aromatic on its own.
Business Hour : Lunch till evening.
Update : The stall has since shifted to -
No. 23 Lebuh Kimerley
10100 Penang
Business Hour: 9am to 5.30pm
Closed on Wednesday
Mint leaves adding plenty of flavor to the bowl of Curry Mee
***
Next is the corner coffeeshop in Lorong Seratus Tahun, where one can spice up the soup with additional chili paste. It adds flavor to the soup besides making the curry look more reddish. This Curry Mee comes with many cubes of pig's blood, cockles (sie hum), taupok, cuttlefish and prawns.
Business Hour : Breakfast till late lunch
Click here for the Map Location.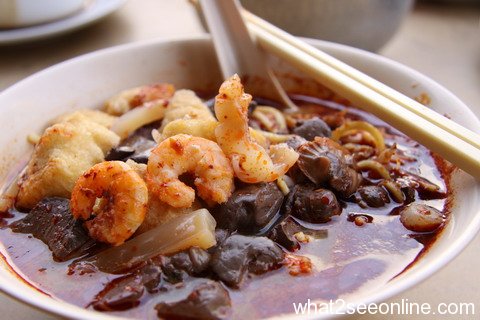 All ingredients to top the bowl of Curry Mee
***
Drop over to Air Itam market, beside the bridge to try the classic flavorful Curry Mee run by two sisters that sits on stools (bangku). As seating places are limited, customers will have to sit on stools in front of the stall and balance the piping hot bowl of Curry Mee with their hands! Prices vary from RM2.50 to RM3.50 depending on the size. More photos can be seen here.
Business Hour : Breakfast
Click here for the Map Location.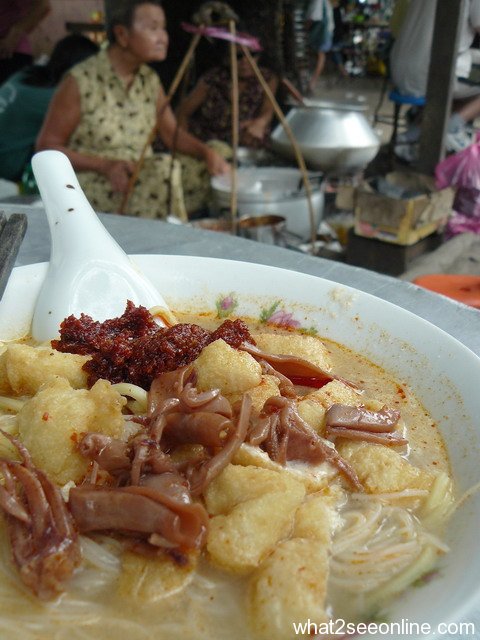 Classic style Penang Curry Mee, the soup is cooked with charcoal fire

One of the sisters from the stall serving one of the best curry mee on the island!
***
Looking for some flavorful soup without the need to add too much chili paste?  For this version, my choice would be the stall in front of Keat Seng coffeeshop in Air Itam/Reservoir Road. The thing I like from this Curry Mee stall is the long beans and the sotong curry which is rarely found in the island. Optional add on include curry chicken wing, gizzard and also variety choices of Yong Tau Foo.
Business Hour : Dinner onwards
Click here for the Map Location.

Basic bowl of Curry Mee @RM2.50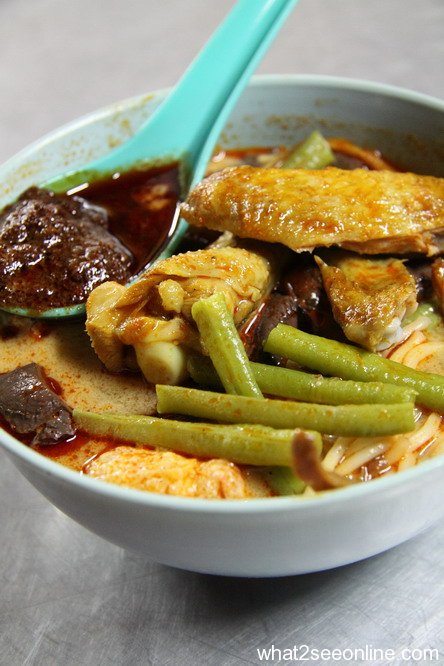 With add-on of chicken wing @RM3.70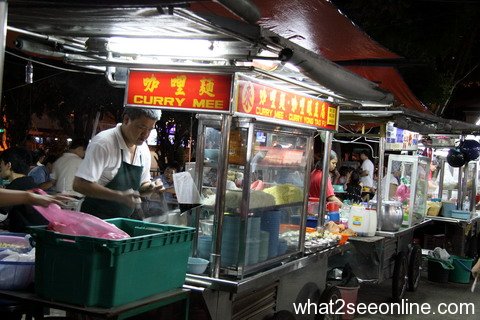 ***
Stadium Currry Mee in front of Tong Hooi coffeeshop on Dato Kramat Road, served White Curry Mee and you can just add in the chili paste yourself. Prices vary from RM2.50 to RM3.00.
Business Hour : Late morning till lunch
Click here for the Map Location.

What exactly does Stadium Curry Mee consist of anyway?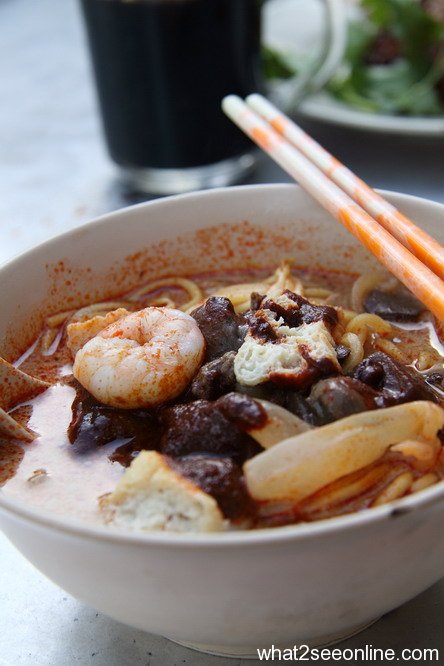 Fresh prawns plus the usual ingredients, and most important, chili paste!
***
The final stall would be the Curry Mee nearby Traders Hotel on Magazine Road side lane. It is served with an aromatic soup. A point that you can take note is that you can opt to put in Chee Cheong Fun to replace the mee.
Business Hour : Lunch till evening
Click here for the Map Location.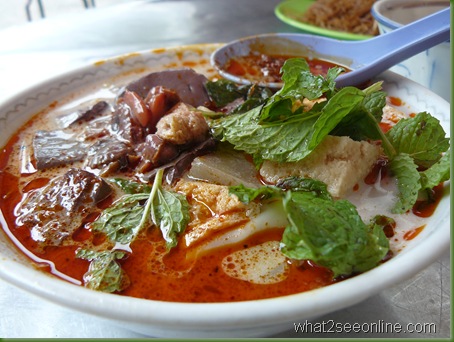 Again, mint leaves & fresh cockles always makes me crave for Curry MEE!
These are just a few of the Curry Mee stalls and there are plenty more that I would like to try. By the way, which is your favorite Curry Mee stalls in Penang? It would be nice if you could share your experience & opinions with me…

Tags: Air Itam, Air Itam Sister Curry Mee, Array, Business Hour, Charcoal Fire, Cheong Fun, Chicken Balls, Chicken Curry, Chicken Gizzard, Chicken Legs, Chicken Wing, Chili Paste, Chilli Paste, Ck Lam, Classic Style, Cockles, Coffee Chop, Coffee Shop, Coffeeshop, Colour Version, Cubes, Curry, Curry Chicken, Curry Mee at Tong Hooi Coffeeshop, Curry Paste, Cuttlefish, Delicious Bowl, Delicious Soup, Different Kinds, Favorite Place, Fire One, Fish Balls, Fish Cakes, Flavorful Soup, Hotel Care, Keat, Kramat, Late Lunch, Lorong, Lorong Seratus Tahun Curry Mee, Pale Color, Pale Colour, Penang, Penang Curry Mee, Penang Food Blog, Penang Hawker Food, Pig Blood, Prawns, Pui, Quay, Reservoir Road, Rm2, Rm3, Size Business, Sotong, Stools, Traders Hotel, Tua Pui Curry Mee, Two Sisters, What2seeonline.Com, Wonderful One