There are several variations of beef noodles in Penang with the all time favorite beef ball noodles and the Hakka beef ball noodles.
This time the focus is on the Ngau Larm Mee stall (Chinese style braised beef brisket noodle) at Sai Lam, an old coffee shop at the corner of Chulia Street and Carnarvon Street. This delicious braised beef can be served with variation of noodles: springy thin or the broad wanton noodles or better still with hor fun.  Whatever the choice is, it comes with generous portion of flavorful beef pieces.
Dry Ngau Larm Mee with broad noodles
The soup version of Ngau Larm mee which comes in a rich beef soup and lots of chopped green onions was just as delicious.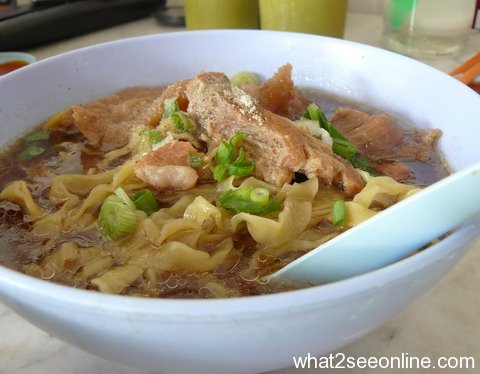 Broad  noodle with tender pieces of braised beef in a rich and flavorful beef soup
If prefer, one can order just the plain noodle and side dishes of Ngau Larm or wanton soup to go with it.
Even a plain plate of wanton mee comes with plenty of choy sum
Besides the braised beef brisket, their wantons are always an additional side order for me. The wanton skin wrappers is filled with generous amount of minced meat and made on the spot by the owner.
Thin noodle in flavorful beef soup with wanton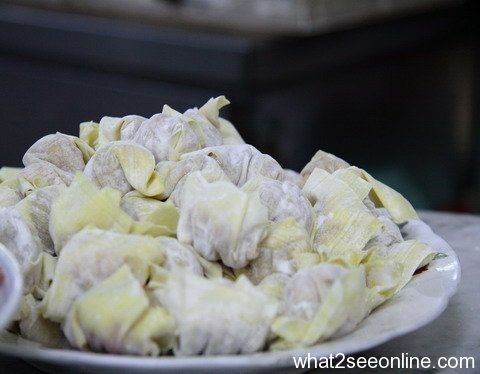 This post has three pages, click below to go to the next page…
Tags: Amp, Array, Bakery, Beef Brisket, Beef Broth, Beef Noodle, Beef Noodles, Beef Soup, Beef Soup Noodle, Beef Stew, Braised Beef, Business Hour, Carnarvon, Carnarvon Street, Carnavon, Char Hor Fun, Char Siew, Charcoal Fire, Chew Kee Noodle Stall, Chilli Sauce, Chinese Style, Choices, Chulia Street, Chulia Street Hawker Food, Chulia Street Penang, Ck Lam, Closing Time, Coffee Shop, Coffeeshop, Commo, Creamy Sauce, Cucumber And Onions, Dry Ngau Larm Mee, Dry Noodles, Egg Noodles, Father And Son, Flat Rice Noodles, Flavorful Beef, Generous Portion, Green Onions, Hainanese Satay, Handful, Hawker Food, Hokkien Char, Hor Fun, Kampung, Lai, Malabar, Old Haunt, Peanut Sauce, Peddler, Penang, Penang Food, Penang Food Blog, Pho, Pork Satay, Rainforest, Sai Lam Coffee Shop, Satay, Side Dish, Side Dishes, Soup Base, Soup Broth, Soup Noodles, Sour Plum, Stew Beef, Tan Tan, Tea Time, Tender Beef, Tender Pieces, Third Generation, Toast Bread, Variations, Vietnamese, Vietnamese Language, Wanton Noodle, Wanton Noodles, Wanton Soup, Wantons, Wet Version, What2seeonline.Com
This entry was posted on Monday, June 29th, 2009 at 7:49 pm and is filed under
Beef Noodle
,
Char Hor Fun
,
Fish Beehoon
,
George Town
,
Hainanese Cuisine
,
Hawker
,
Noodles
,
Penang
,
Satay
. You can follow any responses to this entry through the
RSS 2.0
feed. You can
leave a response
, or
trackback
from your own site.