Located in the bustling Cintra Street with many eateries, Sun Yoon Kee Seafood Restaurant is a nice restaurant to stop by for lunch and dinner. This chu char place serve great home cooked Chinese dishes.
Sun Yoon Kee Restaurant and its neighboring Sin Sun Vood kopitiam
Besides its own available dining area, diners are allowed to sit in its neighboring Sin Sun Vood kopitiam. We did just that as I find Sun Sun Vood kopitiam has more old charm, with its flooring fully tiled with little mosaic pieces and old fixtures and fittings.
Hubby and I visited this place twice and these are some of the dishes that we had on the two separate outings. Woo Tau Kau Yoke is Braised Meat & Yam with a hint of the fermented nam yue. This steam dish of yam and pork was served on a bed of lettuce and was absolutely delightful.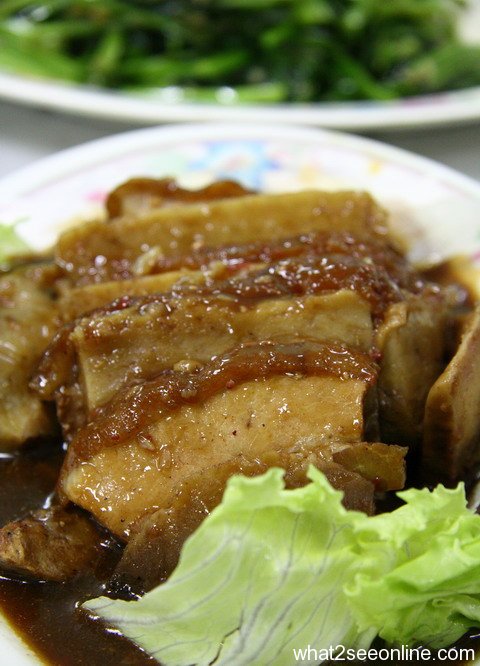 A fish dish is not miss out in any chu char. There is a choice of having a whole fish or just the fish belly (yue larm). I choose the belly as the flesh tends to be smoother. It was deep fried with strips of ginger and chili. The fish was very crunchy, served drizzle with soy sauce.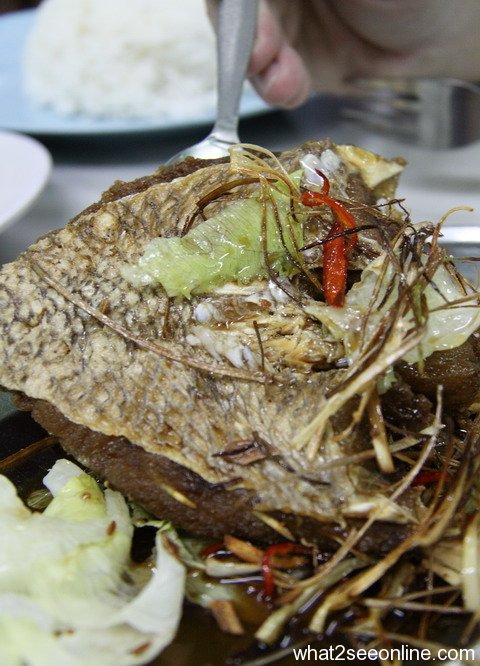 A vegetable dish of Fried Kailan with seafood ingredients.
The owner recommends this Golden Money Tofu with Egg. The fried pieces of tofu are fried and cooked with pork, carrot, mushroom and laden with a starchy egg gravy. It kind of resembles the Wat Tan Hor Fun (flat rice noodle) sold in the hawker stalls.
Yue Larm is particularly one item that is commonly served in this restaurant. This dish of Braised Fish Belly that we had on a separate visit is known as Hoong Siew Yue Larm. The deep fried pieces of fish belly are stir fried and simmer with soy sauce with lots of vegetable. The fish is nicely infused with the sauce which is good to go with rice.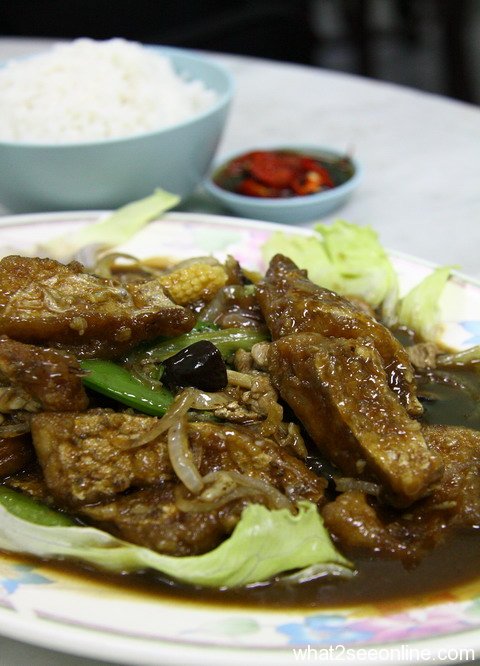 This simple dish of Fried Poh Choy (spinach) with minced garlic was done with good wok hei.
Do walk back next door to Sun Yoon Kee Restaurant to have a look at their old cash register. It is kept very clean and in a good working condition. Drop in this old restaurant for a simple chu char meal. Click here for the Map Location. It is just behind the Rolex shop.
Sun Yoon Kee Seafood Restaurant
35 Cintra Street
10100 Penang
Tel : 04 2613987
Business Hour : 11am – 9.30pm
Tags: Amp, Array, Bladder, Business Hour, Cash Register, Chinese Cooking, Chinese Cuisine, Chinese Cuisines, Chinese Dishes, Cintra Street, Cooking, Cooking Seafood, Deep Fried Fish, Dinner Sun, Dish, Drizzle, Eateries, Egg, Fish Dish, Ginger, Golden Egg, Golden Money, Gravy, Hawker, Home Style, Kailan, Kopitiam, Lettuce, Location Sun, Map, Mosaic Pieces, Nice Restaurant, Old Charm, Penang, Penang Food, Penang Restaurant, Poh, Rice Noodle, Roast Pork, Seafood Restaurant, Soy Sauce, Spinach, Stomach, Sun, Sun Sun, Tau, Tofu, Vegetable Dish, Vood, Wok, Yam, Yoke, Yue