The Wok Cafe may sound familiar to many Penangites as this restaurant is the outlet to the Hot Wok Restaurant along Burma Road in Penang. It is housed in a corner shoplot situated in the bustling Kota Damansara township, a new residential and commercial address. Together with a few friends, we went there to savor their Penang Hawker Food and Nyonya cuisine, courtesy of Uncle Robert Yeoh and his son Mervyn (the chef).
The dining hall was filled with fixtures of kopitiam chairs and marble top tables and surrounded by many beautiful antiques.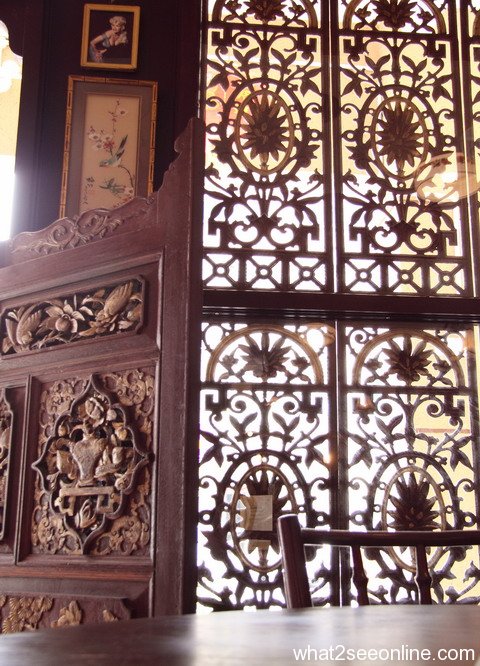 Great time admiring all of Uncle Robert's beautiful ceramics collection

Before we begin with the Nyonya dishes, Mervyn filled our table with a wide range of Penang Hawker food. This Penang favorite, Hokkien Mee is The Wok Cafe's signature dish. The spicy shrimp soup is well flavored and simply delicious, makes us asking for extra servings.
The noodle soaked up most of the soup while we were busy snapping photos
This stir fried Char Koay Teow is another dish love by most of us. It has a nice aroma with prawns and Chinese sausage. The flesh of the prawn was very firm which is a good sign of freshness.
Curry Mee – The bowl of noodle with curry soup consists of cuttlefish, tau pok and prawns and comes with chili paste for the extra spiciness. The mint leaves was added for its fresh taste.
This plate of Hokkien Char has the yellow noodle with beehoon cooked in a black flavorful soy sauce. The taste of the noodle is enhanced with the added sambal.
The Chee Cheong Fun (rice roll) was drizzled with the sweet and chili sauce and thick flavorful prawn paste (hae koe). It was served with fried shallots and sprinkled with sesame seed.
The last dish of the hawker fare was the deep fried Lobak. The rolls were well packed with huge chunks of  marinated meat in five spice powder and served with dipping sauces and cucumber.
This post has three pages, click below to go to the main Nyonya delicacies…
Tags: Array, Bean Paste, Beautiful Antiques, Brinjal, Bubur Cha Cha, Burma Road, Burmah Road, Business Hours, Chairs, Chee Cheong Fun, Cheong Fun, Chili Paste, Chili Sauce, Chunks Of Meat, Cinnamon Stick, Coconut Milk, Cold Dessert, Commercial Address, Creamy Soup, Cuisines, Curry Fish Head, Dining Hall, Dinning Hall, Dipping Sauces, Dish, Dishes, Distinct Flavor, Fareast, Father And Son, Flavorful Fish, Font Definitions, Font Format, Fried Shallots, Hawker Fare, Hokkien, Hot Wok, Inche, Inchi, Invitation, Kantan, Kota Damansara, Kuala Lumpur, Lobak, Meat Dishes, Mervyn, Mso, Nyonya Cuisine, Nyonya Food, Original Recipe, Palm Sugar, Pan Fried, Panose, Penang, Penang Hawker Food, Perut, Petaling Jaya, Photographs, Pickled Fish, Piquancy, Prawn, Prawn Paste, Pulut Hitam, Recommended Choice, Refreshing Drinks, Robert Yeoh, Sago Gula Melaka, Sesame Seed, Shrimp Soup, Signature Dish, Spice Powder, Spicy Shrimp, Strand, Style Definitions, Style Type, Sweet Potatoes, Tasty Dishes, Tau, Times New Roman, White Rice, Wok Cafe, Worcester Sauce, Yeoh, Yue
This entry was posted on Monday, July 6th, 2009 at 6:29 pm and is filed under
Char Koay Teow
,
Curry Mee
,
Dessert
,
Fried Noodle
,
Hawker
,
Hokkien Mee
,
Invited Review
,
KL / PJ
,
Lorbak
,
Nyonya Cuisine
,
Penang
,
Peranakan Cuisine
,
Restaurant
. You can follow any responses to this entry through the
RSS 2.0
feed. You can
leave a response
, or
trackback
from your own site.