Bak Kut Teh @ Song River, Gurney Drive
Gurney Drive is the food heaven for food lovers. It houses many seafood restaurants, cafes, fine dining restaurants and hawker stalls with some opening for business in the day and also in the night. One of the famous shops along the strip which was established decades ago is Song River Cafe, home to some of the tasty cuisines Penang has to offer!
With a group of visiting friends from Singapore, we dropped in Song River for the famous and unique Bah Kut Teh. Regular customers will know that this restaurant is managed by the same owner of Home Style Restaurant in Tanjung Bungah.
Chinese Tea for starters, anybody?
What is so special about the Bak Kut Teh? The specialty is the "white" Bak Kuk Teh  – due to the color of the soup. Most of the Bah Kut Teh sold in Penang has the dark color soup but this restaurant serves the clear soup that has a lighter herbal flavor. Besides this unique and delicious white Bah Kut Teh, there are also many other dishes and noodles.
The "WHITE" Bah Kut Teh in its entire splendor served in a claypot

Fried prawn noodles are among its signature dishes as well!
We also indulged in the Steamed Fish topped with Hor Fun (Ang Sai), and it was just simply delicious! The superior soy sauce used in the dish was very fragrant, and the smoothness of the hor fun was just a joy for the mouth.
Topped with spring onions and fried garlic, Awesome!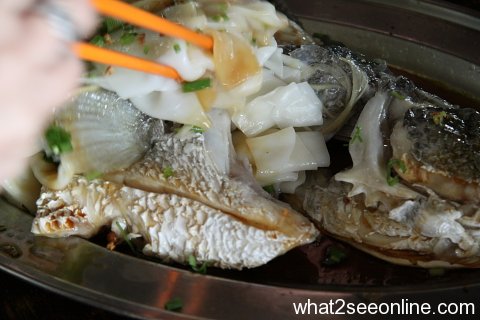 One of us going for the beautifully steamed fish!
One more dish that we enjoyed together was the oyster mee also known as 'oh mee' to the locals. To those who aren't familiar with it, this dish is simply fried yellow noodles similar to Hokkien Char, but the main ingredient, is… you guessed it! Oysters! Adding the oysters to the noodles gives it another boost of flavor. Every spoon of the noodle that has absorbed the gravy taste even better! Everyone of us enjoyed the meal which cost around RM160.
Many people flock to this restaurant which is usually open from early morning till lunch hour. From the evening onwards, the shop is turn into a hawker center with many stalls offering Penang hawker food. You will find goodies of tasty BBQ chicken wings, grill fish and Otak-otak. Click here for the Map Location.
P.S. Do take note that there is also equally excellent *seafood porridge and noodle* available at Public Cafe which is right beside Song River.
Song River Cafe
65 Persiaran Gurney
Penang
Business Hour : Breakfast till Lunch