We finally tracked down the hidden gem, Khunthai Restaurant located at nearby Jalan Raja Uda, Butterworth. This is my first visit for dinner at this Thai restaurant that serves authentic Thai food. There are indoor and also outdoor sitting areas, al fresco style.
Undecided on what to order, I surveyed the few tables around, and finally opted for the Kerabu Khuntai RM10 packed with vegetables, dried shrimps, nuts and fruits with the sour, spicy and sweet taste. It was a great starter and whetted our appetite nicely!
Next up was the Seafood Steamed Lemon with choices of squid and lala in a sour-garlicky gravy RM32. The gravy with chopped chili padi & garlic plus many slices of extra garlic teases the appetite and had us wanting more! It was really irresistible with everyone sipping down the gravy. There is another version of this dish, known as the Superstar that has expensive seafood of mantis prawns, lobster and large size prawns.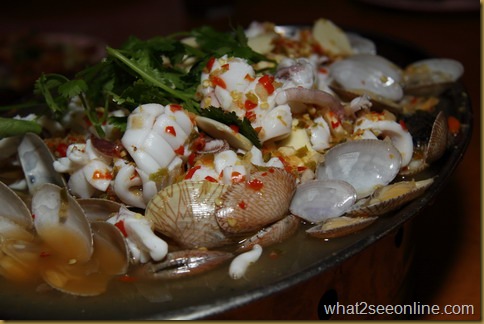 Seafood Steamed Lemon with choices of squid and lala
Steamed Fish In Thai Style RM40 – The Red Snapper was served on top of a hot charcoal fire in their signature tangy and spicy clear soup. Although it looks innocently like clear soup, it packs a punch when you sip the soup, which is not overly spicy. It had some mild heat to it, nice to warm my stomach.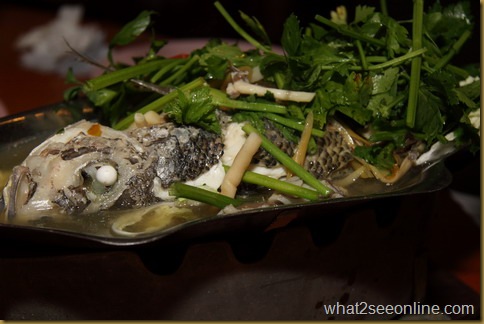 Additional bowl of soup for add-on, delightful indeed!
We had an order of two non-spicy items. The Nameless Chicken RM9 was essentially deep fried chicken. It fell short of what I expected as I am not used to having a sweet chicken dish. However, with all the seafood served, chicken was a nice addition to the dinner.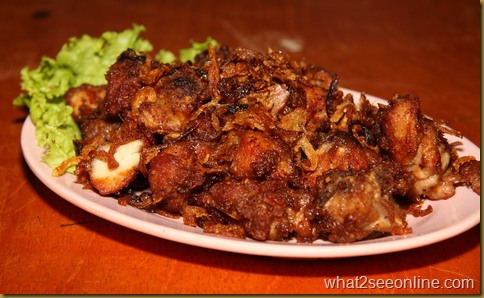 Nameless Chicken, better known as BO MIA KEI!
Khunthai offer many ways of cooking crab. After much discussion, we finally settled on the Baked Crab RM75. We get to taste the freshness of the crab and its succulent flesh. The size was just right too!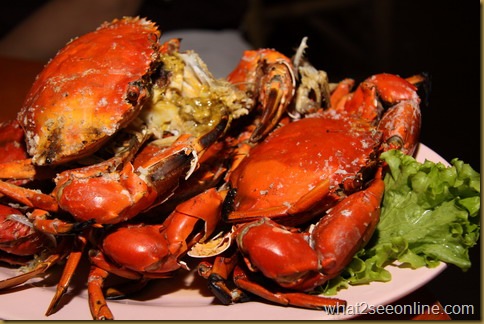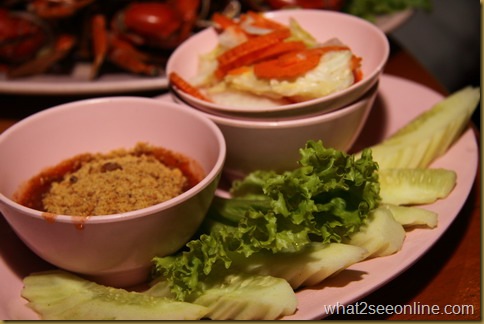 Condiments together with fresh cucumber & pickles for the crab dish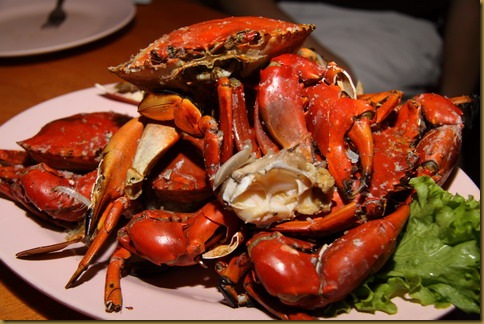 Yummy crabs for the whole family!
Click here for the other dishes…
Pages: 1 2
Tags: Al Fresco, Array, Authentic Thai Food, Baked Crab, Belacan, Belacan Fried Rice, Bubur Ca Ca, Butterworth, Charcoal Fire, Chicken Dish, Chili Padi, Condiments, Cooking Crab, Crabs, Deep Fried Chicken, Fried Rice, Gravy, Hidden Gem, Jalan Raja, Kei, Kelabu, Kerabu, Khunthai Authentic Thai Restaurant, Khunthai Superstar, Lala, Mild Heat, Penang, Pork Free, Raja Uda, Red Snapper, Steamed Seafood, Sweet Taste, Thai Food, Thai Restaurant, Thai Style, Vegetables And Fruits
This entry was posted on Monday, November 9th, 2009 at 1:00 pm and is filed under
Butterworth
,
Chinese
,
International
,
Pork Free
,
Restaurant
,
Seafood
,
Seberang Perai/Penang Mainland
,
Thai Cuisine
. You can follow any responses to this entry through the
RSS 2.0
feed. You can
leave a response
, or
trackback
from your own site.