New Lane is truly a street food center in Penang and the place is jam packed with many hawker food stalls and food hunters. Tables are set up in the open, even occupying part of a parking lot of an office complex. The lane is accessible from Macalister Road and Dato Kramat Road. You have to bring a big appetite as there are many delicious goodies at this place.
There are a few stalls that I usually patronized. I love the Grill Chicken located in the Sin Yin Nam coffee shop. The chicken wings and drumsticks are simply delicious. The aroma is so seductive that could drive you insane.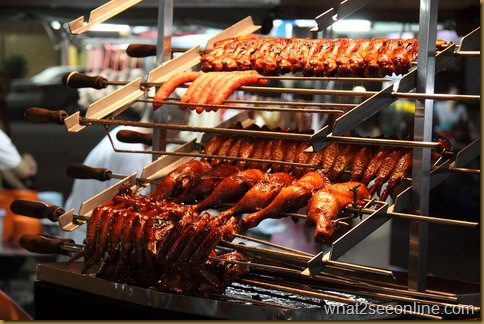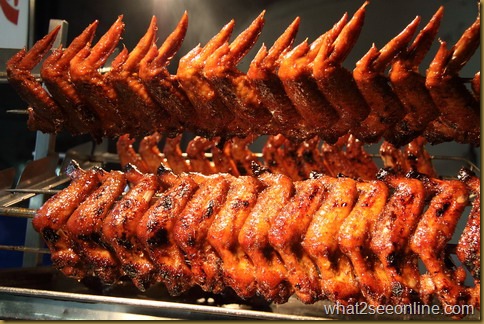 The Chee Cheong Fun (steamed flat rice roll) comes in different sauces depending on your preference. Sometimes I go for those with Hae Ko (shrimp paste sauce) and chili paste, without the sweet sauce. At times I like to have it served in curry soup with serving of pig blood and some taupok.
Hae Ko Chee Cheong Fun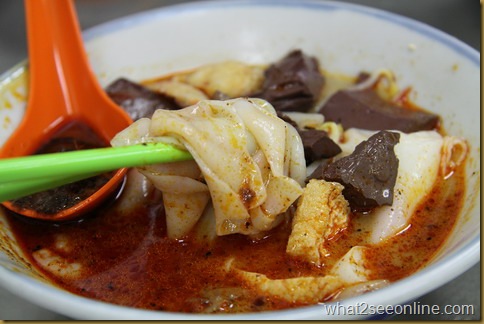 Curry Chee Cheong Fun
Look out for the stall that sells roast meat, chicken and duck  with rice and porridge. We had our bowl of duck porridge together with a plate of mixed roast meat.
The duck porridge is relatively good with the flavorful brown 'duck sauce'. The tender duck meat has a smoky aroma. The texture of the porridge is not those of the smooth type. It is grainy yet soft. The green chili sauce is hot and tangy, nice punch on the palate.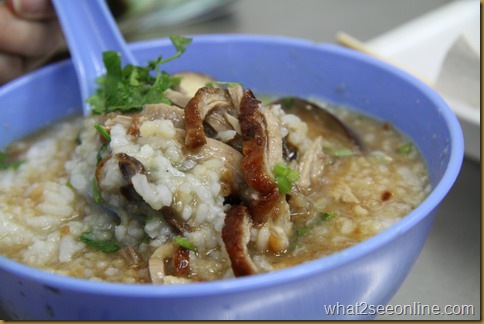 Roast duck meat in thick broth with flavorful sauce
The Satay stall is not to be missed. The richly marinated meat is grilled perfectly over charcoal, tender and moist served together with the tasteful peanut sauce.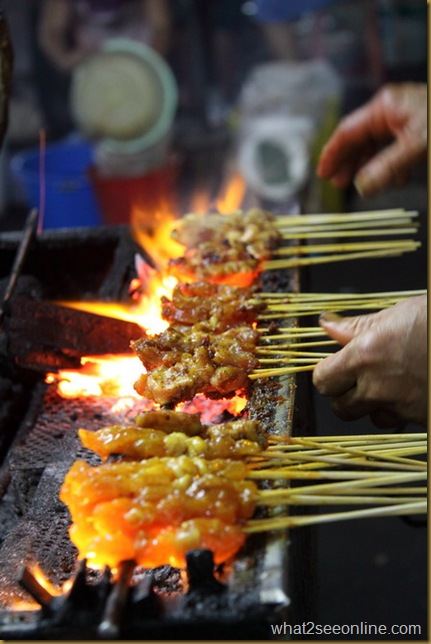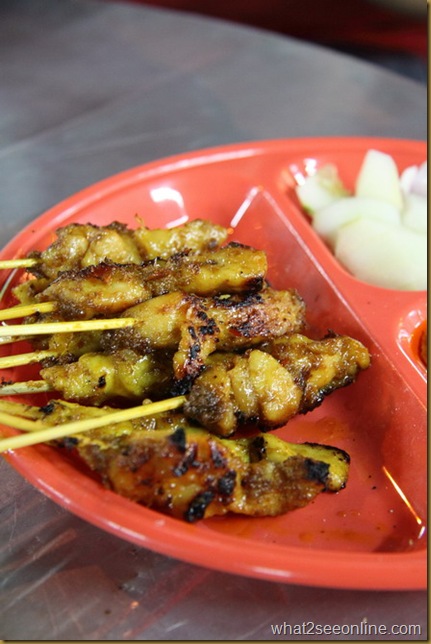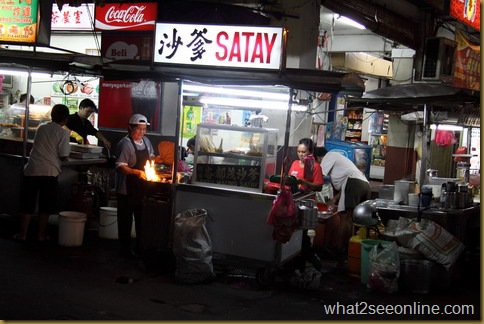 For the more adventurous, do try out the Chu Chap Cheok. This stall is another great place besides the one located in Chowrasta Market. You won't miss this stall as it is near the entrance of the road. Long strings of char siew and pig's innards are seen hanging in front. of the stall.  The intestines are deep fried till crispy so much so one can eat on its own.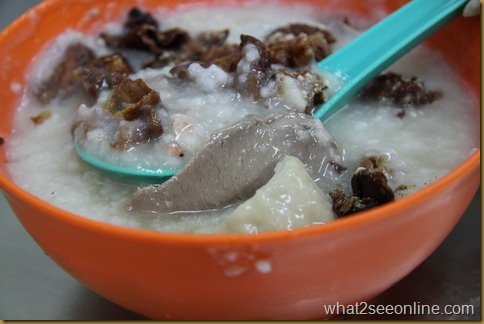 I personally like to have dessert after a meal, and usually would end up having the apom. There are two types of Apom Manis. This one has a soft centered with crispy edges. This is a delicious light snack.
This version of Apom Manis has fillings of either sweet corns or sliced bananas…very appetizing.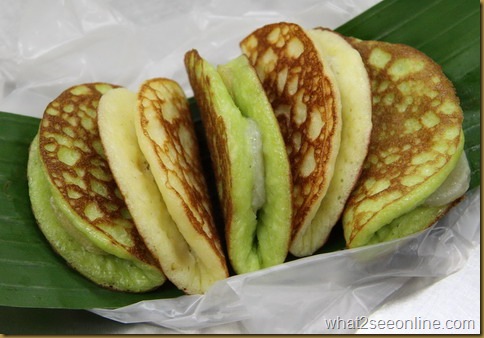 For those who have not visited New Lane, do drop by and check out the stalls. Click here for the Map Location. Its location right beside Macalister Road and Sunway Hotel makes it a popular place for visitors and the locals.
I hope I get to hear about your favorite food in this lane!
Tags: Apom, Apom Manis, Array, Char Siew, Chee Cheong Fun, Chicken Wings, Chili Paste, Chilli Sauce, Chu Chap Cheok, Coffee Shop, Curry Chee Cheong Fun, Dato Kramat Road, Delicious Goodies, Duck Porridge, Duck Sauce, Food Center, Food Stall, Green Chili Sauce, Grill Chicken, Hawker Center, Hawker Food, Local Delight, Long Strings, Macalister Road, Meat Chicken, New Lane, New Lane Penang, Peanut Sauce, Penang Food, Penang Hawker Food, Pig Blood, Porridge, Roast Duck Meat, Roast Meat, Satay, Shrimp Paste, Sin Yin Nam, Smoky Aroma, Street Food, Sunway Hotel, Sweet Corns, Sweet Sauce, Tasty Dessert, Thick Broth
This entry was posted on Sunday, November 22nd, 2009 at 3:52 pm and is filed under
Chee Cheong Fun
,
George Town
,
Hawker
,
Non-Halal
,
Penang
,
Porridge
,
Satay
,
Street Food
. You can follow any responses to this entry through the
RSS 2.0
feed. You can
leave a response
, or
trackback
from your own site.