What a Great Time! I had a Taste of Martin Yan's Cooking!
Chef Martin Yan was in Malaysia recently upon his appointment as the brand ambassador for GE Monogram. I had a great food adventure watching the international celebrity chef in a live cooking demonstration which was held in collaboration with General Electric and Kollektion Distribution Sdn Bhd at Starhill Kuala Lumpur.
The event was presented exclusively for the YTL Platinum Plus members and the media.
Martin Yan, the familiar face on TV that all of us grew up with
Chef Martin Yan pioneered among others the classic daily Chinese cooking show 'Yan Can Cook' and has hosted over 3,000 shows broadcast worldwide. He has written thirty cookbooks, including the award-winning Martin Yan's Feast, Martin Yan's Asian Favorites, Chinese Cooking for Dummies, Martin Yan's Chinatown Cooking (intro by Julia Child), Martin Yan's Quick & Easy, and his latest, Martin Yan's China (a cookbook that documents his travels and culinary discoveries throughout the far reaches of China.
Chef Martin Yan started off the demonstration with his friendly and hilarious introduction. The chef in person is exactly the same from the television personality that we grew up knowing. It was fun watching him whipping up the few dishes starting from the preparation of the ingredients and at the same time demonstrated his cutting skills on the ingredients used.
Chef Martin Yan with his assistant, Chef Sunny from Tai Thong Group
Chef Martin Yan came down from the stage showing and sharing with the audience the dishes that were prepared. All the audience got to taste the dishes that he whipped out.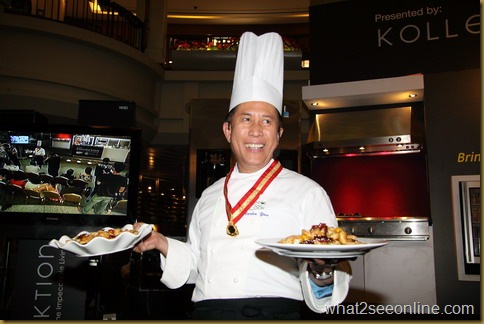 In between the demo, the celebrity chef introduces the GE Monogram kitchen appliances such as the cooker hood, hobs, and ovens which will revolutionize home cooking. All these new appliances were designed to provide solid performance at an affordable price.
Mr Vincent Chew, the Group Executive Director of Kollektion Distribution Sdn Bhd (member of the Pensonic Holdings Berhad) was on hand to pick the lucky winners from the audience for Chef Martin Yan's China cookbook. Chef Martin Yan presented the books and took photos with the winners, followed by the autography session.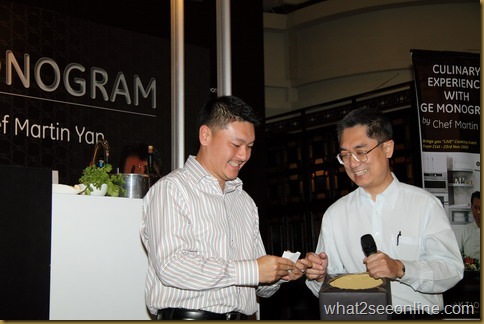 I really enjoyed this cooking demonstration and great to see Chef Martin Yan in person!
Tags: Ambassador, American Chef, Array, Broadcast, Celebrity Chef, Chef Martin Yan, China Chef, Chinatown, Chinese Cooking, Chinese Cuisine, Collaboration, Cookbooks, Cooker Hoods, Cooking Class, Cooking Demonstration, Cooking For Dummies, Cooking Show, Culinary Expertise, Dish, Familiar Face, Food Adventure, Food Consultant, Garlic, Ge Appliances, Ge Monogram, General Electric, Group Executive Director, Hilarious Introduction, Hobs, Humor, International Celebrity, Julia Child, Kitchen Appliances, Kollektion Distribution, Kuala Lumpur, Lucky Draw, Lucky Winner, Master Chef, Mr Vincent, Mr Vincent Chew, New Appliances, Ovens, Pensonic, Pensonic Holdings, Prolific Author, Sense Of Humour, Starhill Gallery Kuala Lumpur, Starhill Kuala Lumpur, Television Personality, Vitality, Yan Can Cook, Ytl, YTL Platinum Plus