Imagine yourself sitting on the front of a house built on stilts overlooking the sea; indulging in the wonderful flavors of home cooked Thai Food. A group of us food bloggers had such an experience at Lang Sae Lee, located in the Tan Jetty along Weld Quay recently.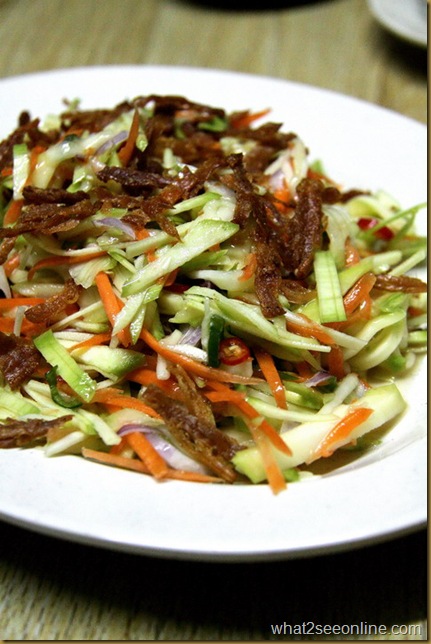 Super-appetizing & lip-smacking kerabu awaited us!
I saw this place during the boat ride that I had on one of the events celebrating the first anniversary of George Town's award of UNESCO World Heritage Site. This house looks out over the sea and the passing boats.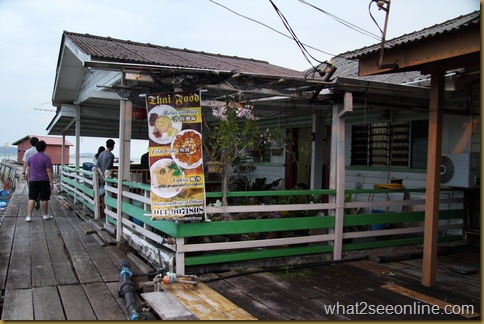 The owner, Madam Lee offers Thai dishes of appetizers, salad, soup, noodles and main dishes with fresh and authentic ingredients from her residential house in the jetty.
We kick off our dinner with a delicious and appetizing kerabu! This dish has a balance of sour, sweet, spicy and salty flavors with fiery chopped chili padi which had everyone grabbing additional cold drinks. Super refreshing dish to start off our meal!
Next we moved on to the Fish Cake (RM1.20 per piece) – The savory fish paste pancake with fine strips of kaffir lime leaves and vegetables comes with the uplifting spicy cucumber chili dip.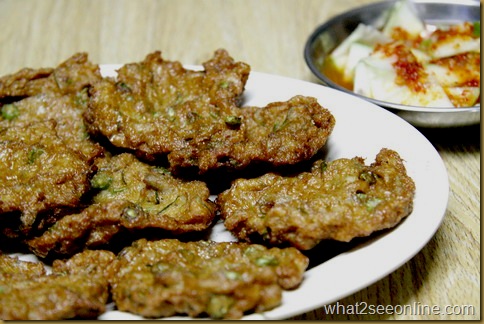 This was followed by the rice varieties which included the…
The Belacan Fried Rice (RM4) was served with strips of omelette, stir fried pork, fresh shallots, dried shrimps, unripe mango and chili padi. I like the sweet, salty, tangy and hint of spicy flavor of this plate of rice.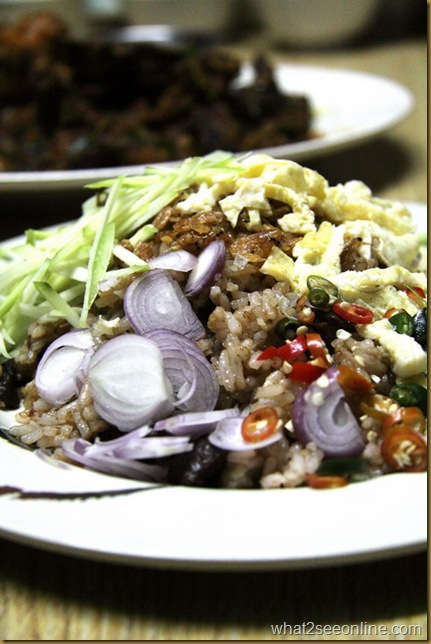 Another popular rice dish is the Thai Holy Basil Rice (RM4). This one-dish meal had topping of stir fried chicken in sweet soy sauce with garlic and plenty of holy basil leaves served on a bed of steamed rice. The spiciness from the red chili and the sweet taste of the holy basil leaves makes this a very flavorful dish.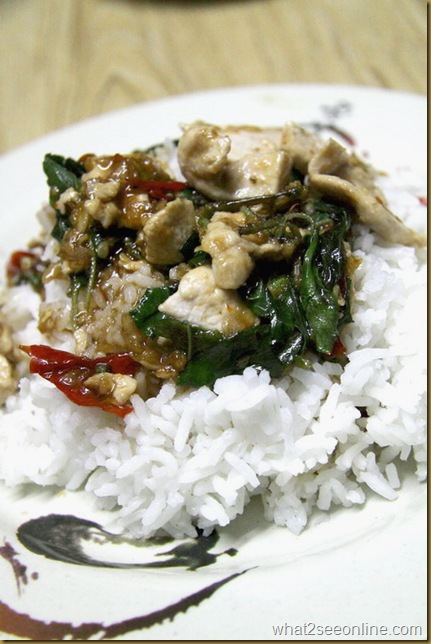 As for the Tom Yam Fried Rice (RM4), I have to say that I have had better ones before.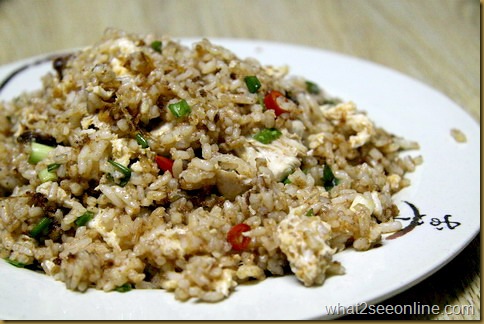 Click here to the next page for more of other dishes…
Pages: 1 2
Tags: Array, Authentic Ingredients, Belacan, Chili Dip, Chili Padi, Cold Drinks, Deep Fried Fish, Dish Meal, Fish Cake, Fish Paste, Flavorful Dish, Holy Basil, Kaffir Lime Leaves, Penang Food, Penang Thai Food, Peppery Taste, Red Chili, Rice Dish, Rm4, Soup Noodles, Sweet Soy Sauce, Tan Jetty, Thai Dishes, Tom Yam, Unesco World Heritage, Unesco World Heritage Site, Weld Quay, World Heritage Site