Nasi Kandar Line Clear on Penang Road
Nasi Kandar Line Clear right on the busy Penang Road has been around for more than forty-five years and is one of the famous nasi kandar stall in Malaysia. This place is usually very busy and packed with office workers and tourist alike.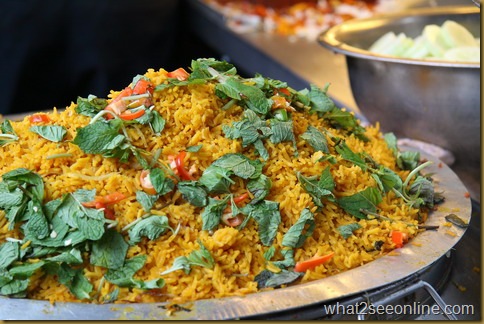 Savory and fragrant Nasi Briyani

Nasi Kandar Line Clear is located in a narrow alley…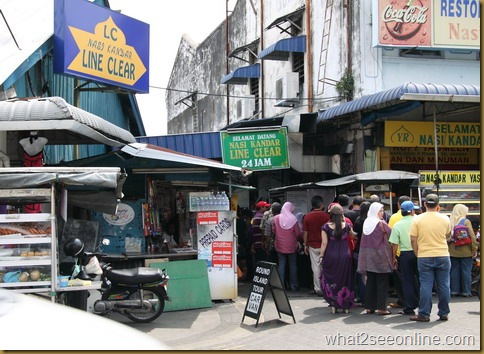 My last visit at Line Clear is during the meet-up with blogger Wilson & wife Rachel who is in Penang with other MAS Bloggers on the Makan Penang Trip via Flymas.Mobi.1
Straight right into the great meal!
First things first, when you arrive at Line Clear, be prepared to line up and wait if you want to eat. The waiting time depends on the queue. Those lining up at the end of the long queue will have to stand under the hot sun but the movement is relatively fast.
The interesting part of waiting is that I get to watch the food being cooked. The aroma of the pungent curries really had my tummy growling.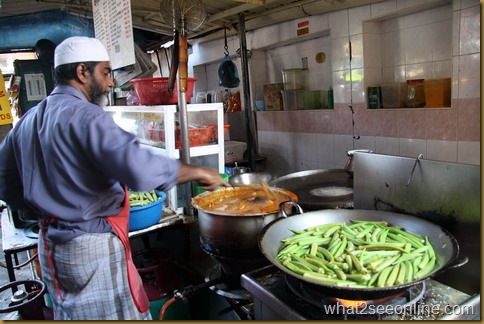 Pot of chicken curry & lady finger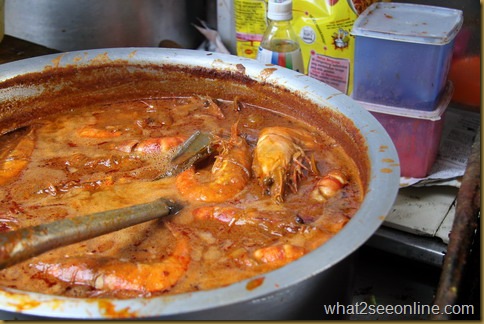 The ever popular prawn curry, yummy!
Besides the curries which are rich in spices flavor, Line Clear offers many delicious dishes to go along with the white rice or the savory and fragrant Nasi Briyani. Delicious choices include curry prawns, fried chicken, fish, squid's eggs and beef which can be ordered as individual dishes or set on top of the plate of rice. The prices are charged according to your selection. Do take note of what you are ordering.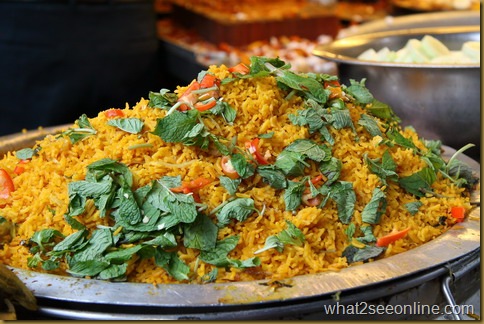 The Nasi Briyani flavored with many spices is a popular item

Most customers like to have their rice topped with a mixture (campur) of  the palatable curries and gravies. If you do not fancy having the rice flooded with the gravies, do let them know ahead. This plate of rice with a huge deep-fried chicken drumstick, fish, squid's egg, fried egg and a small portion of rice cost RM11. Indeed a plate of yummy nasi…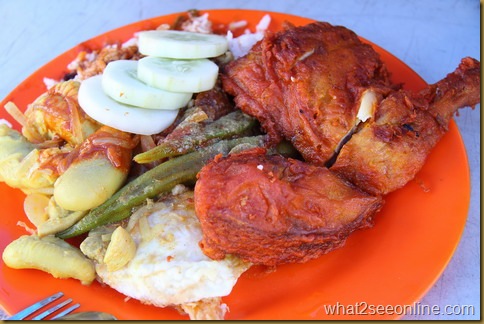 Nasi Briyani with seafood…just awesome!
Nasi Briyani with meaty choices of fried chicken and beef rendang

The spicy meal is cooled down with glasses of cool sirap limau (lime juice), ais kosong (ice cold water) and sirap ros (rose syrup). This food outlet on the island is not to be missed! Click here for the Map Location.
Nasi Kandar Line Clear
Behind 177 Penang Road
Penang
Tel : 04 2614440
Business Hour : 24 Hours
Closed every one fortnight on Tuesday and from 1pm – 2 pm for Friday prayers