My family had a wholesome Chinese New Year Reunion dinner at Sesame Restaurant on the first floor of G-Hotel. This year we opted to celebrate the dinner with fine dining.
The set menu features an array of fine dining Chinese cuisine created by Sesame's Chef de Cuisine, Vincent Lee that pairs traditional and contemporary flavors together. The menu @ RM138++ per person has a selection of 'Yee Sang', soup, exquisite dishes and dessert which are traditional in essence.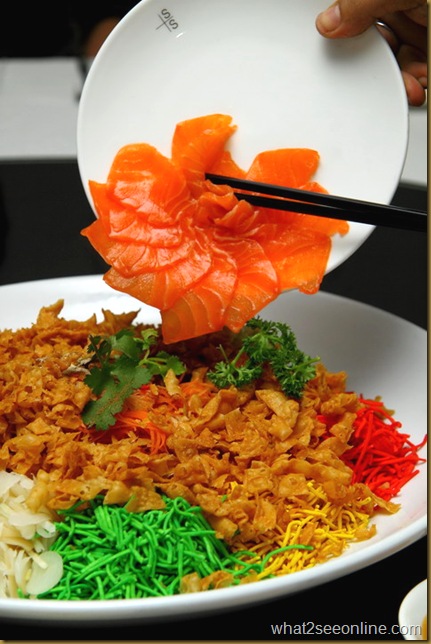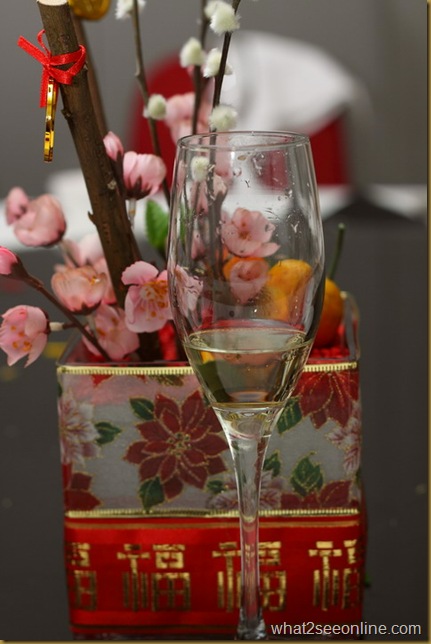 We began the auspicious meal with Kim Chi Salmon Yee Sang with flower jelly fish. The dish portion was generous and good, served with special homemade lime and peanut sauce which mixed well with the vegetable and salmon pieces. This is the only dish that was served in a large plate while the rest were served in individual portions.
Everyone joined in the mixing of the 'Yee Sang' dish (lou sang) together with all the good words of GOOD HEALTH, EARN MORE MONEY, BETTER JOB, STAY FOREVER YOUNG, BETTER LUCK AND HUAT HUAT HUAT wishes.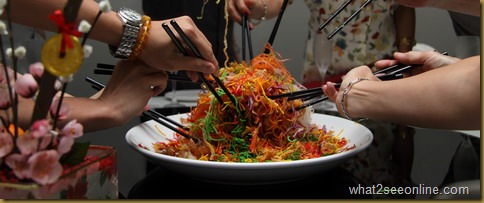 Yee Sang – must-have dish for Chinese New Year!
The second dish was the exquisite seafood dish of Deep fried soft-shelled Crab and Wasabi Mayo Prawns in garlic and cheese. This beautifully presented dish is ideal for seafood lovers.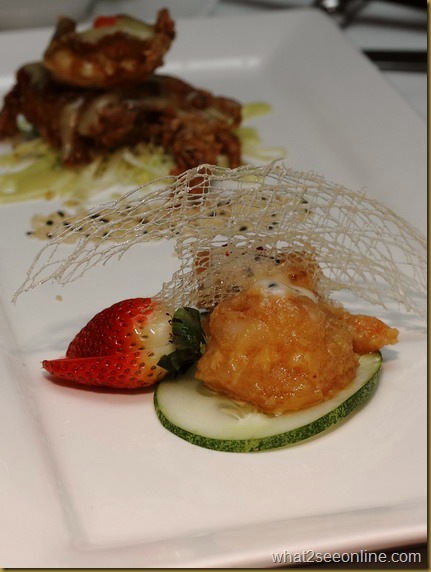 The soft shell crab was fresh and flavorsome, perfectly matched with the succulent prawn in wasabi mayonnaise cheese sauce. Everyone of us were commenting how good it was. Two thumbs up for this from me!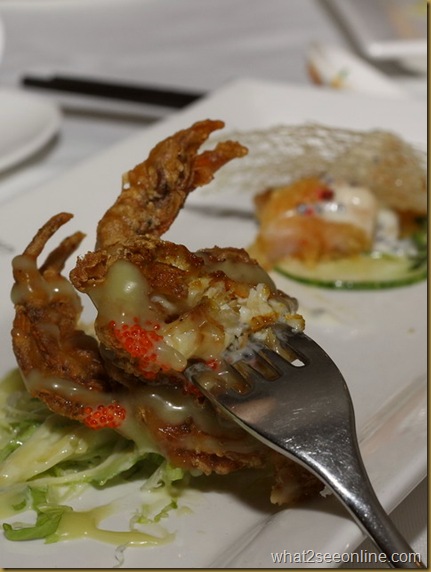 Next up is the Thai Shark's Fin Soup which comes with generous portions of lobster flesh and shark fin. The soup was accompanied by garlic & green chili sauce which allows us to choose the spiciness we desired for the soup. The bowl of soup was kept warm with a small candle, exactly the same way it was served on our first visit.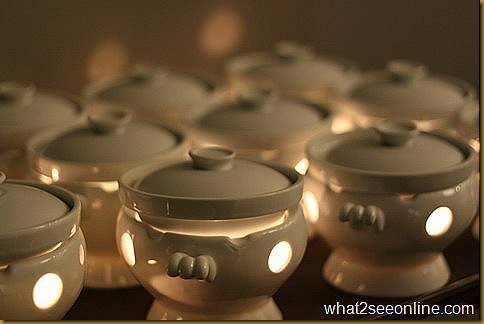 Bowls of Thai Shark's Fin Soup waiting to be served!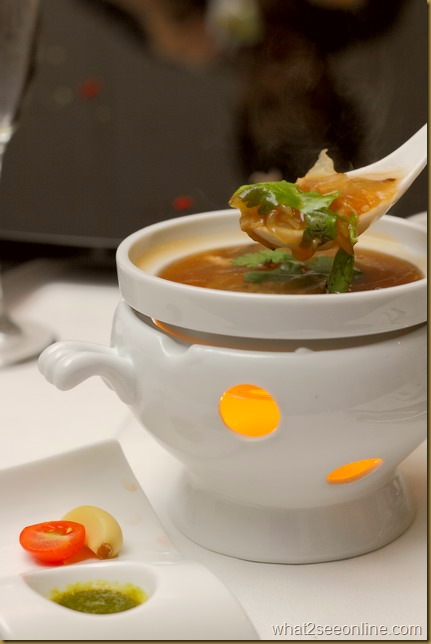 Click here for more of other dishes…
Pages: 1 2
Tags: Array, celebration, Charming Effect, Cheese Sauce, Chef De Cuisine, Chinese Cuisine, Chinese Menu, Chinese New Year, Chinese New Year Reunion Dinner, Elegant Ambiance, Exquisite Dishes, Exquisite Seafood, Fin Soup, Fine Dining Restaurant, G Hotel, Generous Portions, Green Chili Sauce, Gurney Drive, Happy Chinese New Year, Jelly Fish, Kim Chi, Salmon Pieces, Seafood Dish, Seafood Lovers, Sesame Restaurant, Set Menu, Shark Fin Soup, Smooth Soup, Soft Shell Crab, Soft Shelled Crab, Vincent Lee, Yee Sang Dish
This entry was posted on Friday, February 26th, 2010 at 1:20 am and is filed under
Chinese
,
Chinese New Year
,
Fine Dining
,
G Hotel
,
Gurney Drive
,
Hotels
,
Penang
,
Pork Free
,
Restaurant
. You can follow any responses to this entry through the
RSS 2.0
feed. You can
leave a response
, or
trackback
from your own site.