* This article was also published in the New Straits Times (Life & Times) on 12th April 2010.
Gem Restaurant with a great corner location of Bishop Street and King Street in Penang is a newly opened restaurant that offers North and South Indian cuisines. This three month old restaurant with modern fusion of contemporary and traditional decor serves a diverse array of food, from heavenly spicy and fiery dishes to creamy delights.
Besides Penang, they do have seven restaurants in India, two in Kuala Lumpur and one in Selangor.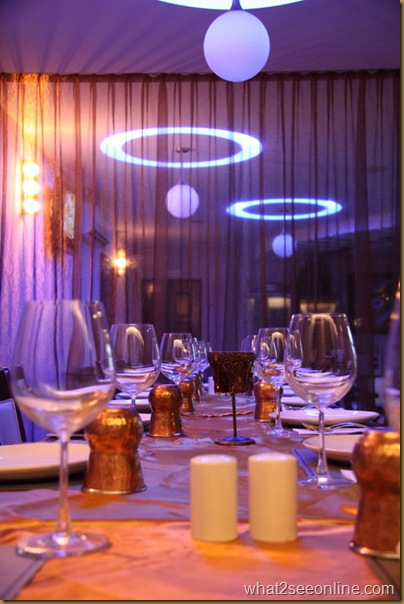 Decor with silken curtains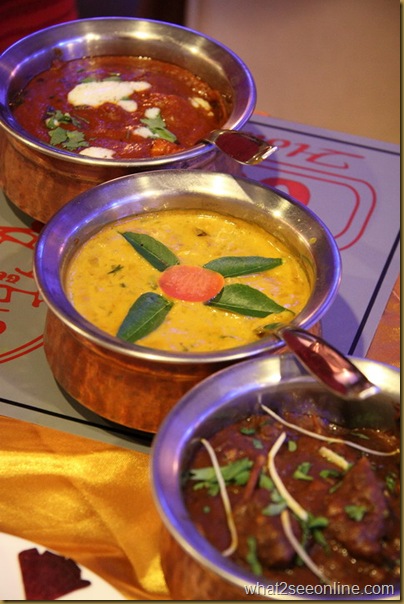 Delicious spread of curries
The meal organized by P. Krishnan started with the wonderful serving of chilled Lassi. Both the plain and the sweet Lassi was creamy, more of a lighter milkshake. It was followed by his recommendation of food with a combination of authentic and signature dishes.
There were plenty of food to go around and the first was the fried mixed vegetable Pakora. The vegetables coated in a batter with gram flour were deep fried with a wonderful flavor. This crispy and slightly spicy bite-sized snack tasted great with the traditional mint dipping sauce.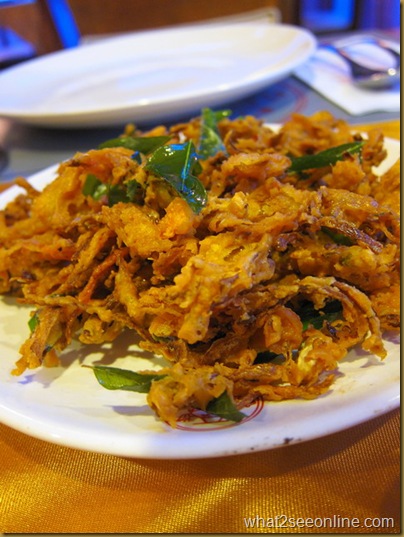 Mixed vegetable Pakora RM4.90
The soothing Nandu Rasam had a pleasant aroma flavor and was done with a strong hint of pepper. The bowl of soup was fresh and comes with fresh pieces of crab, suitable taken with plain rice or just as a soup. I am still thinking about it to this day, the taste still lingers on!
Nandu Rasam RM7.90
There were various kebabs to be tasted. We were recommended with one of each variety – mutton and chicken. The Mutton Sheekh Kebab (local mutton) was a lovely recommendation. The fresh minced mutton was marinated in aromatic saffron & spices and grilled in the '"Tandoor". The meat was pungent with spices, with a fiery kick and I enjoyed several pieces of it.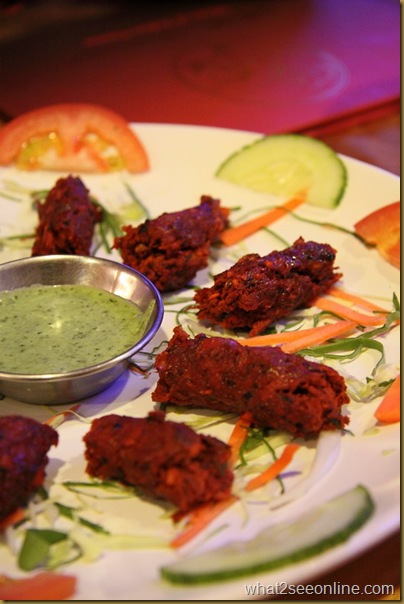 Mutton Sheekh Kebab RM24.90
The Murgh Badami Kebab with six pieces of boneless chicken marinated in spices came beautifully arranged on the plate surrounded with cucumber and tomatoes. The meat was cooked just right, retaining its juiciness!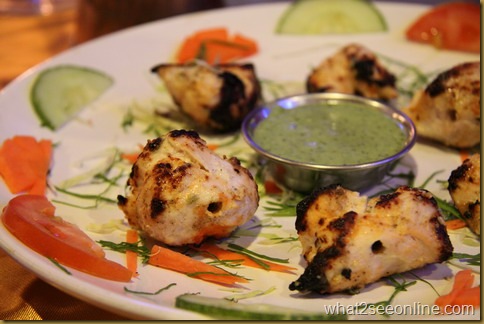 Murgh Badami Kebab RM14.90
Hyderabad Chicken – The chicken pieces were cooked in a rich and spicy dark sauce, which is an excellent complement with rice. It really had my appetite going!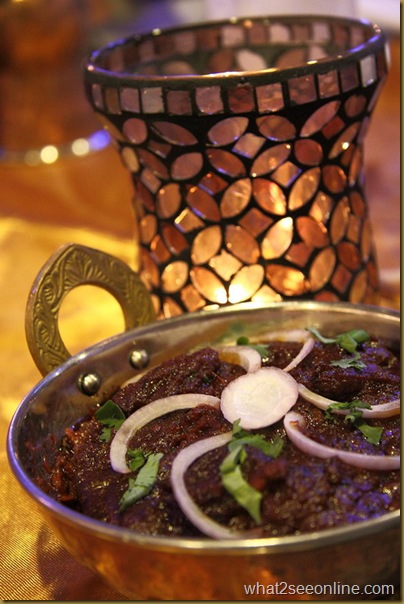 Hyderabad Chicken RM 13.90
Besides the meaty dishes, we had the Dragon Prawns which is one of Gem's Special. Best part is that there is no need in removing the shells. The battered prawns are cooked in a thick sauce with the chef's own recipe. The acidity of the tomatoes and the sweetness of the onions make a good combination, rendering it with a Chinese style flavor.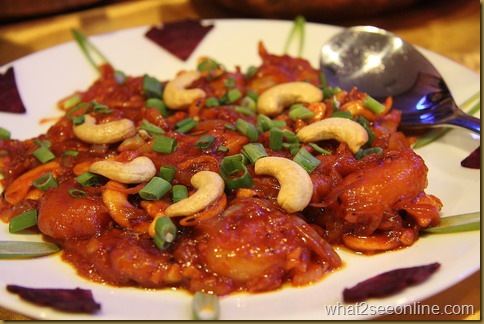 Dragon Prawns RM24.90
Palak Butter Masala RM 10.90 – This mildly flavored dish has pieces of homemade cheese in a smooth creamy curry with lots of spices. It is a delicious combo with Naan.
Fish Moilee Kerala Style RM 15.90 – Pieces of fish cooked with freshly ground masala in a creamy curry which is delicious to eat with rice.
Mutton Vindaloo RM 22 – The pieces of local Mutton was cooked till tender with a variety of spices served with a fiery hot vindaloo curry. The deeply flavored meat eaten with Naan was one of the greatest bites.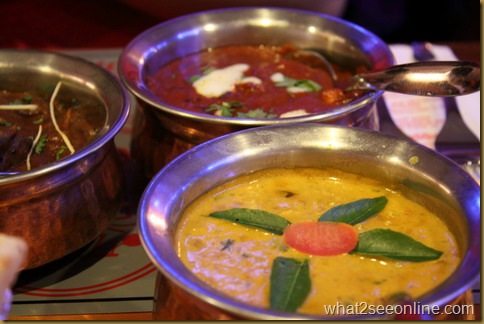 All the curries go well with either rice or Naan. The Pulao Rice and the basket of mixed Naan were excellent bites. The beautiful long grain Basmati rice was cooked till fluffy with onions & capsicums with a wonderful seasoning.
All the Naans are cooked fresh on the spot in the tandoor and was served pipping hot. I liked the variety of bread, light and flaky.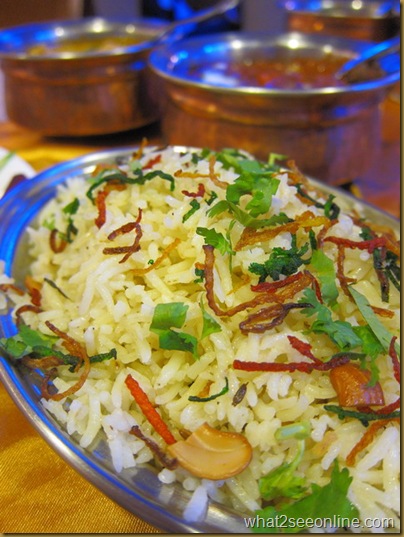 Pulao Rice RM6.90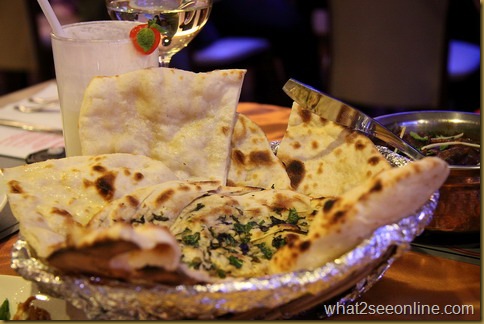 Mixed Naan
Pages: 1 2
Tags: Bishop Street, Chicken Pieces, Corner Location, Creamy Soup, Cucumber, Curtains, Dipping Sauce, Fish Moilee, Gem Restaurant, Gram Flour, Gulab Jamun, Hyderabad, Hyderabad Chicken, Indian Cuisine, Kebabs, King Street, Kuala Lumpur, Kulfi, Lassi, Milkshake, Mutton, Mutton Kebab, Mutton Vindaloo, Nandu, Nandu Rasam, New Straits Times (Life & Times), New Straits Times (Life & Times), Pakora, Palak Butter Masala, Penang, Penang Restaurant, Plain Rice, Pulao Rice, Rm4, Saffron, Signature Dishes, Spices, Tandoor, Traditional Decor, Vegetable Pakora
This entry was posted on Tuesday, March 30th, 2010 at 1:58 am and is filed under
George Town
,
Indian Cuisine
,
Invited Review
,
Media Preview
,
New Straits Times (Life & Times)
,
Penang
,
Penang Restaurant
,
Pork Free
,
Restaurant
. You can follow any responses to this entry through the
RSS 2.0
feed. You can
leave a response
, or
trackback
from your own site.