*This article was published in the New Straits Times (Life & Times) on 10th April 2010.

Recently I and hubby took a trip Down Under to visit my eldest son! It was a really exciting journey as it has been a while since we went there. We visited and dined in many places in Perth which I will be sharing with everyone in time to come.
On this particular day, we started out early in the morning, heading to the countryside of Swan Valley to experience the nature and surroundings. We took a stopover at The Margaret River Chocolate Company, Sandalford Wines, Caversham Wildlife Park and the AQWA.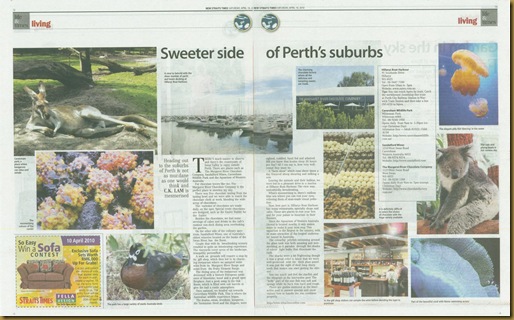 My eventful day in Perth was documented in the New Straits Times on Saturday, 10th of April!
For chocolate lovers like me, Margaret River Chocolate Company is the perfect place to sweeten my eventful day.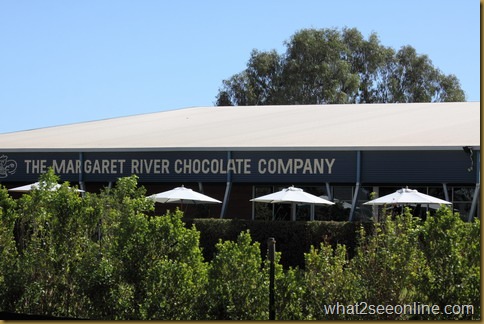 We watched the chocolate chef at work blending the wide array of chocolates. The many varieties of chocolates are made daily on the spot, with some rich and nutty and other light in flavor. All of them are great gifts to take home with.
Spoilt with the variety of choices
Besides the chocolates, we had some serving of cakes and coffee in the cafe's outdoor sun-deck dining area overlooking the garden.
The Margaret River Chocolate Company
5123 West Swan Road
West Swan
WA 6055
Tel : 08 9250 1588
Open every day from 9am till 5pm (except Christmas Day)
Website : http://www.chocolatefactory.com.au/
Further down the road is Sandalford Wines, one of Australia's oldest wineries located on the banks of Swan River. The wines produced by Sandalford are Margaret River's finest.
It is definitely worth visiting the winery as you get to walk on their grounds with its breathtaking scenery.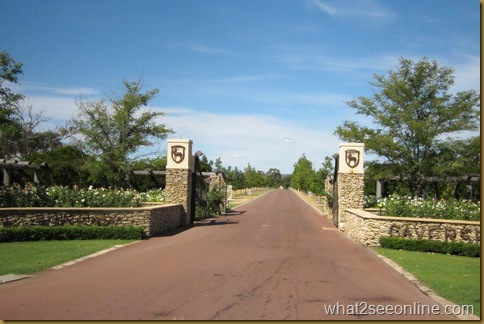 Breath taking scenery
Lush green vines with clusters of grapes
We made a stop at their gift shop, tantalized our taste bud in its charming restaurant and sampled some wine. We tried several wines from the Margaret River Range and some from the fruity Element Range.
It was simply delicious tasting wine in a restaurant on a winery…the feeling was great!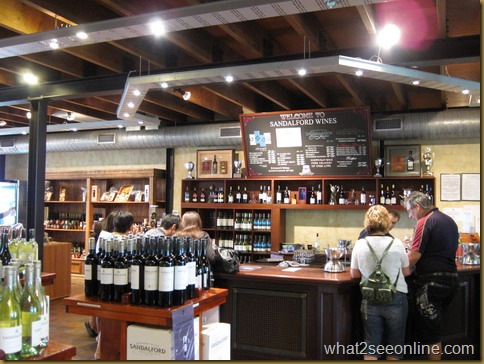 The restaurant with an open fireplace
Just a peek away is the Oak Room filled with oak barrels giving the hall a rustic atmosphere.
Sandalford Wines
3210 West Swan Road
Caversham
Western Australia 6055
Tel : 08 9374 9374
Website : http://www.sandalford.com/
From the Sandalford Wines, we made a stop off at Caversham Wildlife Park. We got the chance to feast our eyes on some exotic Australian animals. We were lucky that the koalas were awake during our visit as they are known to be sleeping twenty hours a day! They were so cute and adorable; every one of us took turn to reach out and pat it.
Besides the koalas and kangaroos we also had the privilege to see emus, wombats, Tasmanian Devil and the dingoes.
The cute koala is not camera shy
Kangaroo taking a break!
Amazing bird species and much more!
Caversham Wildlife Park
Whiteman Park
Whiteman 6068
Tel : 08 9248 1984
Open every day from 9am till 5.30pm (except Christmas Day)
Admission Prices – Adult AUD 22
Child AUD 8
Website : http://www.cavershamwildlife.com.au/
CLICK HERE TO PROCEED TO THE NEXT PAGE…VISIT TO THE AQWA
Pages: 1 2
Tags: AQWA, Array, Breathtaking Scenery, Caversham Wildlife Park, Charming Restaurant, Chocolate Company, Chocolate Lovers, Chocolatefactory, Christmas Day, Dingoes., Dining Area, Eldest Son, Emus, Great Gifts, Greek Lamb Pizza, Hillarys Boat Harbour, Little Caesars Pizzeria, Little Caesars Pizzeria in Mandaring, Mandaring, Margaret River, New Straits Times (Life & Times), New Straits Times (Life & Times), Oak Room, Oyster Kilpatrick, Restau, Sandalford Wines, Sorrento Quay, Stopover, Suburbs Of Perth, Sun Deck, Swan River, Swan Road, Swan Valley, Tasmanian Devil, Taste Bud, The Aquarium Of Western Australia, The Margaret River Chocolate Company, Theo Kalogeracos, Wildlife Park, Wombats
This entry was posted on Sunday, April 11th, 2010 at 12:05 am and is filed under
Australia
,
Chocolate
,
Holiday
,
Media Preview
,
New Straits Times (Life & Times)
,
Perth
,
Pizza
,
Sights
,
Travel Destinations
,
Wine Champagne and Spirits
. You can follow any responses to this entry through the
RSS 2.0
feed. You can
leave a response
, or
trackback
from your own site.