The weekend was awesome with a hearty breakfast at the charming seaside Sigi's Bar & Grill on the Beach, Golden Sands Resort. It was a perfect place to enjoy a scrumptious breakfast, complete with a relaxing sea view and cool breezes!
From the extensive menu, diners can choose their hot breakfast item, which comes with a complimentary Continental buffet.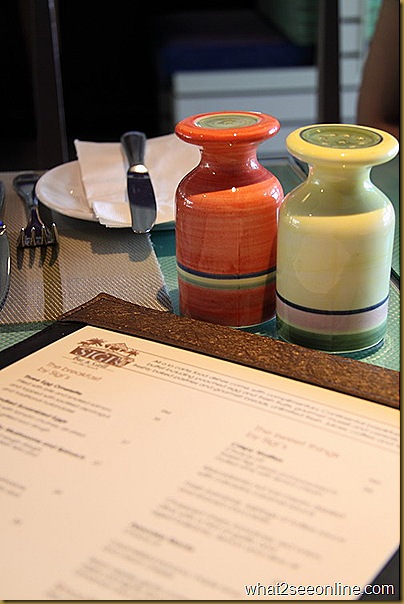 The menu offers savory and sweet varieties!
I kicked off my breakfast with the choice of Egg Benedict. Perfectly placed beneath the poached eggs were slices of smoked salmon on a English muffin. Tangy hollandaise sauce were spooned over the eggs. Perfect start!
Another choice which I savored was the All-Day Breakfast. The large plate with charred sough dough was served scrumptiously with sunny side eggs, together with beef bacon, sausages, tomato chutney, slow-roasted tomato, hash brown and grilled mushroom seasoned with black pepper.
The third savory dish was the Brandied Scrambled Eggs served with tomato chutney, air-dried beef and grilled sour dough. The scrambled eggs were perfectly cooked with soft curds that complemented the bacon very well! All washed down with freshly brewed piping hot cup of coffee.
Besides the savory dishes, I indulged in a sweet treat. Chef John Brock had the pancakes done with cream cheese, and it was delicious with the caramelized banana and maple syrup.
Sigi's offers as many as five different healthy types cereal and two yoghurts on that day. Yoghurts are the best part of my breakfast meal! My favorite is the Strawberry Yoghurt which is deliciously creamy and pairs well with poached pear.
Plain yoghurt with fresh fruits
The Continental buffet also includes a variety of bread, poached and fresh fruits and freshly baked pastries. Besides that, there are also coffee and tea, along with fresh fruit juices of mango, grape fruit, orange and pineapple.
Fresh fruit juices
It's simply a satisfying breakfast with awesome coffee and superb eggs! And the best part is you get to enjoyed it in a leisurely pace in a relaxed atmosphere. Sigi's is now offering this buffet breakfast on Saturdays & Sundays only from RM28++ to RM39++, which runs from 8am till 11.30am.
Feast on Sigi's Weekend Breakfast and lucky draw winners stand a chance to test drive a BMW or Mini Cooper for the entire weekend! Terms & Conditions apply.
Sigi's Bar and Grill On The Beach
Shangri-La's Golden Sands Resort
Batu Feringgi Beach
11100 Penang
Malaysia
Tel : 04 886 1852
Tags: All-Day Breakfast, Baked Pastries, Beef Bacon, Black Pepper, Brandied Scrambled Eggs, Ck Lam, Egg Benedict, English Muffin, English Muffins, Fresh Fruit Juices, Fruit Orange, Golden Sands Resort, Golden Sands Resort Penang, Grape Fruit, Grilled Mushroom, John Brock, Penang Food Blog, Plain Yoghurt, Poached Eggs, Savory Dish, Savory Dishes, Scrumptious Breakfast, Sigi's Bar & Grill, Smoked Salmon, Sour Dough, Tomato Chutney, Weekend Breakfast, What2seeonline.Com, Yoghurts
This entry was posted on Sunday, May 23rd, 2010 at 9:52 pm and is filed under
Batu Feringgi
,
Golden Sands Resort
,
Hotels
,
Invited Review
,
Penang
,
Promotion
,
Tanjung Bungah
,
Western Cuisine
. You can follow any responses to this entry through the
RSS 2.0
feed. You can
leave a response
, or
trackback
from your own site.