*** Updated on 1/5/2011 – The coffee shop has since been taken over by a new owner.
One of my favorite breakfast joints in Penang is Eng Loh Coffee Shop in the heart of Georgetown. It is located at the end of Church Street, diagonally across the Pinang Peranakan Mansion and is exceptionally crowded during lunch hour.
Besides serving good coffee, the coffee shop operator also serves choices of Western breakfast of sausages and egg together with toast bread. There are ten over choices of bread and my favorite is the Roti Taiwan.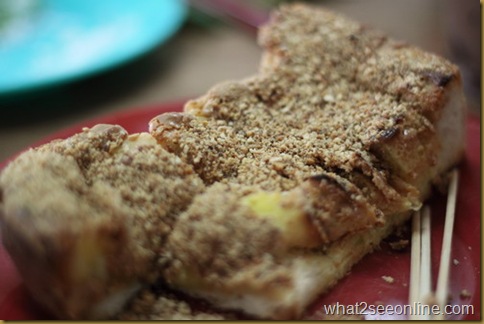 Delicious Roti Taiwan
Tags: Breakfast, Chai Kuih, Char Koay Teow, Chewy Texture, Chili Sauce, Church Street, Coffee Shop, Dumpling, Eng Loh, French Toast, Gereja, Grated Coconut, Jalan Gereja, Kuih, Kuih Kosui, Kuih Koswee, Loh, Lunch Hour, Palm Sugar, Pandan, Penang, Penang Food, Roti, Roti Taiwan, Shop Operator, Smooth Peanut Butter, Soft Dough, Sugar Version, Taiwan Version, Toast Bread, Wanton Mee