* This article was also published in the New Straits Times (Life & Times) on 13th August 2010.
Since opening its doors over three decades ago at Shangri-La's Rasa Sayang Resort and Spa, the Feringgi Grill has always offer a truly unique fine dining experiences for both locals and international diners. This great restaurant has garnered the Most Innovative Western Restaurant in Malaysia 2008/2009 Award.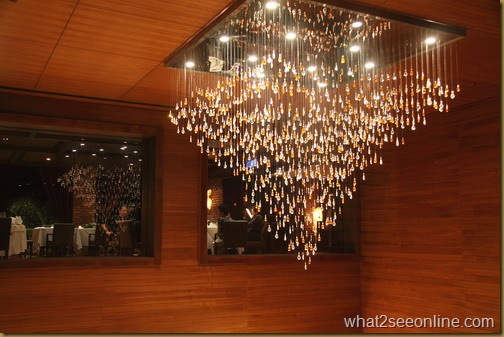 A view of the beautiful chandelier through Feringgi Grill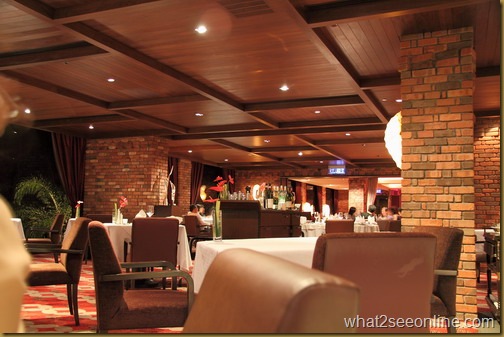 The dining room provides guests with a refined dining experience
Executive Sous Chef Adam Roy has since innovated new flavors and a fresh perspective to its menu. Besides the fresh take on the classic favorites, he has supplemented more mains using interesting combination of flavors which indeed gives the Feringgi Grill menu a wide variety of options. Furthermore, the restaurant also offers children and vegetarian menu which gives everyone the opportunity to dine in!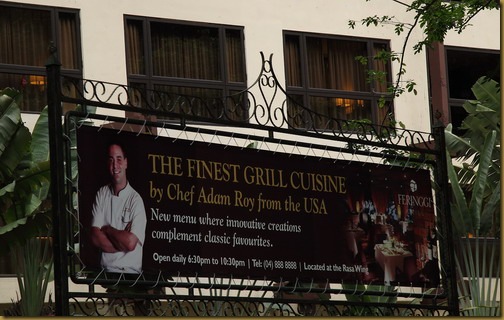 We started with a fresh basket of homemade bread paired with a side of butter and dip. There was the triple dinner roll, with the smoked fish focaccia sandwiched between the multi grain and the white dinner roll. Also included was the parmesan cheese sticks and onion and herb lavash, all delicious by themselves or with the dip.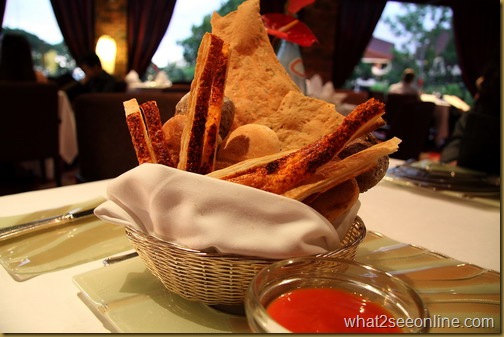 Before the appetizers, we had our appetite stimulated by a small morsel of Home Smoked Fish with Apple Salad. The sweet, smoky flavor of the fish goes well with the sweet, tangy green apple.
There are more than fourteen items under the appetizer section and we had six. It was a delight seeing some of the familiar appetizers that I  had enjoyed when I attended the event hosted by Rasa Sayang for Dato' Jimmy Choo.
The Beef Steak and Quail Egg (RM29)
This dish featured medium rare strips of flank (100g) neatly rounded up, garnished with rocket leaves and a quail sunny side up.
Though consider a relatively tough cut of meat, it was surprisingly done with tenderness and great flavor. The dish was decorated with crispy black pepper-shoe string potatoes and drizzled with Lea & Perrins sauce.
Crab Salad Stuffed Smoked Tomato (RM28)
The next appetizer was the Crab Salad Stuffed Smoked Tomato. The tapestry of avocado, extra virgin olive oil, grilled green onion-herb paint, all combined giving this dish a dimension of flavors.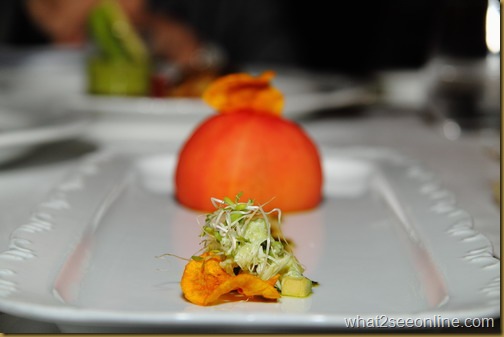 Smoke-Grilled Duck Liver (RM 78)
The Smoke-Grilled Duck Liver with sides of kiwi sorbet and warm fruit salsa was a mélange of flavor. The liver is set atop a piece of paprika toast. The kiwi sorbet and warm fruit salsa provided the amount of acidity to complement the creamy liver.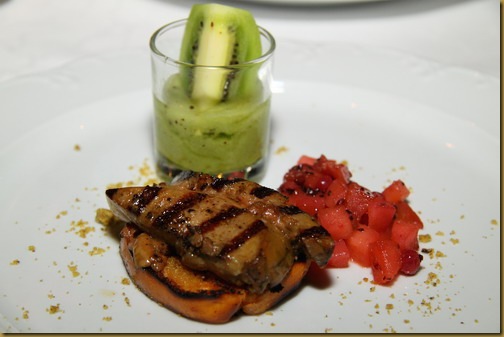 Smoked Crispy Lamb Belly (RM 22)
The lamb belly, hot smoked for eight hours with a smoky depth and flavor was served with pure Canadian Maple Syrup. The smoke penetrated the meat, imparting a distinctive scent. The natural sweetness of the maple syrup complemented the lamb perfectly by cutting through the fats.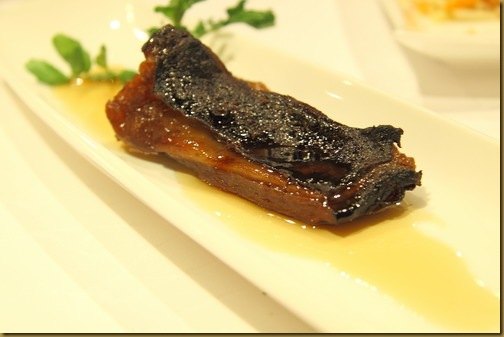 Grilled Pizzette (RM 27)
The Grilled Pizzette had soothing goat's and parmesan cheeses, cherry tomatoes, basil, and balsamic-tomato reduction. This thin crispy piece of pizza with the charred and distinct cheese flavors is enough to satisfy any pizza lover.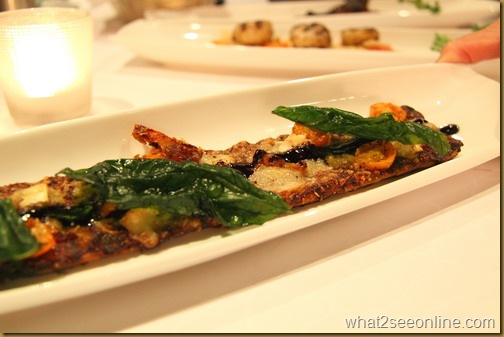 Grilled Scallops (RM 28)
The Grilled Scallops were served sitting on a bed of spicy green guava salad, alongside with grilled peach chutney. I loved the discs of scallop, grilled with the sweet smell of smoke. Although slightly salty, the juicy scallops were nonetheless enjoyable with the pickled of sweet, savory and chili-spiked guava with a dash of chutney.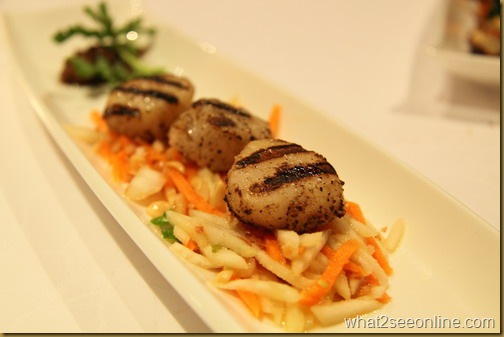 There were plenty of variety in the six appetizers, well balanced!
We had a chat with Chef Adam before the serving of the mains. He is the kind of chef who would spend some time sharing with you about the food and the ingredients on his menu. He  had the fire-grilled meat and seafood seasoned with a combination of natural Himalayan pink salt and Sarawak black peppercorns, and had it grilled using kayu bakau (mangrove wood).
The simple seasoning works well, with the salt bringing out the natural flavors of the meat and black peppercorns adding a touch of spice to it.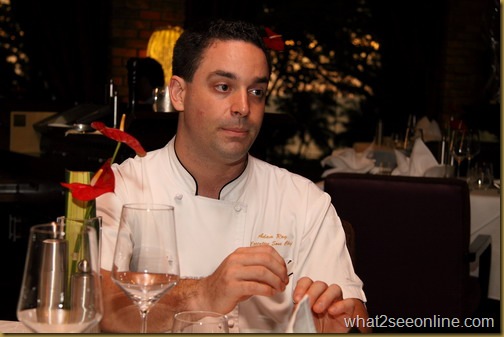 Chef Adam helming the kitchen since early 2009
We continued with the sherbet with pineapple juice, a great dish to refresh the appetite before the serving of the main course.
The grilled dishes comes with a choice of twelve types of vegetable and potato accompaniments for diners to choose from. We opt for the Jumping Crab Mushrooms with Basil and the Duck Fat Poached Carrot Hay from the Veggie B-sides and the Sour Cream-Sweet Potato Mash from the Potato B-Sides.
Fire Grilled Fresh Tiger Prawns (300g @ RM68)
Chef Adam had the locally sourced prawns grilled.  The prawns were fresh and moist with a great charred grill flavor. The side of finely grated carrot hay sautéed in duck fat balanced well against the grilled prawns. According to Chef Adam, the Tiger prawns are replenished twice a week!
Smoked Lamb : Oxtail and Belly (RM65)
From Chef Adam's signature mains, we had the Smoked Lamb : Oxtail and Belly served with sautéed crab mushrooms, sour cream-sweet potato mash and chopped ginger flower.
Upon ordering this dish, Manager Ryan Tham did explained that the oxtail is merely a name for the collarbone! The oxtail and the belly were slow smoked with a nice smoked bark on the outside and it was livened by colorful aromatic ginger flowers. I enjoyed every bit of meat and tendon from the collarbone which was tender but still have some chew.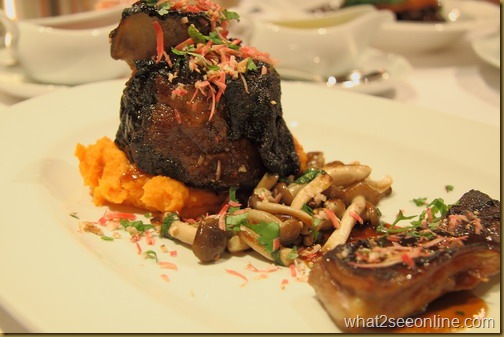 'Burgundy Style' Braised Beef Cheek (RM 68)
Proceeding to the Innovative Classics, I picked the 'Burgundy Style' Braised Beef Cheek, with king mushrooms served on a bed of crushed potatoes.
This braised beef cheek was a good rendition, with succulent pieces of beef braised in hearty yet intense red wine reduction gravy with Burgundy which imparts a lovely flavor. The king mushrooms contributes a nice sweet texture to the dish.
Many restaurants fail to have desserts that live up to the appetizer and entree, but in Feringgi Grill, there are many sweets to choose from.
Sticky Date Pudding (RM 22)
Mango-Milk Cream (RM 22)
The Mango-Milk cream came decorated with slices of fresh mango, vanilla bean and passion fruit was visually appealing. I personally find the dessert on the sweeter side. However for those with a sweet tooth, then this would be a marvelous choice!
We enjoyed the moist sticky date pudding adorned with ice cream, drizzled with toffee sauce. The thick slice of cake has an intense flavor with tastes of dates.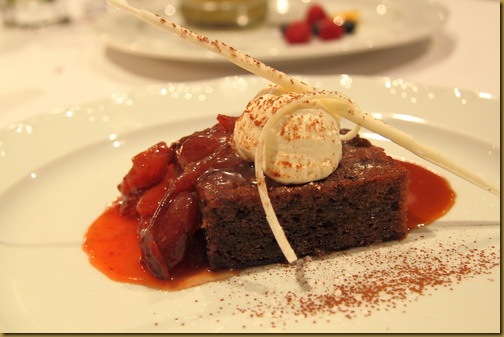 Sticky Date Pudding with toffee sauce
As for the complimentary pralines, I had it down in one bite.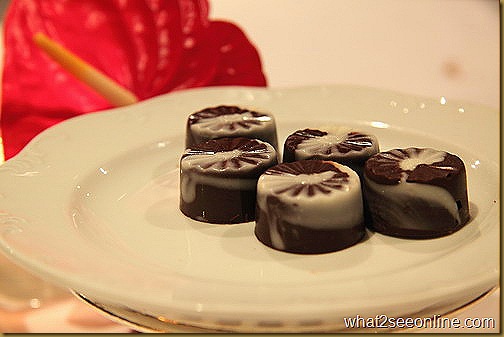 Complimentary Pralines
Overall, we enjoyed the meal. We left the restaurant with the sensuous aromas of the food still lingering on! Grilling and smoking is definitely staying in Feringgi Grill!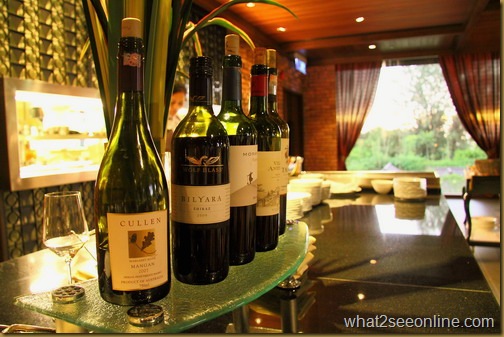 Feringgi Grill is running a free dessert promotion for every main course during the month of August. One of the desserts (on rotational basis) is the sticky date pudding.
Feringgi Grill
Shangri-La's Rasa Sayang Resort and Spa
Batu Feringgi Beach
11100 Penang
Tel: 04 8888888
Tags: Apple Salad, Batu Feringgi Beach, Beef Steak, Beef Steak and Quail Egg, Black Pepper, Braised Beef Cheek, Canadian Maple Syrup, Cheese Sticks, Chef Adam Roy, Classic Favorites, Crab Salad, Crab Salad Stuffed Smoked Tomato, Cut Of Meat, Dinner Roll, Executive Sous Chef, Feringgi Grill, Focaccia, Grill Menu, Grilled Pizzette, Homemade Bread, Jimmy Choo, Lea & Perrins Sauce, Mango-Milk Cream, Mangrove Wood, New Flavors, New Straits Times (Life & Times), New Straits Times (Life & Times), Onion and Herb Lavash, Oxtail and Belly, Parmesan Cheese, Parmesan Cheese Stick, Quail Egg, Rasa Sayang Resort, Resort And Spa, Small Morsel, Smoke-Grilled Duck Liver, Smoked Crispy Lamb Belly, Smoked Fish, Smoked Lamb, Smoky Flavor, Sticky Date Pudding, Vegetarian Menu, White Dinner
This entry was posted on Monday, August 9th, 2010 at 11:46 pm and is filed under
Batu Feringgi
,
Fine Dining
,
Hotels
,
Invited Review
,
Media Preview
,
New Straits Times (Life & Times)
,
Penang
,
Restaurant
,
Shangri-La's Rasa Sayang Resort & Spa
. You can follow any responses to this entry through the
RSS 2.0
feed. You can
leave a response
, or
trackback
from your own site.