We begin a weekend morning with a warm and filling bowl of oyster porridge, or better known orh moi. I was introduced to this oyster porridge at Perak Road in Jelutong. It is one of the local's favorite choice of  breakfast. This stall starts selling early in the morning serving breakfast, right till lunch.
Being the only stall in the coffee shop, it draws in quite a crowd with the place packed with customers. Many were seen waiting for their take-away and others busy slurping down their porridge.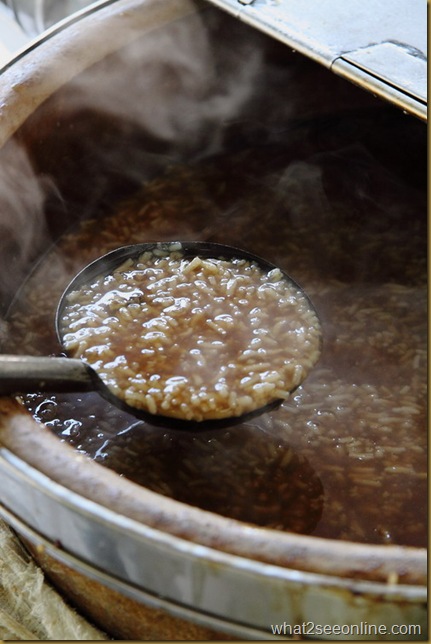 Huge pot of oyster porridge
The oyster porridge is indeed different, and the flavor was naturally sweet. The porridge with the coarser rice grain texture is boiled with a rich combination of flavors from a variety of ingredients, like mushrooms, dried oyster and pork.
A customized bowl of porridge is topped with strips of braised pork, deep fried shallots, spring onions and the not commonly used, eel flakes.

Apart from porridge, there are many varieties of side dishes for customers to pick and order. We seem to have ordered everything, plates of braised items of pigs' innards, beancurd, pork, egg, and the pig's skin.
We absolutely loved the pig skin with smooth texture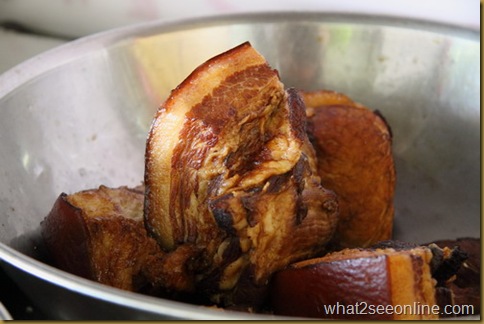 The meat and the intestines were braised till tender with a hint of sweetness of the soy sauce.
A bowl of armp (porridge broth) was served together with the porridge. The brownish armp is very light and you can add in a few spoons of it to lighten the porridge or just dip the you tiao (deep-fried crullers) into it.
The cooked eel is shredded into fine flakes. The taste really stands out and its flavor greatly enriches the porridge.
We enjoyed the oyster porridge with its savory flavors. The delicious side dishes were enough to have us piling on with another round of accompaniments.
Bowl of porridge with additional cooked eel
You can consider checking out this place. The best way is ordering a customized bowl and add-on with the side dishes. It is advisable to go for the earlier session as most of the side dishes would be sold off in the afternoon.
Click here for the Map Location.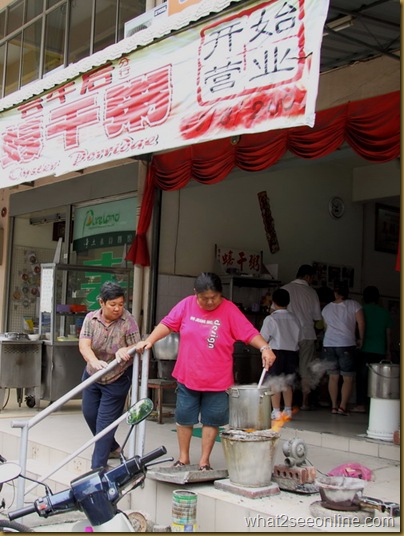 Kedai Makanan Liang Seng
336C Perak Road
Penang
Business Hour : 7am – 3pm
Closed on every 1st and 15th day of the lunar calendar.
GPS Coordinates : N05 23.892   E100 18.890
Tags: Accompaniments, Bowl Of Porridge, Coffee Shop, Eel, Intestines, Jelutong, Mushrooms, Orh Moi, Oyster, Oyster Porridge, Penang, Penang Hawker Food, Penang Porridge, Perak Road, Pig Skin, Rice Grain, Rich Combination, Savory Flavors, Side Dishes, Slurping, Smooth Texture, Soy Sauce, Spoons, Spring Onions, Tiao