The Spaniards started it, the Aussies are enjoying it and so did myself. It was a day full of fun and food in my Perth holiday. After half a day of shopping in Fremantle, I met a few of my relatives and headed down to Chocolateria San Churro on Freo's cafe strip.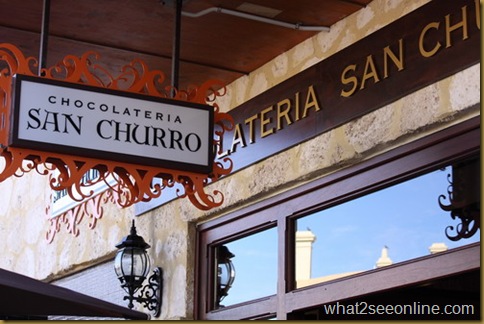 The restaurant furnished with dark wood and decorated with beautiful artwork and posters is known for its sickly sweet chocolate and Churros. It was packed with customers, indeed a sign of the popularity of Churros in Perth.
The menu of this cafe incorporates the best of Spanish Chocolate, Hot Chocolate, Churros and traditional Spanish Sweets imported from Spain. Churros is the Spanish version of doughnuts which has the resemblance of the bread sticks.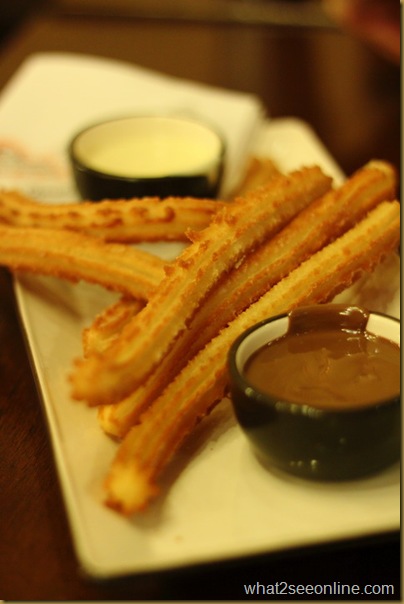 All the Churros are made to order. One can enjoy the art of churro making through the glass panel on the cafe front. The fresh batter is poured into the build in holder which conveniently pipes the batter into the pot of hot oil. I remember hearing of an outlet selling these snacks somewhere in Kuala Lumpur.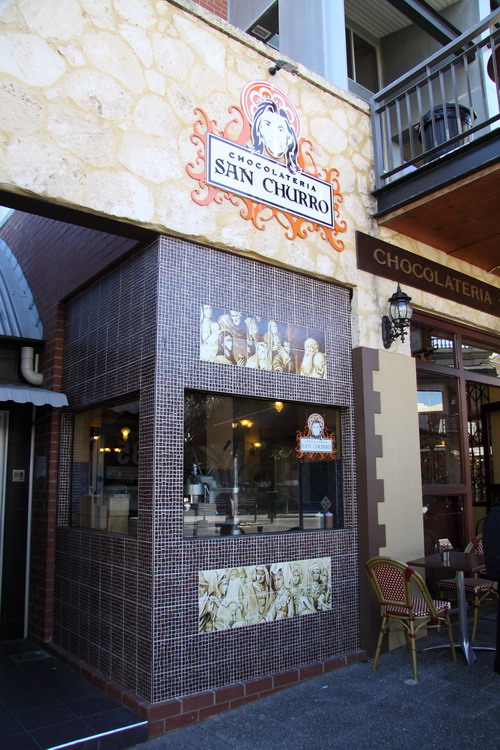 Churros fresh-from-the-fryer with two steaming hot chocolate
We had the plate of Churros For Two AUD 13.90 which was served with pure melted couverture black and white chocolate. It was a pleasure at the first bite. The golden brown Churro was soft on the inside yet crunchy on the outside; they are awesome on its own but truly divine when dipped in the warm and thick chocolate dipping sauce.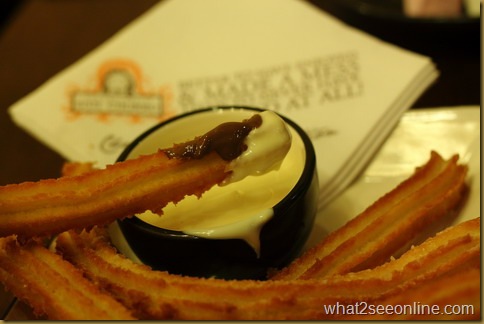 There are so many beverages to choose from. My preference was the White Hot Chocolate drink which comes with two pieces of marshmallows. The extra rich drink is pure couverture chocolate melted through milk. It was tasty, apparently on the sweeter side. It would be great if there have a way to keep the drink in a warmer, similar to those served in Theobroma Chocolate Lounge.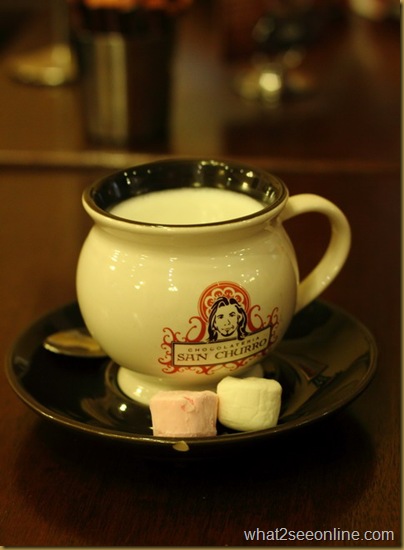 Most of the 'items' on the platter is associated with chocolate, including the Strawberry Bowl AUD 7.90. The melted couverture black chocolate was indeed a great accompaniment to the strawberry. It is definitely for sharing and all of us love having it.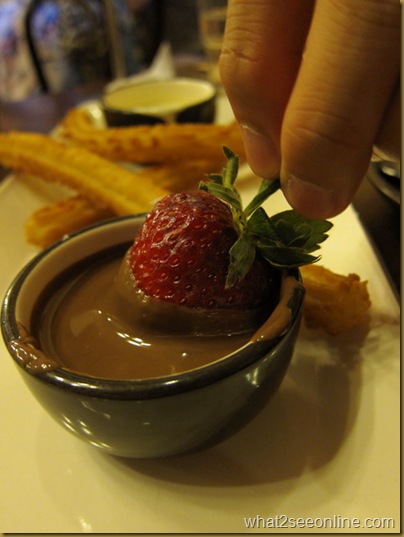 Do check out the sweet snacks of chocolate pieces and beautiful cakes displayed in the glass counter with every pieces looking so tempting. Another cupboard directly opposite has various packets of chocolates displayed on the shelves.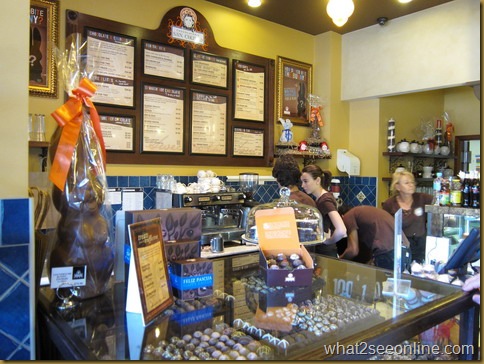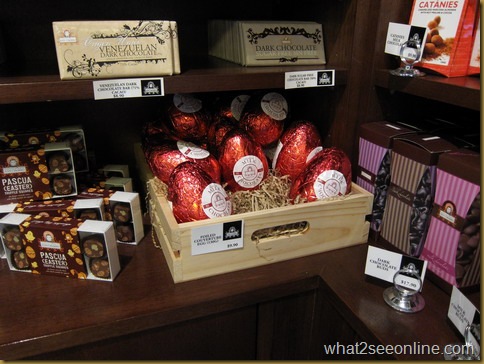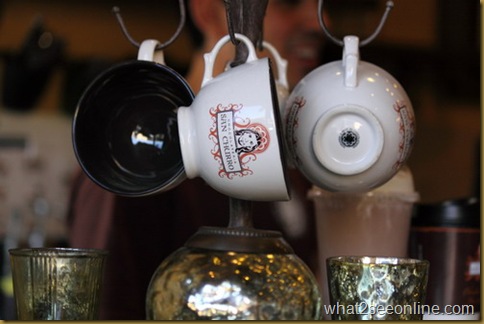 Overall Chocolateria San Churro is an enjoyable place and is where you can find many things that Sweeten thy Soul. I am looking forward to try the Fondue for Two & the Chocolate Tapas Platter on my future visit. I am keeping my fingers crossed, I might be visiting this place real soon!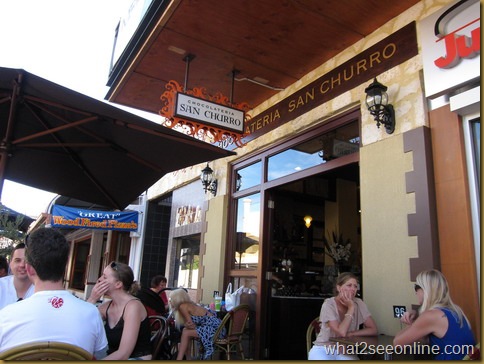 CHOCOLATERIA SAN CHURRO FREMANTLE
91 Market Street
Fremantle
WA. 6160
Tel : 08 9336 7557
Business Hour : Sun – Thu 8:30am – 10pm
Fri – Sat 8:30am – 11pm
Website : http://www.sanchurro.com/
Tags: Black Chocolate, Chocolate Dipping Sauce, Chocolate Drink, Chocolate Pieces, Chocolate Strawberry, Chocolate Tapas Platter, Chocolateria, Chocolateria San Churro, Churro, Churros, Couverture Black White Chocolate, Couverture Chocolate, First Bite, Fondue for Two, Fremantle Perth, Freo, Glass Panel, Half A Day, Hot Chocolate, Hot Oil, Perth, S Cafe, Spanish Chocolate, Spanish Sweets, Spanish Version, Strawberry Bowl, Sweet Chocolate, Sweeten thy Soul, Western Australia, White Chocolate, White Hot Chocolate
This entry was posted on Friday, September 10th, 2010 at 12:23 am and is filed under
Australia
,
Cafe
,
Chocolate
,
Dessert
,
Holiday
,
Pastry
,
Perth
,
Tidbits and Snacks
,
Travel Destinations
. You can follow any responses to this entry through the
RSS 2.0
feed. You can
leave a response
, or
trackback
from your own site.