*This article was published in the New Straits Times (Life & Times) on 9th October 2010.
A trip to Perth will never be quite complete without a visit to the legendary Italian restaurant located in a quiet neighborhood of South Perth  in Western Australia. The locals are very proud to recommend Ciao Italia, a quaint little place which serves up typical and authentic home style Italian cuisine!
This restaurant owned by an Italian started off as a takeaway diner, however its popularity grew over the years and it slowly expanded from five to fifteen tables, all holed within the small shop!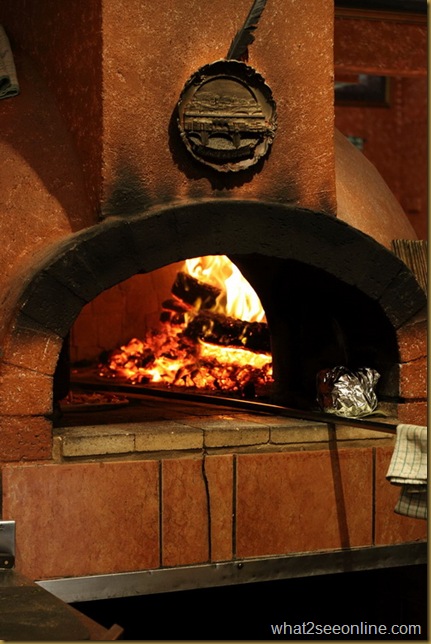 Some new customers may be slightly surprised and amazed at how tight the place is, with only millimeters worth of space in between the tables! The efficiency and orderly manner on how the staffs attend to the customers in this chaotic little restaurant is the very essence on giving this quaint little place its character!
Ciao Italia's menu offers a wide variety of Italian cuisine, including entrees, pastas, salads, main course and desserts. There is also their extensive list of mouth-watering pizzas, which are unique in Ciao Italia as they are cooked in a wood fire oven! However they have slightly different varieties compared to Little Caesars Pizzeria in Mandaring.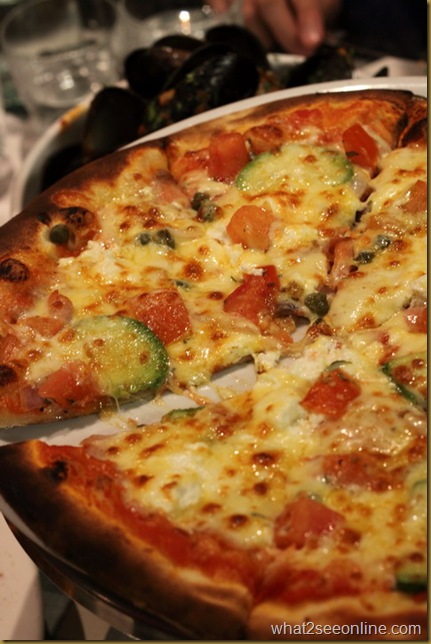 We ordered a few dishes, all served at almost the same time together in the small tiny table. We began the meal with the highly recommended appetizer, Bruschetta. The chopped tomatoes were prepared in chunky big pieces, doused with olive oil and served on top of a slightly charred thick piece of bread. I loved the burst of tomatoes with its fragrance that goes well with sweetness of the chopped onions on the crusty bread.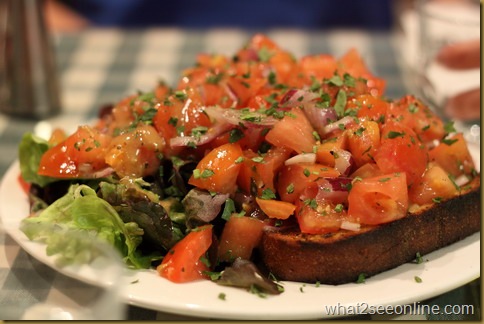 Ciao Italia has always been famous for one particular dish, the Cozze Pescatora. This is a dish not to be missed. It was a delight to savor the delicious mussels cooked in a special tomato gravy. The flesh was not overly tough, leaving us thoroughly contented with the  chewy mussels. On top of that, we used the shells to scoop up the intensely flavorful gravy as well. We finished off the whole bowl of mussels in no time!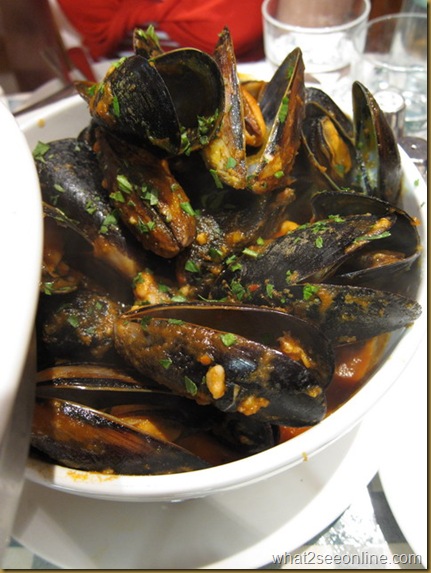 Bowl of mussels in the shells
The wood-fire pizza is worth ordering. The Smoked Salmon Pizza arrived at the table with the irresistible smell of the pizza wafting in the shop. The pizza was perfectly done, with the edges of the crust crisp while maintaining a soft interior. It was topped with generous amount of capers, ricotta cheese, whole peeled tomato sauce, mozzarella cheese, smoked salmon, avocado and fresh diced tomatoes. It was delicious.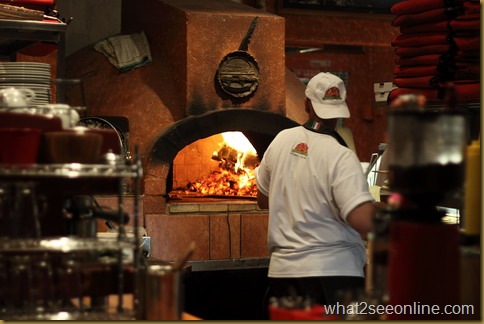 The woodfire stove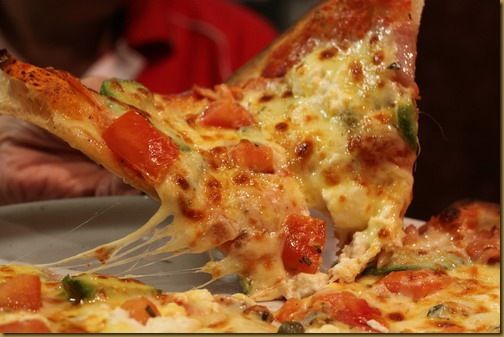 Next up was our selection of the pasta dish! The Spaghetti Marinara came with a combination of marinated seafood in a delicious tomato puree. The pasta was well prepared, indeed pure delight on the palate. For personal preference, do request for Ciao Italia's very own chili oil. The pasta is particularly appealing with an added spoonful of the chili oil.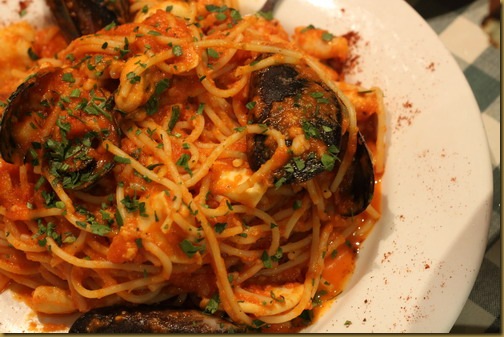 Ciao Italia's very own chili oil
We ended the meal with Ciao Italia's legendary Tiramisu. This Italian delight which is a staple in Italian restaurants was made fresh daily. This scrumptious dessert consists of layers of sponge finger biscuits soaked in coffee and liqueur, with thick layers of mascarpone cheese topped with fresh double cream. One spoonful of it and it is easy to understand why this rich dessert is their best selling dessert for all these years!
All the dishes came together to create a fabulous Italian feast, coupled with a homely ambience.  The total bill came up to around AUD105.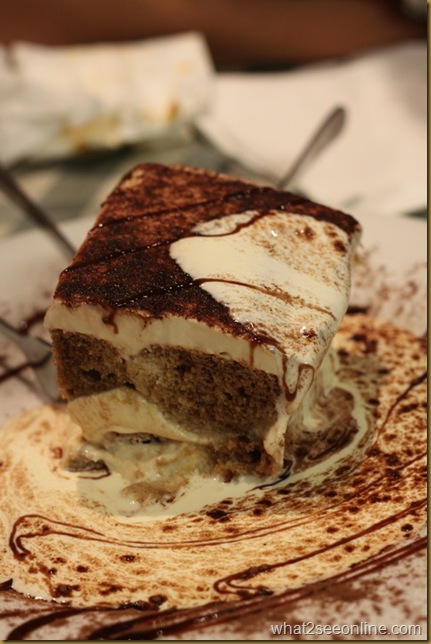 Do take in mind that due to their small premises, they do not entertain phone bookings! First come first serve is the method of operation. Customers have to wait outside the restaurant regardless of the cold or warm weather, sometimes waiting even up to a hour and a half!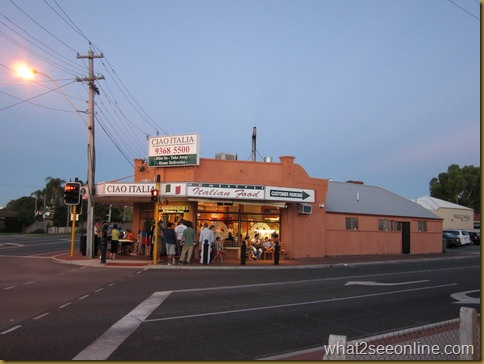 However, it is definitely worth the wait. Service is quick and prompt, the servings are enormous and the taste of Ciao Italia's cuisine soothe the soul…Mama Mia!
Ciao Italia
273 Mill Point Road
South Perth WA 6151
Corner Douglas Ave
Australia
Tel: 93685500
Business Hour : 5pm till 10 pm (Tuesday to Saturday)
Tags: Chewy, Chopped Onions, Chopped Tomatoes, Ciao Italia, Cith of Perth, Cozze, Cozze Pescatora, Crusty Bread, Home Style, Inten, Italian Cuisine, Italian Restaurant, Little Caesars, Mill Point Road, Mussels, New Straits Times (Life & Times), New Straits Times (Life & Times), Orderly Manner, Perth Australia, Piece Of Bread, Quiet Neighborhood, Smoked Salmon Pizza, South Perth, Spaghetti Marinara, Takeaway, Thick Piece, Tiny Table, Tomato Gravy, Western Australia, Wood Fire
This entry was posted on Sunday, September 12th, 2010 at 10:55 am and is filed under
Australia
,
Holiday
,
International
,
Italian Cuisine
,
Media Preview
,
New Straits Times (Life & Times)
,
Perth
,
Pizza
,
Travel Destinations
. You can follow any responses to this entry through the
RSS 2.0
feed. You can
leave a response
, or
trackback
from your own site.