*This article was published in the New Straits Times (Life & Times) on 27th September 2010.
Teluk Bahang, in the northwestern tip of Penang Island, is a perfect paradise for relaxation. Free of the bustling hotels that encroach the beachfront, it gives an open sight of the roaring sea and a stretch of beach that seems to run endlessly.
The makeshift and uneven wooden jetties that extend from the shore outwards into the sea exemplify the beauty of this village. Not to be missed is the sunset. As the sun draw to a close and hide behind the hills each day, it performs its final act by bathing the sky in amber for few minutes.
The village in Teluk Bahang used to rely on the fishing industry as its bread and butter but has since turned to tourism as its main source of income. However, the village still retains most of its rustic and tranquil charm.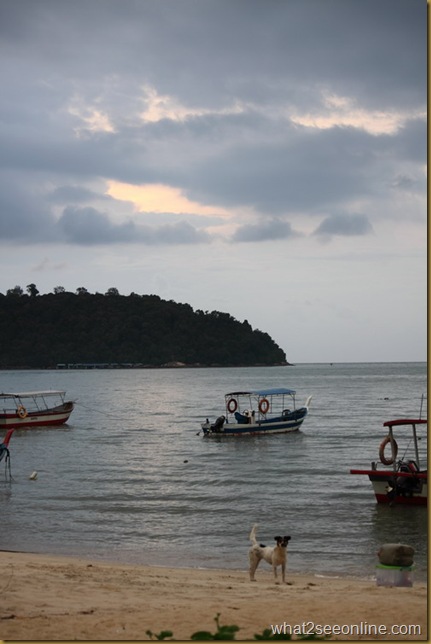 There are plenty of seafood restaurants within walking distance of each other. These restaurants lack the decor and services compared with those at Batu Ferringhi, but they do not lose out in terms of the quality of the dishes. One such restaurant is Fishing Village Restaurant. The decor is simple with folding tables and plastic chairs.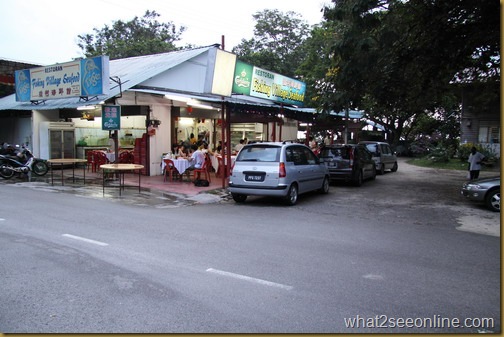 The simple setting of the Fishing Village Restaurant
We have been to this restaurant several times since being introduced by Alfred. We normally end up having oysters. We noticed that nearly everyone sitting around us also ordered oysters!
There are large and regular sized oysters, but we only managed to try out the regular ones as the larger ones were sold out. The regular ones were quite affordable, at only RM3.50 each. The oysters are eaten raw, cheese baked and steamed with black bean sauce. The raw oysters were delicious with their natural salty flavor.
Briny raw oysters
Next were oysters baked in cheese. The initial appearance may not be very tempting but I was proven wrong. The oysters were best with creamy cheesy mushroom toppings – simply delicious.
We tried steamed oysters with black bean sauce, garlic and chili. It was an interesting new taste but did not make an impression compared to those baked in cheese.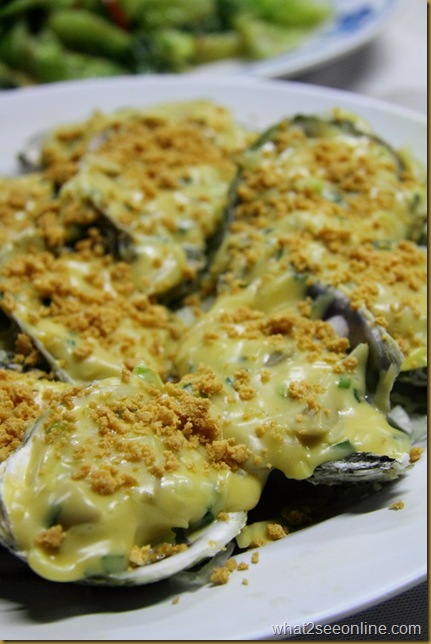 Oysters covered in melted cheese
In addition to oysters, we had the stir-fried lala and bamboo clam. The lala came in a slightly thick sauce, with the right amount of tang and sweetness of onions and ginger. The bamboo clams (RM14) were done the usual way, with ginger and spring onion. Simple and fresh!
Inche Kabin was next. Marinated well and deep-fried, the chicken drumsticks were tender and juicy but lacked the taste of the Nyonya version. Each drumstick costs RM6, and it complemented the seafood.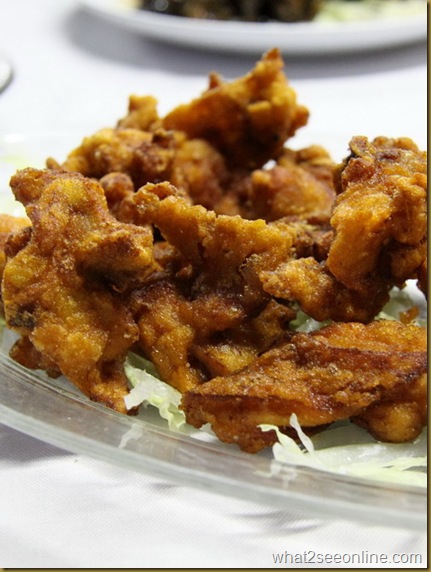 The following dish was the black pepper fried crispy squids with curry leaves (RM12). The squid pieces can look rather deceiving, but on sampling just one piece of it will get your tempo going and chances are you will not lay down your fork!
The sticky thick sauce was rich, and had a slightly charred aroma from the strong heat of the wok. It covered the smooth, tender squid, giving it a scrumptious peppery flavor.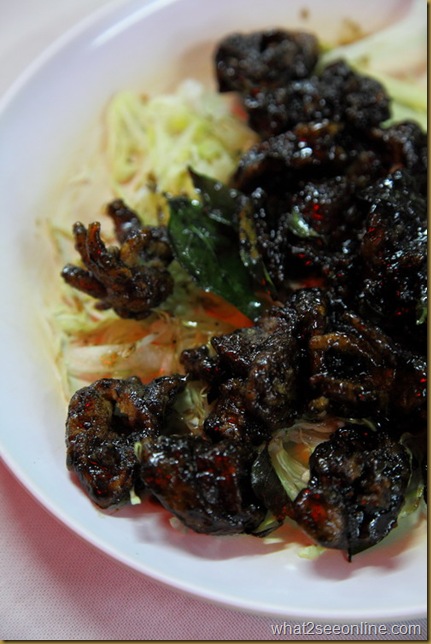 The squids tasted better than they looked
We moved on to healthy greens. The stir-fried vegetables were a welcome sight and a good break in between the heavyweights. The yau mak fried with fermented beancurd was fresh and savoury. The chef added the right amount of fermented beancurd for a subtle taste. Ginger strips added a pungent aroma. We also had spicy stir-fried kangkung (RM8), which added a touch of spiciness to the meal.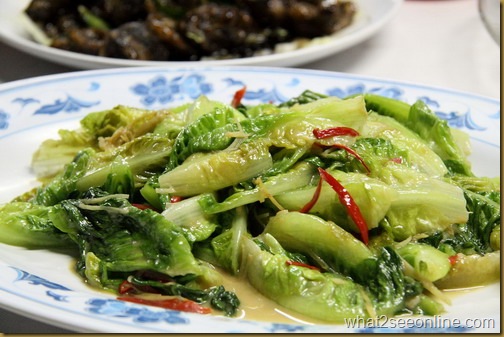 Yau Mak fried with fermented beancurd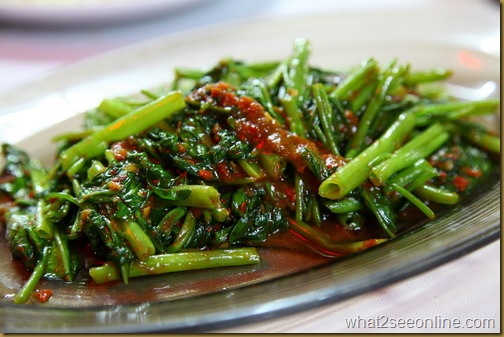 Spicy stir-fried kangkung
Crabs (RM72) are the signature dish at the Fishing Village Restaurant. There is nothing better than having them baked. The fresh crabs were infused with the charred aroma, while the firm flesh remained juicy! We were in luck as the crabs were quite large. Meat crab costs RM45 a kilo.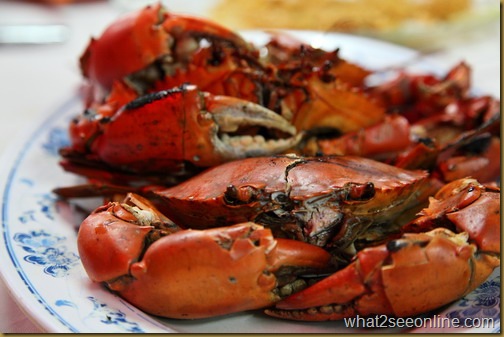 A kilo of meat crab cost RM 45
Finally, the noodles were served. Fried beehoon tomyam style (RM6) had plenty of seafood. The noodle with light spicy tomyam sauce was an excellent complement to the dishes.
However I did not enjoyed the claypot noodle. This version had too much gravy that made it less flavorful. Moreover the texture of the noodle was rather chewy. Hands-down to this noodle as compared to the fried beehoon.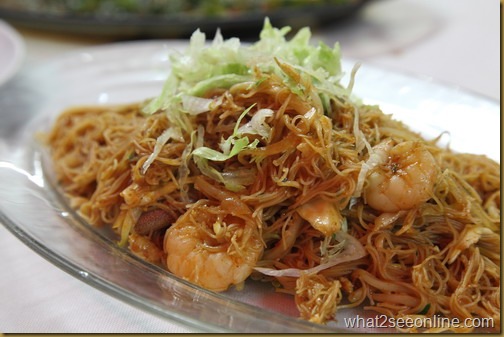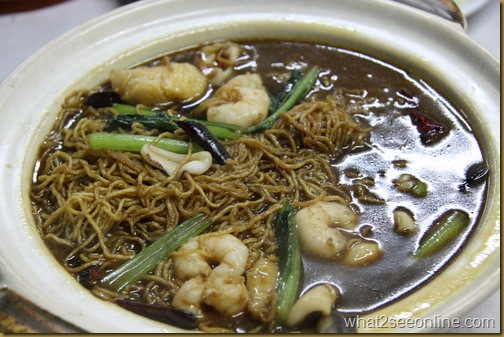 Claypot noodle with way too much gravy
There will be many more trips to this restaurant for its many dishes at affordable prices. Furthermore, there are plenty of convenient parking spaces nearby.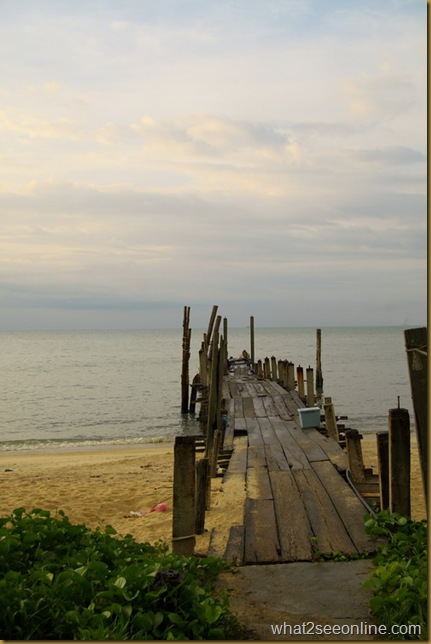 Beside the beaches and the seafood restaurants in Teluk Bahang, other attractions include the privately owned Teluk Bahang Butterfly Farm, Teluk Bahang Penang National Park and Tropical Spice Garden.
Do check out the Map Location of this restaurant.
Fishing Village Restaurant
765 MK 2 Teluk Bahang
(Jalan Teluk Awak)
11050 Penang
Tel: 04 8852084
Business Hour : 5pm till 11pm (Daily)
GPS Coordinates : N05°27'34.9″   E100°12'50.4″
Tags: Black Bean Sauce, Bread And Butter, Butterfly Farm, Final Act, Fishing Industry, Fishing Village, Fishing Village Restaurant, Folding Tables, Initial Appearance, Main Source, New Straits Times (Life & Times), New Straits Times (Life & Times), Northwestern Tip, Penang Island, Penang National Park, Perfect Paradise, Plastic Chairs, Raw Oysters, Rm3, Salty Flavor, Seafood Restaurants, Teluk Bahang, Tranquil Charm, Tropical Spice Garden, Wooden Jetties
This entry was posted on Wednesday, September 29th, 2010 at 11:01 am and is filed under
Chinese
,
Chu Char
,
Media Preview
,
New Straits Times (Life & Times)
,
Penang
,
Penang Restaurant
,
Seafood
,
Teluk Bahang
. You can follow any responses to this entry through the
RSS 2.0
feed. You can
leave a response
, or
trackback
from your own site.