* This article was published in the New Straits Times (Life & Times) on 8th December 2010.
On my hotel dining reviews in Kuala Lumpur, I have checked out several dining outlets in Renaissance Hotel Kuala Lumpur, and one of them was Med.@Marche-Live. The open concept restaurant offers a relaxed and casual dining atmosphere, with air-conditioned dining room and great terrace sitting.
These days, the restaurant brings a new dining experience to diners with the presence of Australian Paul Lewis as the Executive Sous Chef.  He took over the kitchen this year and has since made his debut in the MIGF 2010. We were privileged to meet up with the chef and at the same time sample some of his dishes from the menu, which focuses on unique Italian specialties and 'comfort' food!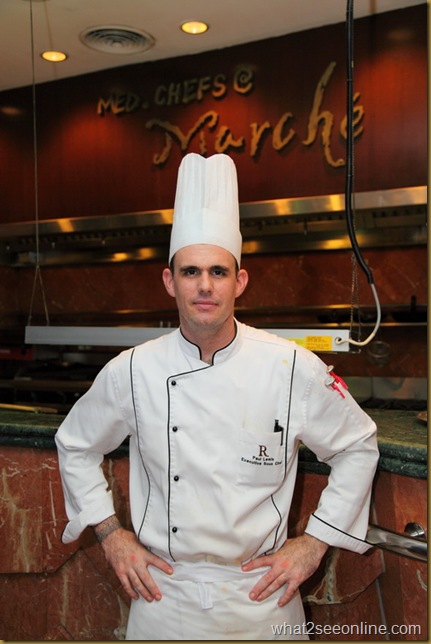 Executive Sous Chef Paul Lewis
Tags: Balsamic Vinegar, Bistecca alla Fiorentina, Black Cherries, Brie, Casual Dining, Chef Paul, Chicken Drummettes, Comfort Food, Crumble Goat Cheese with Apple Balsamic, Duck Proscuitto with Toasted Almond and Honey, Executive Sous Chef, Executive Sous Chef Paul Lewis, Experince, Field Mushroom, Florence Steak, Goat Cheese, Gorgonzola, Grant Burge Barossa Valley Shiraz 2008, Hotel Kuala Lumpur, Italian Fare, Italian Specialties, Marinated Field Mushroom, Marinated House Made Semi-dried Tomato, Med.@Marche-Live, Mozzarella, New Straits Times (Life & Times), New Straits Times (Life & Times), Orvieto Classico, Pecorino, Pesto, Quattro Formaggi, Red Wine, Renaissance Hotel Kuala Lumpur, Rich Taste, Ruffino Aziano Chianti Classico 2007, Ruffino Orvieto Classico 2007, Thin Crust, Toasted Almond, Tomato Basil, Tomato Sauce, Tuscan Chicken Drummettes