***The place has since closed down and shifted to Macalister Mansion
* This article was published in the New Straits Times (Life & Times) on 15th January 2011.
Along the folds of Jalan Bagan Jermal lies Bagan Bar & Restaurant, a wonderful venue for indulgence. Located within the proximity of Gurney Drive, this place offers a one of a kind dining and social experience that is sure to satisfy everyone.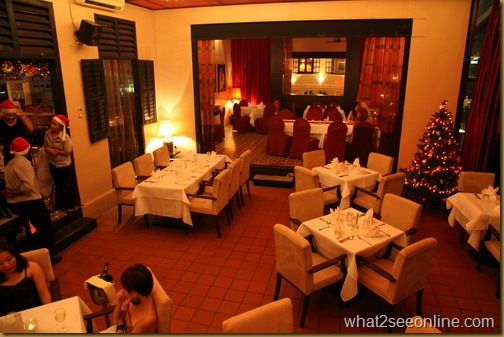 Tags: Australian Accent, Bagan Bar & Restaurant, Bagan Jermal, Broccoli Soup, Chef Jason Choy, Cigar Room, Concoctions, Dining Rooms, Drink Menu, Duck Confit, Flooring Tiles, French Onion Soup, Fruity Flavor, Fruity Flavour, Grenadine Syrup, Grilled Slipper Lobster Salad, Gruyere Cheese, Gurney Drive, Jalan Bagan Jermal, Lobster Salad, Mayonnaise Sauce, Mocktail, New Straits Times (Life & Times), New Straits Times (Life & Times), Pan Seared Seabass, Penang Restaurant, Pool Room, Salmon Carpaccio, Slipper Lobster, Smoked Salmon, Social Experience, Toast Bread, Wooden Doors, World Charm