***This place has since closed down
* This article was published in the New Straits Times (Life & Times) on 5th January 2011.
Penang is blessed with a plethora of cuisines, and lately we discovered a new outlet that really stands out among the masses. Figo's Restaurant recently opened its doors in Jalan Sungai Kelian housing area in Tanjong Bunga. The restaurant is a short distance away from Ingolf's Kneipe German Restaurant, Vintage Bulgaria Restaurant and the Medan Selera Mutiara.
Listed on their menu is an assortment of sandwiches and heavier entrees with flavors of New Orleans, Texas, Mexico and signature dishes of Nyonya and Malacca-Portuguese.
Our meal at Figo's kicked off with the Mexican Oyster shots. This appetizer had the fresh oyster dropped into the glass of Tequila, Tobasco, olive oil, and served garnished with a leafy cilantro and a wedge of lime. The oyster was fresh and the taste was accentuated by the alcohol. Indeed refreshing!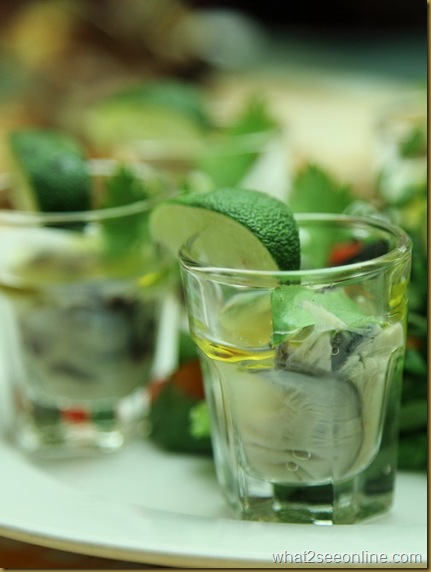 Figo's has its own interpretation of the Devil Curry. This well known Eurasian food inspired by the Portuguese is prepared with Chinese influences and a spicy outlook. It comes with choices of pork-ribs or chicken at RM16.
The Devil Curry Chicken with few pieces of potatoes were great for sharing. Don't miss out this dish which goes well with their thick and floury homemade bread. Options are also available for those who wish to have this curry dish with plain rice which in many ways brings out the full flavor of the gravy. The bread and rice are charged separately.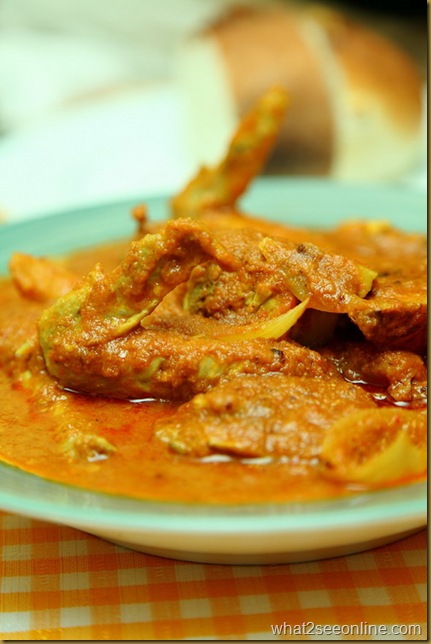 Devil Curry Chicken RM16
Next up was the Jambalaya Bayou Style with chicken, mussels and shrimps, sausage, pork and vegetable. I was smitten with the brown rice casserole which draws its flavors from the rich stock of the ingredients. Indeed a well made rice dish with generous portion for the price.
The heavier entrees were totally different. The Texas Barbequed Spare-Ribs with delicate smokiness was meaty in texture. Well marinated with lovely spices, the ribs were served with blanched broccoli, potatoes and carrot. The serving was large as well, delicious with the meat easily falling off the bone.
All mains comes with a side salad with combination of tomatoes, cucumber, olives and lettuce. I like the salad as it balanced out the meaty dish. It comes with three choices of dressing. We enjoyed it with the Thousand Island dressing sauce.
Large serving of Texas Barbequed Spare-Ribs RM29
A complimentary side salad for the main course
The Satchmo's Pork Chop that we ordered was rather similar to the Pork Cordon-Bleu. The stuffed pork chop with ham & cheese was deep-fried coated with herb breadcrumbs and served with sides of potatoes wedges, broccoli and carrot. The flavor was good, however the lean meat was a bit dry.
We flavored our meal with a poultry dish. The Cajun Spring Chicken was served grilled with potatoes, vegetables and a side salad at RM25. This dish is a tempting recommendation especially for chicken lovers. It was flavorful with the seasoning of variety of spices.
A satisfying snack was the Home-made Hamburger. The combination of generous amount of meat, bacon and lettuce makes a nice bite. No  sauce was needed as the juicy patty was well seasoned. It was served beside  crispy fries, salad, mayonnaise and BBQ sauce.
Home-made Hamburger RM13.50
On the lighter side was an interesting dish which is akin to the local murtabak. The Chimmichangas El Grande had a crispy texture pastry unlike the softness of the murtabak and was less oily too. It was served alongside with piping hot crispy fries.
Chimmichangas El Grande RM13.50
Do drop by Figo's if you are looking for a tasty and casual meal. Figo's is considered one of the better restaurants around as each of our visits was pleasing, with consistent tasty dishes. For me, the only exception is the dessert and coffee. Hope the management will simultaneously look into it.
Anyway, do take note that certain dishes can be quite huge in portion, especially those with the sign 'for two'. Click here for the Map Location.
Figo's Restaurant
3 Jalan Sg. Kelian
Tanjung Bungah
11200 Penang
Tel: 04 8995091
Business Hour: 6pm till 10pm
Closed on Tuesday
Cash Terms Only
GPS Coordinates : N5.464576   E100.291001
Tags: Barbequed Spare Ribs, Cajun Spring Chicken, Chinese Influences, Curry Chicken, Devil Curry, Eurasian Food, Figo's, Figo's Restaurant, Flavors, Fresh Oyster, Generous Portion, German Restaurant, Homemade Bread, Ingolf's Kneipe German Restaurant, Malacca, Malacca-Portuguese, Medan Selera Mutiara, Mexican Oyster Shots, Mexico, New Orleans, New Straits Times (Life & Times), New Straits Times (Life & Times), Nyonya Cuisine, Nyonya Cuisine, Plain Rice, Pork Cordon-Bleu, Pork Ribs, Portuguese Food, Restaurnt, Rice Casserole, Rice Dish, Rich Stock, Satchmo's Pork Chop, Signature Dishes, Sungai Kelian, Tanjong Bunga, Tanjung Bungah Penang, Texas, Texas Barbequed Spare-Ribs, Vintage Bulgaria Restaurant
This entry was posted on Tuesday, December 28th, 2010 at 12:30 am and is filed under
Eurasian Cuisine
,
Media Preview
,
New Straits Times (Life & Times)
,
Non-Halal
,
Nyonya Cuisine
,
Penang
,
Tanjung Bungah
,
Western Cuisine
. You can follow any responses to this entry through the
RSS 2.0
feed. You can
leave a response
, or
trackback
from your own site.