* This article was published in the New Straits Times (Life & Times) on 19th January 2011.
Ivy's Kitchen is offering an alternative from the common Chinese meal for this coming Chinese New Year festive season with a menu sprinkled with several tantalizing Nyonya dishes. This restaurant is offering two different menus, priced at RM388++ and this special menu at RM688++. Both the food menus boast a wide range of dishes filled with auspicious meanings for this special day.
Traditionally the Chinese New Year banquet is kicked off with the Yee Sang. This dish of raw fish, crispy cracker and colorful ingredients which are symbolic is eaten with a coarsely ground peanut, plum sauce and lime juice dressing.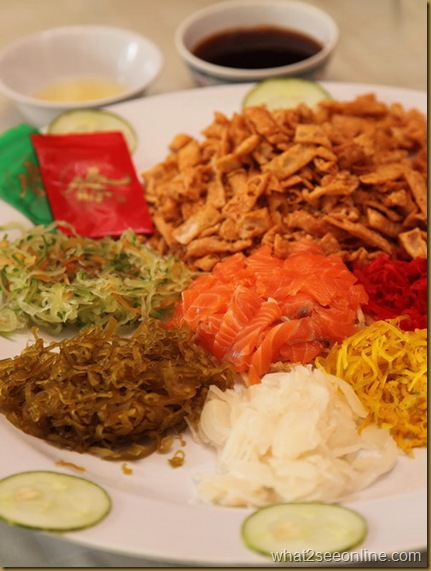 Tags: Chicken Meatballs, Chinese Meal, Chinese New Year, Chow Thye Road, Cod Fish, Colorful Ingredients, Deep Fried Chicken, Dinner Price, Festive Dish, Food Menus, Glutinous Rice Ball, Ground Peanut, Ivy's Kitchen, King Prawn, Lime Juice, New Straits Times (Life & Times), New Straits Times (Life & Times), Nyonya dishes, Oyster Sauce, Pacific Clams, Plum Sauce, Pork-free Restaurant, Raw Fish, Salted Fish, Sea Cucumber, Stewed Assorted Mushroom, Vegetable Dish, White Fungus