* This article was published in the New Straits Times (Life & Times) on 18th February 2011.
Teluk Tempoyak is a quaint fishing village, at the southeastern tip of the Penang. Positioned slightly south of Batu Maung, this Malay village has remained a secluded and unpolluted. It has a stretch of beach that seems to run endlessly. The makeshift and uneven wooden jetties that extend from the shore into the sea, adding charm to this village.
Many Penangites are heading to Kampung Teluk Tempoyak in search of fresh and cheap seafood. Quality and freshness of the seafood here is at the upmost as they serve the catch that comes in every evening. One of the biggest attractions is grilled fish, or more affectionately known as ikan bakar.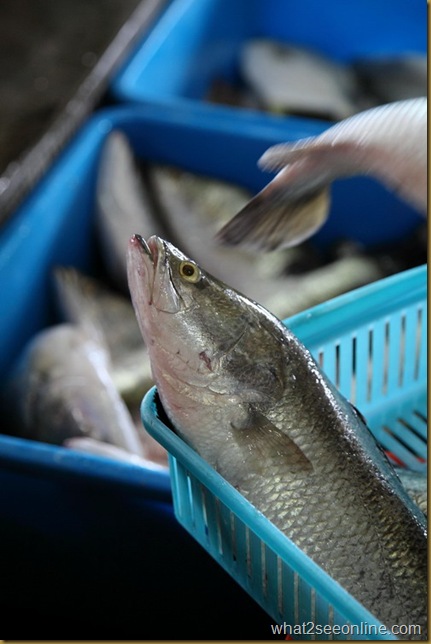 The fish is commonly sliced open, topped with homemade chili paste, and grilled in banana leaves. The scent of the lovely seafood being grilled on open charcoal fires wafts through the air. The fish is fresh, and oozing with sweetness. The ikan bakar comes with assam sambal mixed with onion and chili. Most customers find this spicy and delicious.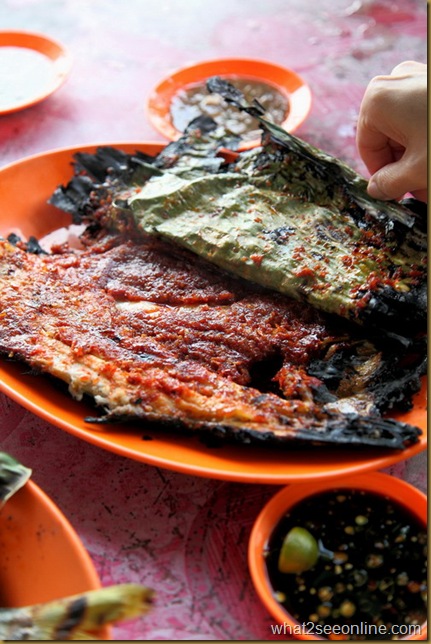 Besides fish, Pak Hassan also offers grilled crabs and prawns. The prawns were quite large in size, making the flesh delightful to savor. They are  served with soya sauce, chili padi and lime.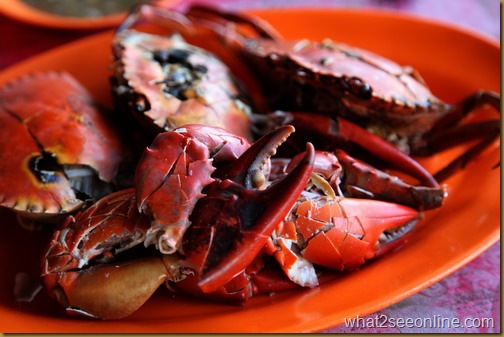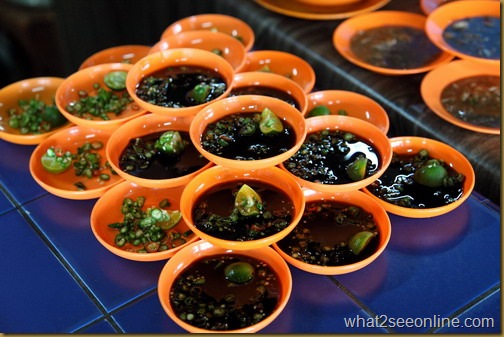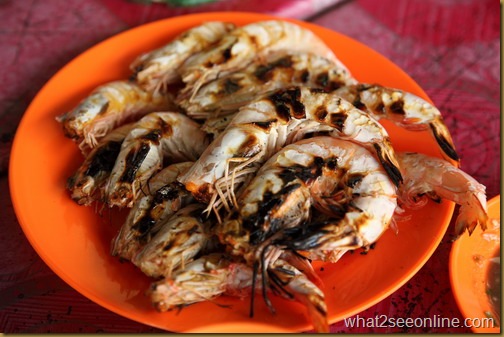 The seafood meal is never complete without Nasi Lemak. Prepared with coconut milk and a variety of herbs, the fragrant rice enhances the taste of the grilled seafood. Topped with the ikan bilis kuah, the Nasi Lemak really whets our appetites. On the whole, the seafood coupled with the Nasi Lemak is a perfect combination.
A wide variety of drinks is available from an adjacent stall. Among the beverages are the creamy coconut shakes, lychee and umbra juice. These thirst quenchers are indeed refreshing especially after the explosive chili paste on the ikan bakar!
Nasi Lemak with ikan bilis kuah
There are a cluster of stalls at the complex of Kampung Teluk Tempoyak and Pak Hassan's seafood stall offers loads of fresh bounties from the sea. Diners who arrive around 5.30 pm, will be able to watch the fresh seafood being unloaded.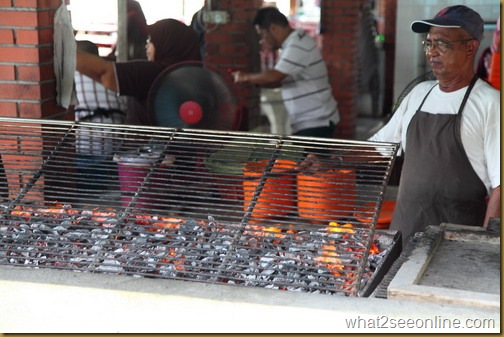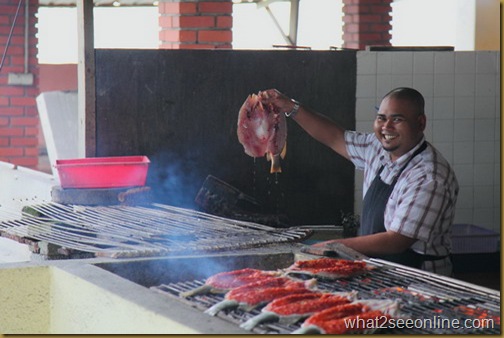 Pak Hassan's stall has a splendid view of the rolling gentle sea and fishing vessels, bringing a sense of peace. Combining with the delicious seafood, Teluk Tempoyak is an ideal place for a fun getaway on the island. Click here for the Map Location.
Adnan Bin Hassan
Ikan Bakar & Nasi Lemak
Kampung Teluk Tempoyak
11960 Bayan Lepas
Penang
Tel: 019 4132572
Closed on Monday
Business Hours: 6pm – 11.30pm
Tags: Batu Maung, Bayan Lepas, Charcoal Fire, Charcoal Fires, Chili Padi, Chili Paste, Coconut Milk, Creamy Coconut, Fishing Village, Fragrant Rice, Grilled Delights, Grilled Fish, Grilled Seafood, Homemade Chili, Ikan Bakar, Ikan Bilis, Kampong Telok, Kampong Teluk Tempoyak, Malay Food, Malay Village, Nasi Lemak, New Straits Times (Life & Times), Penang Island, Seafood Cuisine, Seafood Meal, Seafood Quality, Southeast Tip, Southeastern Tip, Teluk Tempoyak, Upmost, Wooden Jetties
This entry was posted on Thursday, February 17th, 2011 at 11:00 pm and is filed under
Bayan Lepas
,
BBQ
,
Malay Cuisine
,
Media Preview
,
New Straits Times (Life & Times)
,
Penang
,
Pork Free
,
Seafood
. You can follow any responses to this entry through the
RSS 2.0
feed. You can
leave a response
, or
trackback
from your own site.