* This article was published in the New Straits Times (Life & Times) on 15th June 2011.
Chulia Street in Penang is not only known for its many budget hotels but also for inexpensive meals. It's a popular dining destination with locals and tourists alike. At night, a section of the road is lined with stalls selling a good mix of street food. Do not make your choice immediately. Take your time and have a closer look at what's on offer.
Worthy of mention are curry mee and wantan noodles. Springy wantan noodles are served with slices of char xiu (barbecued pork) and wantan (dumplings). For the curry mee, medium-sized fish ball is added to the standard ingredients of coconut milk, cockles, blood jelly, cuttlefish and tau pok (fried tofu). The slightly sweet coconut milk is flavoured with a blend of aromatic spices. Expect a queue as the curry mee is popular.
Chulia Street curry mee
You can also find Hainanese satay at a stall in front of Sai Lam coffee shop. A crowd-pleaser, the skewers with pieces of marinated fat and lean meat are grilled over a charcoal fire. The meat is constantly brushed with oil to enhance the flavour. In addition to peanut sauce, try dipping the satay in a creamy sauce made with potato, chilli and sour plum. Toasted bread to go with the sauce is also available.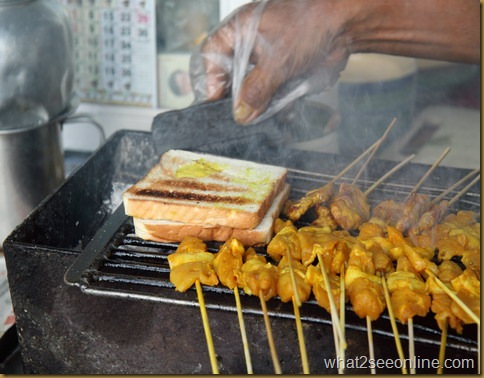 Hokkien-style fried noodles, prawn mee and lor bak (meat rolls) are also popular. The fragrant fried noodles come with a generous portion of prawns, meat and fish slices for RM5. A stall besides it, sells lor bak. You can find all kinds of everything, from fish balls to sausages. Just pick your choices and the selection will be deep fried on the spot.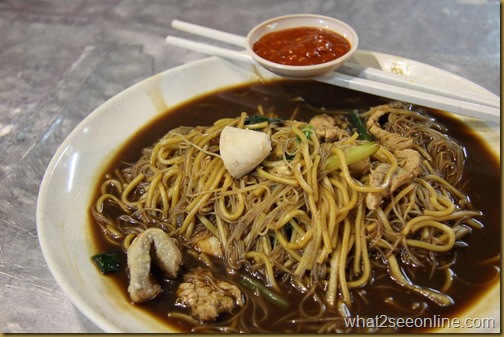 Hokkien-style fried noodles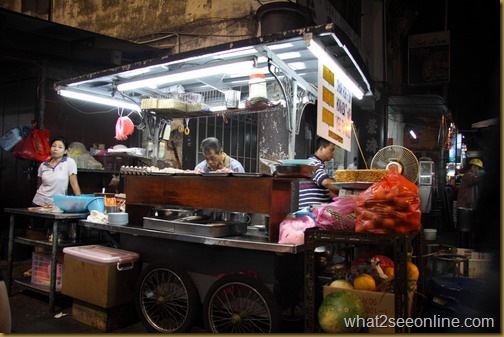 Another stall at the further end, offers excellent deep fried snacks that are commonly available in dim sum shops. The owner has been running the stall for 30 years.
There many different varieties,  round balls filled with crushed peanut, and the long ones with red bean paste. Savoury items of lo pak ko and wu kok (yam dumpling) stuffed with char xiu (barbecue pork) is also available. The process of making the snacks can be view here.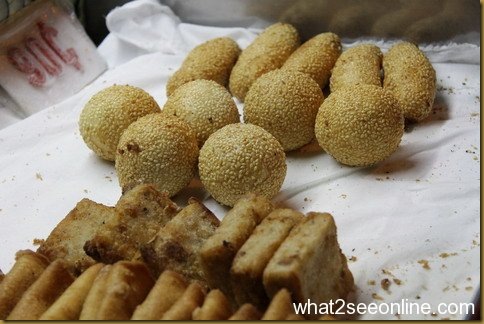 Just across the road is an apom stall run by an elderly husband-and-wife team. The sweet pancake, cooked in a small wok, has a soft centre and is slightly crispy at the edges.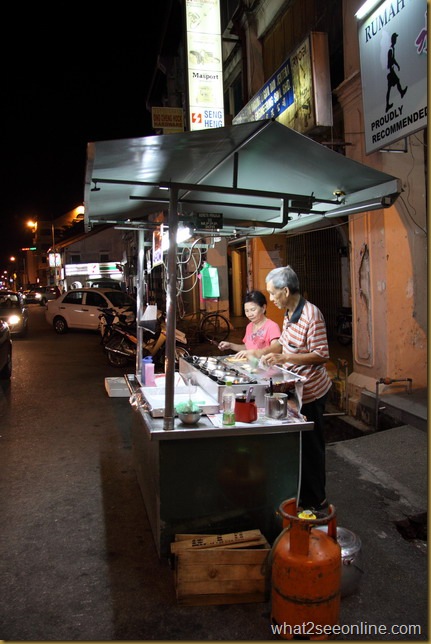 Do make your way to Chulia Street for a taste of Penang street food. The stalls are located opposite Rainforest Bakery. Click here for the Map Location.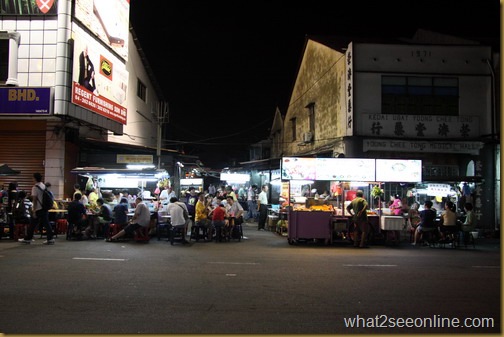 Business Hours : 7.30pm – 11.30pm
GPS Coordinates : 5.418146   100.336584
Tags: Aromatic Spices, Barbecue Pork, Barbecued Pork, Charcoal Fire, Chulia Street, Chulia Street Curry Mee, Chulia Street Hawker Food, Chulia Street Penang, Coconut Milk, Creamy Sauce, Curry Mee, Deep-Fried Snacks, Fish Ball, Fish Balls, Fried Noodles, Fried Snacks, Fried Tofu, Generous Portion, Hainanese Satay, Hawker Food, Inexpensive Meals, Meat Rolls, New Straits Times (Life & Times), New Straits Times (Life & Times), Red Bean Paste, Sized Fish, Sour Plum, Street Hawker, Sweet Coconut, Wantan Mee
This entry was posted on Friday, June 17th, 2011 at 11:20 am and is filed under
Curry Mee
,
Fried Noodle
,
George Town
,
Hawker
,
New Straits Times (Life & Times)
,
Non-Halal
,
Penang
,
Satay
,
Tidbits and Snacks
,
Wanton Mee
. You can follow any responses to this entry through the
RSS 2.0
feed. You can
leave a response
, or
trackback
from your own site.