BY CK Lam
Coffee connoisseurs can look forward to a great coffee experience at Full Of Beans in Penang. Occupying the first floor in Straits Quay, this outlet is a great place for coffee enthusiasts, where quality coffee is served in a casual environment.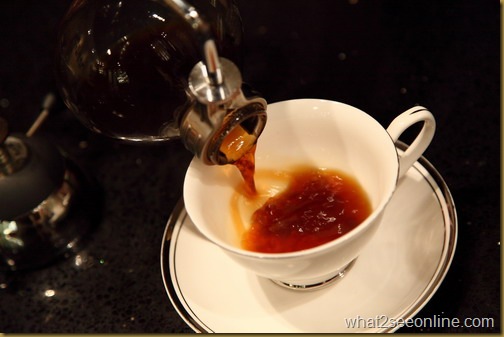 Full Of Beans is opened by B.W. Kek. Here, you can find various types of coffee beans to create the perfect blend. Besides coffee, tea is available, with choices like iced lemon tea and peppermint peach tea.
The selection is printed on the menu with descriptions, which are helpful in making your choice. Some are even hand-chalked on the blackboard at the entrance.
A wonderful assortment of coffee available at Full Of Beans
The cafe uses different coffee-brewing equipment like the drip-style method or from the laboratory-looking siphon which many proclaim as one of the best ways to brew a full-flavoured cup of coffee.
An interesting contraption at the cafe

The ice drip coffee is an impressive experiment. Blended from three to four different beans, the dripped coffee from the lengthy process is kept in the fridge to ferment. This cold coffee, with a floral flavour, is smooth and contains more caffeine than usual.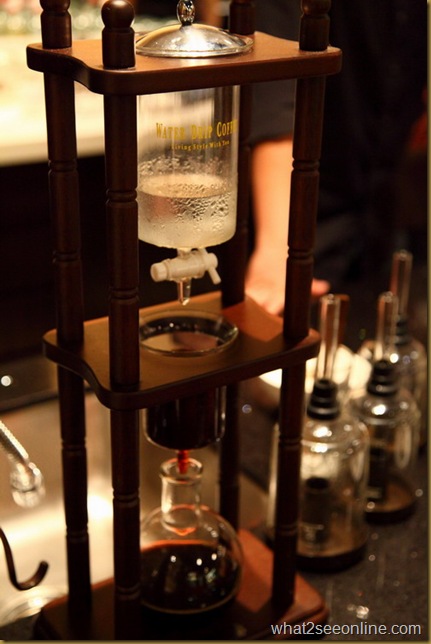 Care for iced-drip coffee?
I visited the cafe a few times and the latest visit was a coffee-tasting session. The counter seat is a nice spot from which to watch the baristas brew the hand-drip and siphon coffee.
Evelyn Wu & Fenson Thor preparing the hand-drip and siphon coffee
Kettle for the hand drip brewing
We tasted several great coffees from the comprehensive menu. The Star Of Italy (RM35) is smooth and not heavy. On the other hand, the Gayo Mandheling (RM35) is full-bodied with a rich flavour and an acidic sharpness. For a smooth and well-balanced flavour, the Jamaican Blue Mountain Coffee (RM45) is a great choice.
It is recommended having the coffee black
It was much fun making my own cup of Jamaican Blue Mountain Coffee.
For those who love coffee with milk, the steamed milk balances out the harsh edge of the coffee. The right temperature and texture for the steamed milk is obtained with the help of a thermometer.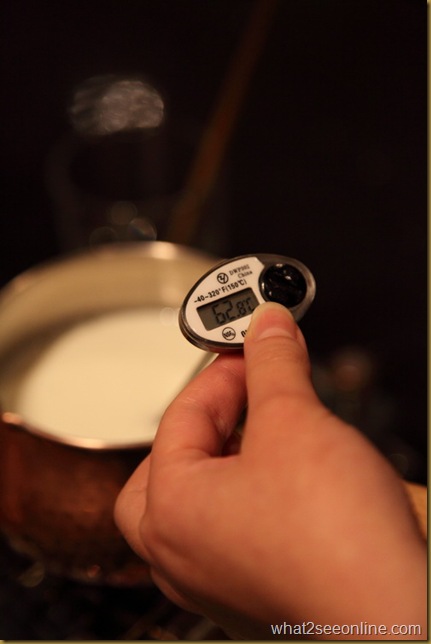 Milky, foamy coffee
There is an assortment of desserts to choose from at Full Of Beans. Biscotti are the standard fare. Mocha cake and macaroons are among some of the other choices. The crispy and crunchy biscotti are great for dipping into hot coffee and the mocha cake, with its hint of bitterness is a good choice to satisfy any chocolate craving.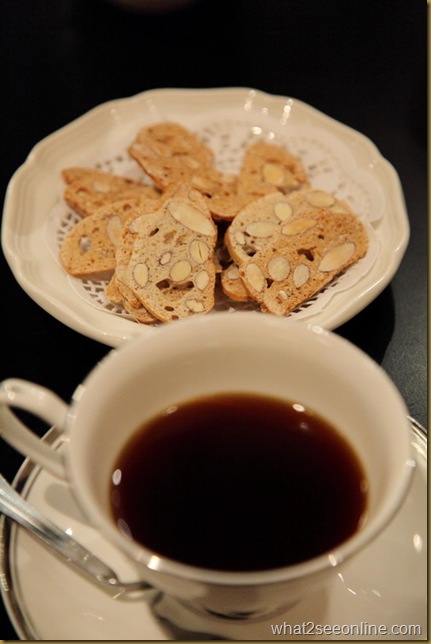 Crispy and crunchy biscotti
Mocha cake
Full Of Beans is just a few months old. The interior is warm and comfortable with armchairs in addition to the counter seats. You may have to wait in line for a seat on a busy day.
Full Of Beans
Unit 3A-1-6 Block A
First Floor Straits Quay
Jalan Seri Tanjung Pinang
10470 Penang
Tel : 8990621
Business Hours: 10am – 10pm (Daily)
* This is a reproduction of my article published in New Straits Times
Tags: Blue Mountain Coffee, Casual Environment, Coffee Black, Coffee Brewing Equipment, Coffee Connoisseurs, Coffee Enthusiasts, Coffee Experience, Coffee Pot, Coffee Tea, Cold Coffee, Cup Of Coffee, Drip Coffee, Full Of Beans, Gayo, Gayo Mandheling, Great Coffee, Iced-drip Coffee, Jamaican Blue Mountain, Lemon Tea, New Straits Times (Life & Times), Peach Tea, Quality Coffee, Rich Flavour, Siphon Coffee, Specialty Coffee, Straits Quay, The Star Of Italy, Types Of Coffee Beans
This entry was posted on Monday, October 17th, 2011 at 9:03 am and is filed under
Cafe
,
Cake
,
Coffee
,
Drinks
,
Media Preview
,
New Straits Times (Life & Times)
,
Penang
,
Straits Quay
,
Tanjung Tokong
. You can follow any responses to this entry through the
RSS 2.0
feed. You can
leave a response
, or
trackback
from your own site.