BY CK Lam

Bayview Hotel offers full service hosting for weddings in its location in George Town. The planning team came up with several wedding packages, the Platinum and Diamond priced at RM588++ and RM688tt per table of 10 (for a minimum of 30 tables).
The perks of the wedding package are complimentary night stay for the wedding couple in the hotel's bridal suite, invitation cards, guest registration book and VIP car park for the bridal car. The RM688++ package has additional perks of one night complimentary stay in the hotel's superior room with breakfast for two, bottle of sparkling wine and pre-dinner cocktail. The RM588++ package comes with complimentary buffet dinner at the Revolving restaurant.
The wedding package includes an eight course Chinese dinner in the hotel ballroom. Senior sous chef Soon who specializes in Chinese cooking incorporate a mix of fusion in the design of the dishes while in the same time staying in line with the traditional classic style.
The eight dishes can be chosen from a list of menu. The Four Happiness Combinations platter was huge with combinations of stir-fried chicken with cashew nuts, golden crispy William potato, kerabu mango with wakame and mushroom dumpling with teriyaki sauce. According to chef Soon, couples have a choice of selecting the platter menu.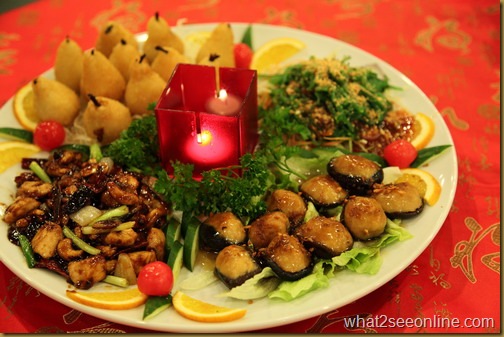 The next dish was the deluxe shark's fin soup with king crabmeat, scallop and shredded chicken. A few drops of black vinegar go well with this mildly flavored soup. If you decide not to have this traditional Chinese dish, you could opt for other soup dishes to your liking.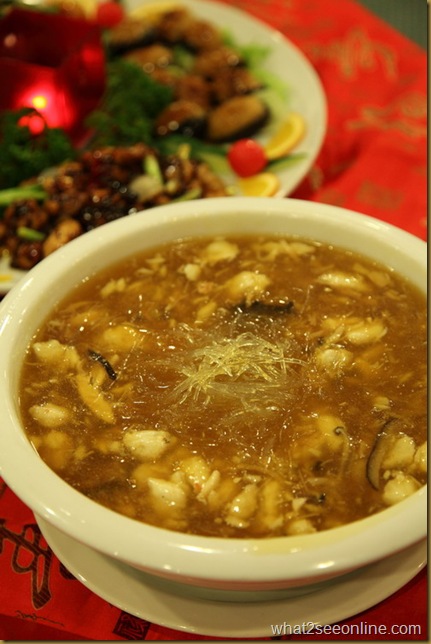 The aromatic foil wrapped traditional herbal chicken was served in a clay pot with thick gravy. The tender chicken slow cooked with Chinese herbs has a comforting flavour.
The plate of stir-fried prawns with classic spice powder accompanied with crispy lettuce was up next. The use of the spice powder and the addition of chopped chili enhanced the sweetness of the prawns.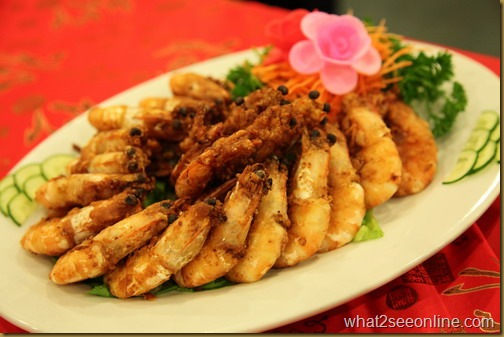 A simple, lovely vegetable dish of two varieties of braised mushrooms with sea cucumber and fresh crunchy broccoli was served between courses.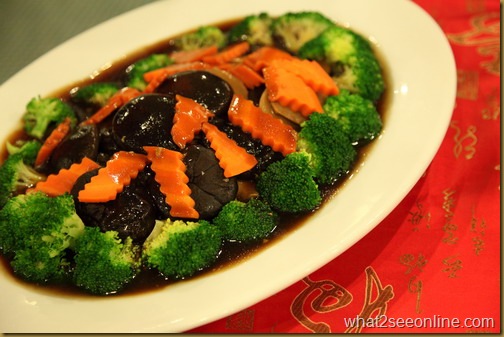 Another seafood dish was in line. The steamed sea red lion with root spice was served with deliciously fragrant superior light soya.
Chef Soon balanced the meal with the comfort eight treasure lotus leave rice from the RM688 menu. The rice and ingredients prepared by steaming wrapped in the lotus leaves is good for the young and old alike.
The meal was capped with hearty desserts of supreme peanut mousse and crispy Chinese pancake. The peanut mousse was delectably creamy and rich.
Other than the eight-course Chinese dinner, there are themes from Muhibah, Western and Malay to Indian wedding packages. According to sales manager Catherine Tan, the hotel is offering great rebates for those signing up before April 30.
The package is also inclusive of a five-tier decorative mockup wedding cake, champagne fountain with two bottles of sparkling juice for toasting, multimedia backdrop and tea ceremony at the VIP room or at the ballroom foyer.
Bayview Hotel Georgetown Penang
25A Farquhar Street
10200 Penang
For reservations, call 04-263 3161
* Many thanks to Bayview Hotel Georgetown Penang for laying on this invitation.
* This is a reproduction of my article published in New Straits Times
Tags: Bayview Hotel Georgetown, Bayview Hotel Georgetown Penang, Black Vinegar, Cashew Nuts, Chinese Dinner, Chinese Dish, Chinese Herbs, Ck Lam, Clay Pot, Complimentary Buffet, Complimentary Night, Dinner Cocktail, Fried Prawns, Hassle-free Wedding, Herbal Chicken, Hotel Ballroom, Invitation Cards, New Straits Times (Life & Times), Penang Wedding Banquet, Registration Book, Revolving Restaurant, Shredded Chicken, Spice Powder, Thick Gravy, Wakame, Wedding Package
This entry was posted on Saturday, February 25th, 2012 at 9:43 am and is filed under
Chinese
,
Events
,
George Town
,
Hotels
,
Media Preview
,
New Straits Times (Northern Streets)
,
Penang
,
Pork Free
. You can follow any responses to this entry through the
RSS 2.0
feed. You can
leave a response
, or
trackback
from your own site.