By CK Lam
The following day, we make our way to Bako National Park. Located at the tip of the Muara Sungai Tebas Peninsula, Bako is Sarawak's oldest national park. We are ferried from the hotel to the Kampung Bako jetty where the National Park Office is located. After filling up some documents, we hop on a boat from the jetty to Bako National Park, with the Gunung Santubong in view.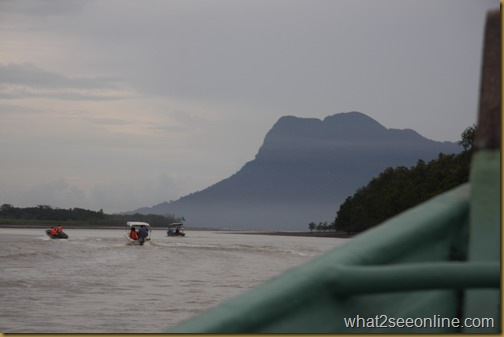 Travelling at high speed, we cruise pass the beautiful rock structure, Batu Belah. The twenty minutes boat ride is indeed a wonderful experience as several of us got glimpse of the dolphins and kingfisher.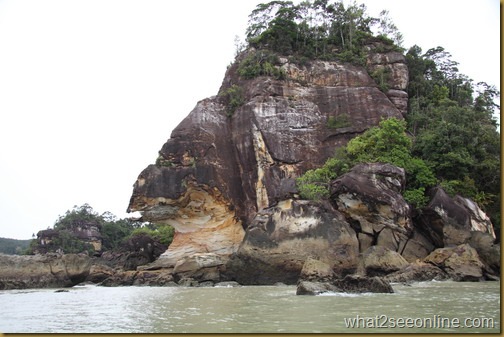 The best time to go to Bako is during high tide as visitors are able to disembark right at the jetty. On the other hand be prepared to take a short walk in the water to get to the shore if you reach during low tide.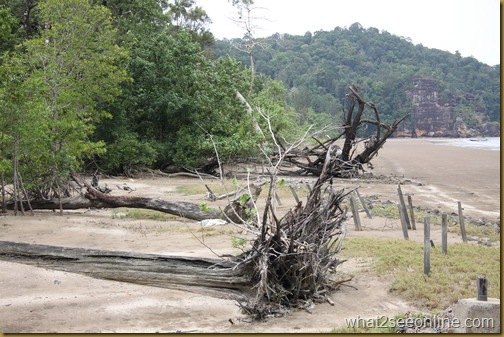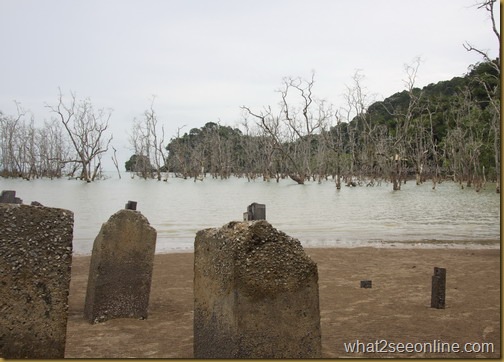 Gazetted in 1957, Bako National Park has an extensive network of trekking trails to choose from, ranging from challenging hikes and short to long trails.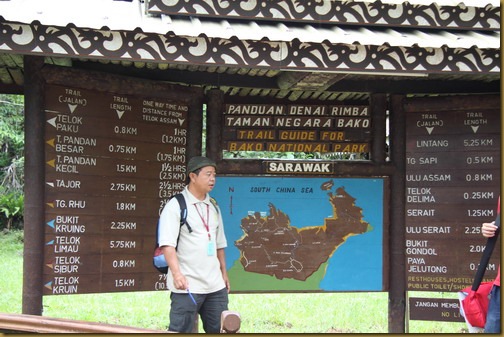 The park is home to 150 species of birds, proboscis monkey (with large, protruding nose), long-tailed macaque, wild boar, snakes and a vast array of flora and fauna. There are many accommodations to choose from, ranging from chalets to huts to suit every budget.
Fascinating plants and flowers
After the visit to Bako National Park, we return by the same boat to the jetty where we had lunch at Bako Seafood Restaurant.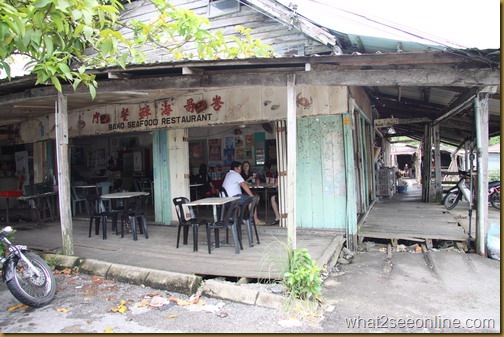 After lunch we return to the city center and spend the afternoon at the Kuching Waterfront. Facing the Waterfront is the Main Bazaar whereby you can get some great bargains on souvenirs and handicrafts, antiques and T-shirts. Don't forget to take home with you some Sarawak pepper, best known for its quality.
A short walk to Carpenter Street, are plenty of hawker stalls. We also had a chance to sample  Teh-c- peng and pork satay, served with raw onions and ketupat.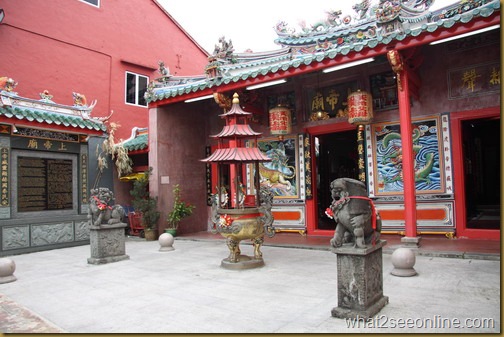 Kuching is well known for its kolok mee. A visit to Sin Min Joo, located at the nearby Bishopsgate Street is a must. The dry kolok mee that I had come with a big tasty bowl of soup filled with innards. It is indeed one of my favourite meals of the trip.
Not too far away at the end of Lebuh Wayang, where it meets Jalan Bazaar is a roadside stall selling cendol and ABC (Air Batu Campur). This is an old school style of ABC, where a wood shaver is used to shave the ice. The ABC is refreshingly sweet and comes with plenty of red bean, corn, cendul, sago, syrup and evaporated milk. Business is brisk despite the lack of sitting places. We shared the only long bench that is available.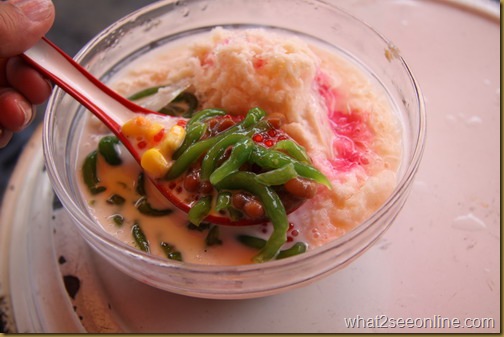 Having enjoyed the hawker food, we then catch a ride on the Sarawak River cruise. The best time for the ride is during sunset. The ride offers insight of the riverine of the life of Kuching and many official buildings – the New Sarawak State Legislative Assembly Building, located near The Astana, which is the official residence of the Yang di-Pertua Negeri (Governor) of Sarawak.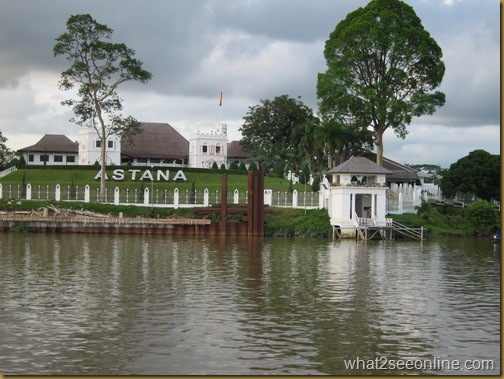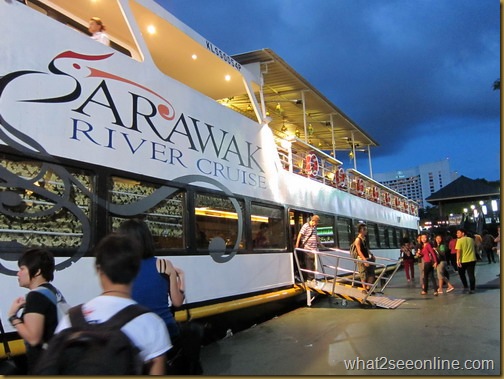 After the river cruise, we head to 101 food center for dinner. Hawker food is plenty at this open air food center. We had some tasty dishes – bamboo chicken prepared over charcoal fire, herbal pat chen noodle (RM5.50) and the kong pia (toasted sesame bun filled with marinated meat).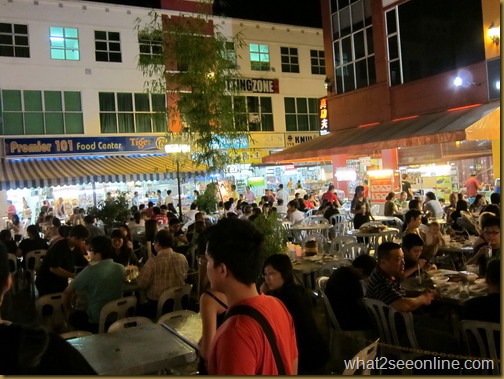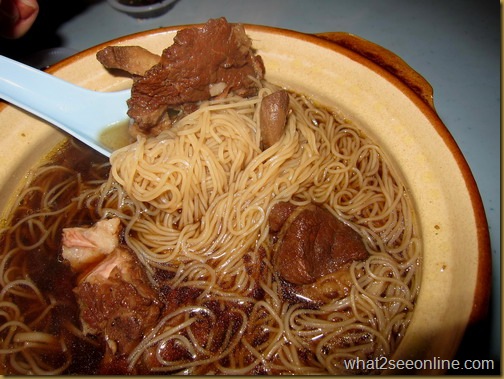 Pat Chen Pork mee suah RM5.50
Thank you to Sarawak Tourism Board and Air Asia for sponsoring this memorable trip.
Tags: 101 Food Center, Airasia, Bako National Park, Bako Seafood Restaurant, Batu Belah, Bishopsgate Street, Carpenter Street, Ck Lam, Flora And Fauna, Gazetted, Gunung Santubong, High Tide, Jetty Park, Kolok, Kong Pia, Kuching Waterfront, Low Tide, Main Bazaar, Muara, Muara Sungai Tebas Peninsula, New Sarawak State Legislative Assembly Building, Pork Satay, Raw Onions, Rock Structure, Sarawak Pepper, Sarawak River Cruise, Sin Min Joo, Some Great Bargains, Species Of Birds, The Astana, Wild Boar
This entry was posted on Sunday, May 20th, 2012 at 1:35 am and is filed under
Events
,
Food Court
,
Holiday
,
Invited Review
,
Sarawak
,
Satay
,
Seafood
,
Travel Destinations
. You can follow any responses to this entry through the
RSS 2.0
feed. You can
leave a response
, or
trackback
from your own site.