BY CK Lam
Happy Duan Wu Festival to everyone!
The Duan Wu festival is celebrated on every 5th day of the 5th month, and it falls on June 23 this year. During this festival, many will be busy preparing the chang (glutinous rice dumpling), and with many people buying them.
In Penang the chang is sold commercially all year round in a number of places, and one such place is Cintra Food Corner. For generations, the Lor's family has been dishing out the chang for customers to dine-in and take-away. Once located at the road side of the bustling Cintra Street, owner Lor Onn Kee has since shifted the business to a nearby shop house in 2006.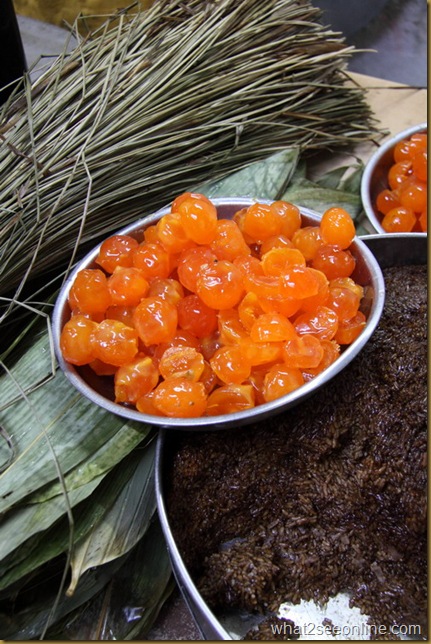 There are various types of chang with savory fillings wrapped in bamboo leaf. Besides the tau chang and bak chang which are sold throughout the year, there is also the giant dumpling which is available only during the dumpling festival.
The pyramid-shaped bak chang (pork dumpling) is made with a filling of fried glutinous rice seasoned with dark soya sauce, mushrooms, Chinese chestnuts, pork belly and salted egg yolk. The savory chang is steamed to a sticky chewy texture and comes with a sweet and chili sauce.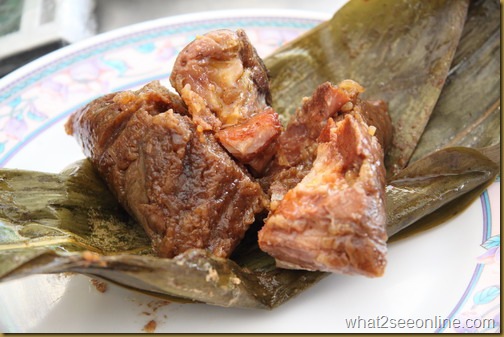 The pillow shape 'tau chang' consist of glutinous rice and plenty of mung beans. Other fillings for this Cantonese bean dumpling is fat pork and salted egg yolk. You have to try this steamed chang with comforting soft glutinous rice and mung beans infused with fragrant of the fatty pork.
Back by popular demand every year during the Duan Wu Festival is the giant glutinous rice dumpling which originated from Guangzhou, China. The wrapping for this squarish chang is the lotus and bamboo leaves. This dumpling weighing almost 1kg cost a whooping RM40. The size is great for sharing between a family of four to six.
It comes with a great variety of ingredients, roast duck, roast pork, chicken, Chinese chestnuts, mushrooms, dried oyster, dried shrimps, two salted egg yolk, mung beans and soy-flavoured glutinous rice. The steaming time is much longer, boiled for a total of eight hours. The combination of ingredients give a nice fragrance to the glutinous rice.
Sharing-size dumpling @RM40
If you feel like buying chang for this dumpling festival or just feel like having one, Cintra Food Corner is the place to go to. Besides chang, this place also sells assorted snacks of steamed yam cake and soothing red bean tong-sui (sweet dessert) with hints of dried mandarin orange peel.
This family business is into its third generation (Onn Kee and his son, K.F)
Cintra Food Corner
40 Lebuh Cintra
10100 Penang, Malaysia
Tel: 012-4803308
Business Hours: 9am – 6pm (Monday to Saturday)
Closed on Sundays
GPS Coordinates: N 05.41859  E 100.33381
Tags: Bak Chang, Bamboo Leaves, Cantonese Bean Dumpling, Chewy Texture, Chili Sauce, Chinese Chestnuts, Cintra Food Corner, Cintra Street, Dark Soya Sauce, Duan Wu Festival, Dumpling Festival, Egg Yolk, Fillings, Food Corner, Glutinous Rice, Glutinous Rice Dumpling, Guangzhou China, Lor, Mung Beans, Nearby Shop, Onn, Penang, Penang Glutinous Rice Dumpling Shop, Pork Belly, Rice Dumpling, Roast Duck, Roast Pork, Salted Egg, Shophouse, Tau Chang, Zong Zi