* This is a reproduction of my article published in New Straits Times (Northern Streets) on 29th October 2012
BY CK Lam
Bayview Hotel Georgetown's Revolving Restaurant presents a Thai dinner buffet to go with its 360-degree, bird's eye view of Penang island. Laden with appetisers, hot dishes and desserts, the buffet table offers an exciting blend of flavours.
Diners can choose from the many varieties of refreshing salads and cold dishes. On display are grilled beef salad, green papaya salad, Thai clam salad with young mango, Thai glass noodle salad, Thai pomelo salad and leaf -wrapped savoury morsels (miang kham). The last is a riot of fragrances and textures from the combination of daun kaduk, onions, chilies, roasted peanuts and lime.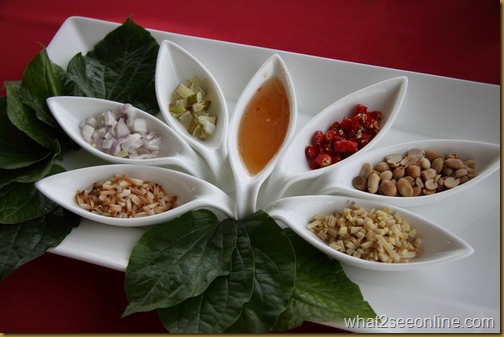 Leaf wrapped savory morsels (miang kham)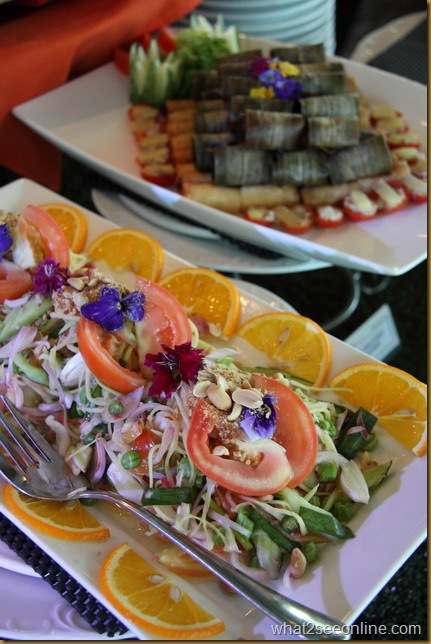 Green papaya salad
For mains, choices of hot dishes abound. There are Thai fish cake, prawn with spicy coconut, dry beef curry, stir-fried water spinach with shrimp, traditional Thai fried chicken, and savoury stuffed omelette and egg with tangy tamarind dressing.
Choices of rice include belacan fried rice, fragrant steamed rice and Thai fried rice.
Highlights are the beef koay teow soup with duck meat, and deep-fried catfish with green mango salad (pla samlee dad deow). Both are prepared fresh at the cooking stations. The latter, with its sharp flavours of green mango, onions, red chilies and cucumber, is a dish I find well worth returning for.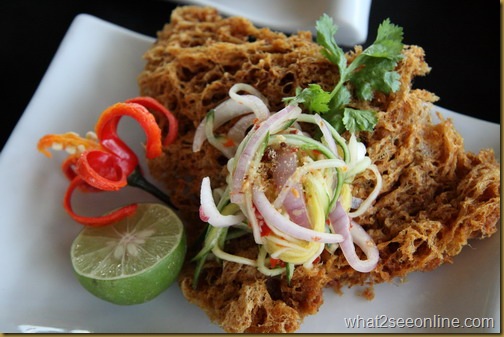 Deep-fried cat fish with green mango salad (pla samlee dad deow)
The beef kway teow soup with duck meat is a fascinating dish with a flavourful broth. I pretty much enjoy its every ingredient, including the duck meat, the beef, the beef balls and mushrooms. This noodle is available on alternate days.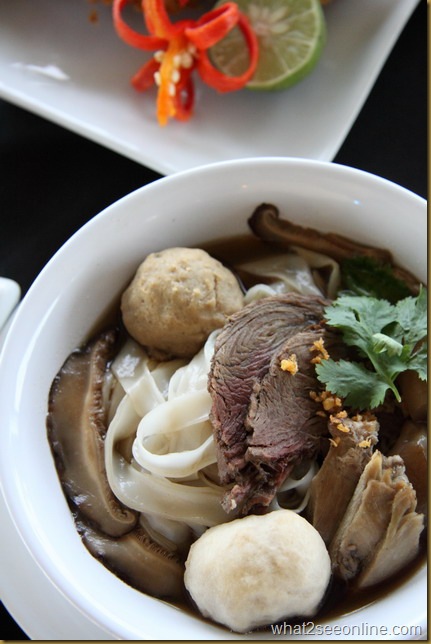 There is a wide variety of sweet desserts such as Thai tako, steamed pumpkin custard (sangkhaya fak thong), sago gula Melaka, pandan kaya cake, steamed glutinous rice with mango, coconut peach cake, jack fruit and water chestnut and fresh fruits and ice-cream.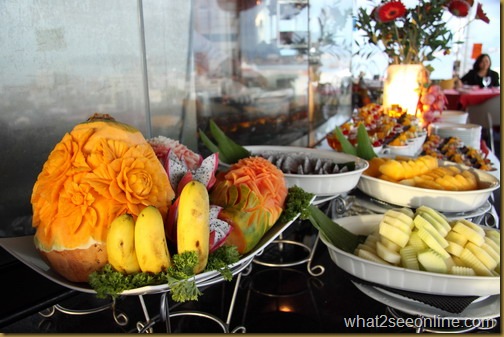 Plentiful of fresh fruits
The classic water chestnut dessert served in santan (coconut milk) with fragrant pandan leaves comes with crunchy water chestnut coated with tapioca flour. The other sweet choice of steamed pumpkin has soft custard made of egg and coconut milk.
Steamed pumpkin custard & water chestnut dessert
The Thai buffet dinner is available on Friday, Saturday and Sunday until the end of the year. It is priced at RM68++ per adult and RM48++ per child aged 4 to 11. Another ongoing food promotion is the International buffet dinner. Priced at RM48++ per adult and RM28++ per child, the buffet is served from Tuesday to Thursday.
To enjoy a 20 per cent discount on the food and a 10 per cent on beverage at the Revolving restaurant, sign up for the Revolving Restaurant Dining Privilege membership card. A one-off fee of RM50 is applicable for a period of one year.
For details, call 04-263 3161 ext 226 from 5pm to 11pm.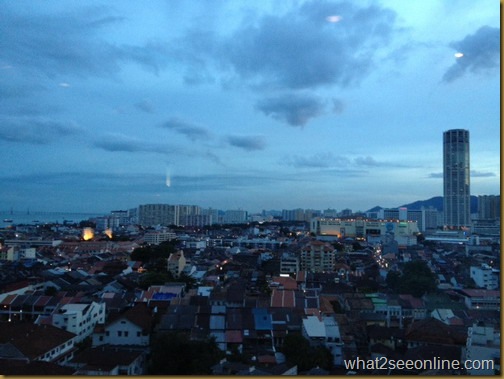 Revolving around Thailand with 360-degree, bird's eye view of Penang island

Bayview Hotel Georgetown Penang
25-A Farquhar Street
10200 Penang
Tags: Bayview Hotel Georgetown, Bayview Hotel Georgetown Revolving Restaurant, Beef Salad, Birds Eye View, Buffet Dinner, Chicken Egg, Cold Dishes, Deep-fried Cat Fish, Duck Meat, Egg Dishes, Fish Cake, Flavorful Broth, Fried Catfish, Glutinous Rice, Green Mango Salad, Green Papaya Salad, Grilled Beef, Grilled Beef Salad, Hot Dishes, Jack Fruit, Miang Kham, New Straits Times (Life & Times), New Straits Times (Life & Times), Noodle Salad, Peach Cake, Penang Island, Penang Thai Food, Pla Samlee Dad Deow, Pumpkin Custard, Refreshing Salad, Refreshing Salads, Revolving Restaurant, Roasted Peanuts, Sago Gula Melaka, Steamed Pumpkin Custard, Sweet Desserts, Thai Buffet, Thai Buffet Dinner, Thai Clam Salad, Thai Dinner, Thai Fish, Thai Fish Cake, Thai Fried Rice, Thai Pomelo Salad, Thai Tako, ThaiGlass Noodle Salad, Water Spinach
This entry was posted on Monday, October 29th, 2012 at 10:10 am and is filed under
Buffet Dinner
,
George Town
,
International
,
Invited Review
,
Media Preview
,
New Straits Times (Northern Streets)
,
Penang
,
Pork Free
,
Thai Cuisine
. You can follow any responses to this entry through the
RSS 2.0
feed. You can
leave a response
, or
trackback
from your own site.