BY CK Lam
Over the past few years, Suffolk House Restaurant has had many different chefs. The latest is executive chef Dave Looi. His last job before arriving in Penang was in Parrot Cay, a private island which is part of the Turks and Caicos Islands. He has also worked as a chef in Taipei, London and New York.
Looi's passion for creativity is apparent in the numerous dishes we sampled at Suffolk House Restaurant.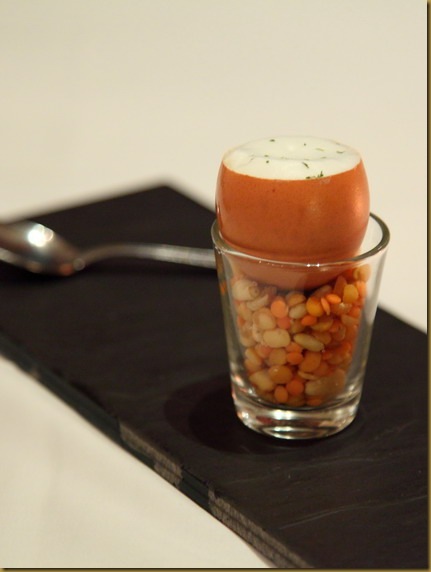 The first dish was the amuse bouche of banana tart with light crust, refreshing honeydew and watermelon gazpacho and smoked salmon roulade.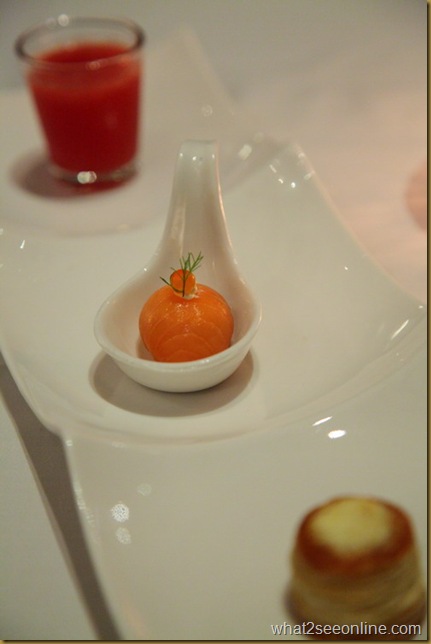 DELIGHTFUL APPETISERS
The chef's recommendation included two refreshing salads. The first was a light salad made from mushroom, orange, mango coulis, prawn, beetroot and fresh pieces of tuna tataki. It came with chilli sauce dressing which perked up the taste buds.
The next one was made from BBQ yabby, tuna, cucumber, orange, beetroot, black olives and capers. We enjoyed its intricate texture which was enhanced by the mayonnaise and tabasco sauce.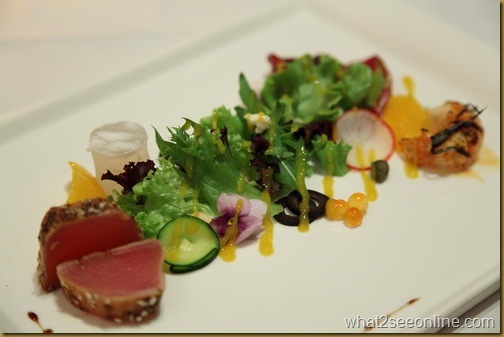 EYE-CATCHING SOUP
The mushroom cappuccino soup was presented in a hollowed-out egg shell. It was not only beautiful to look at but also tasted delicious with its combination of chicken stock, wild mushrooms and black pepper. Layered with light cappuccino foam, creme fraiche and parsley leaves, the dish leaves an appealing impression.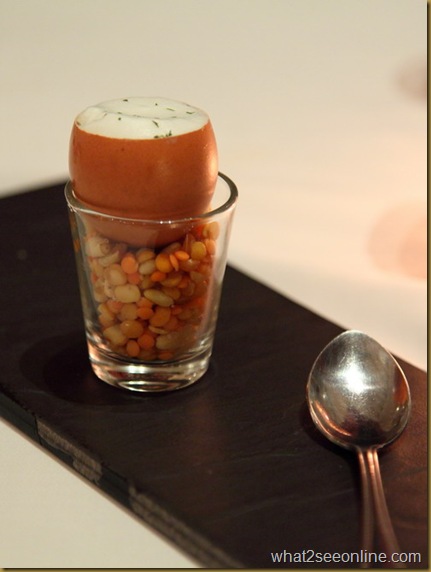 Best way to consumed is sipping directly from the egg shell
From the recipes of Dave Looi:
MUSHROOM CAPPUCCINO SOUP
Ingredients
2 tbsp unsalted butter
1 yellow onion, finely diced
1 garlic clove, minced
1 bay leaf
3 cups mixed wild mushrooms, finely diced
2 tbsp all-purpose flour
1½ tsp kosher salt
1 tsp freshly ground black pepper
6 cups chicken stock
1 cup heavy cream
Creme fraiche, for garnish
Flat-leaf parsley, chopped, for garnish
Method
1.    Melt the butter in a pot over medium heat.
2.    Add onion, garlic and bay leaf. Cook for 10 minutes, until onion is translucent.
3.    Add mushrooms and cook until tender.
4.    Stir in flour, salt, and pepper and cook for 2 to 3 minutes.
5.    Add chicken stock and bring to a low boil. Reduce heat to a simmer, cover and cook for 20 minutes. Stir in cream and cook for another 10 minutes, stirring often.
MAIN COURSE
It was quite difficult choosing the main course. We ended having a nice selection of risotto, seafood and red meat. The wild mushroom risotto came with a generous serving of pan-seared scallop. The rice, a combination of Arborio short-grained rice, aged parmesan cheese, chicken stock and mushroom, was rich and flavourful. The creamy rice complemented the sweetness of the nicely browned scallop.
Looi's pan-seared Atlantic salmon la dieppoise was light and playful. It was accompanied by parmesan polenta, ratatouille and the spinach and shimeiji ricotta crepe. The mixture of ingredients, which included ginger and lime butter emulsion, was perfect but I would have preferred if the skin was crispier.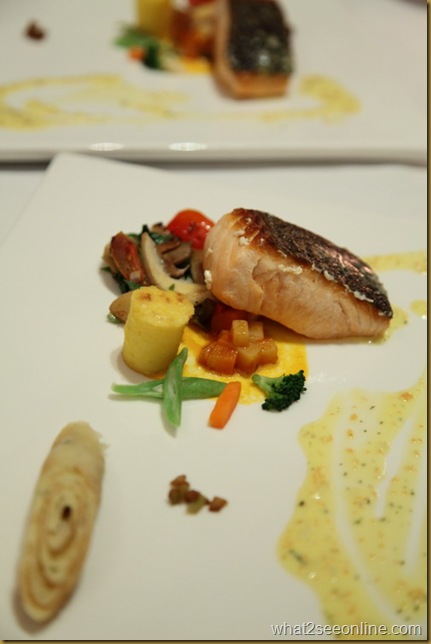 We also sampled the grain fed beef tenderloin, done medium rare. Looi's version of this dish came with fresh pea coulis, sweet potato dauphinoise and ragout of mushrooms. The red meat, beautifully countered by blue berries and merlot reduction, had an intensely juicy and flavourful texture and was the best I had tasted in a while.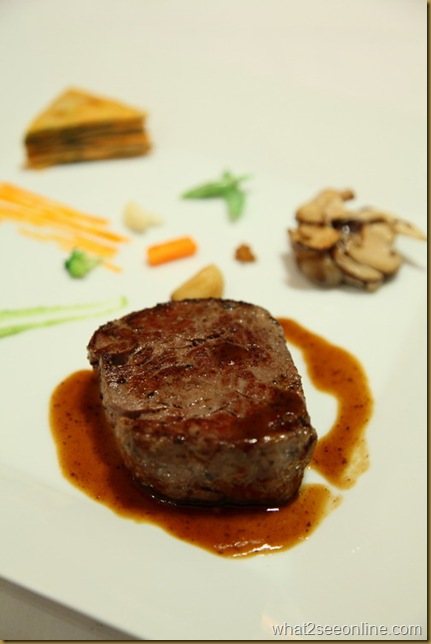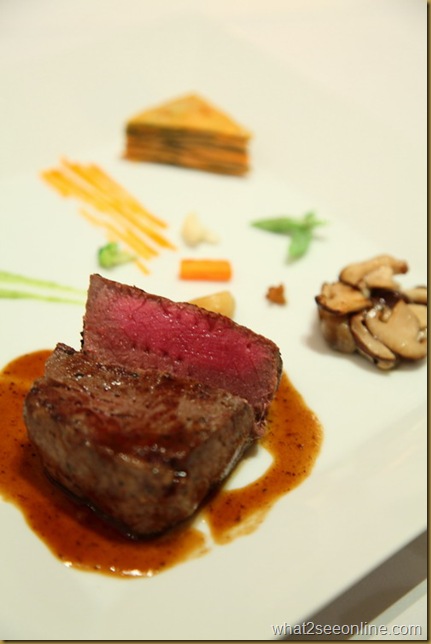 SWEET TREAT
The dessert selection included crepe with burnt butter ice-cream, chocolate mousse and creme brulee with a thin layer of caramelised crust. The crepe with burnt butter ice-cream was a hit. We enjoyed it with lovely cups of coffee.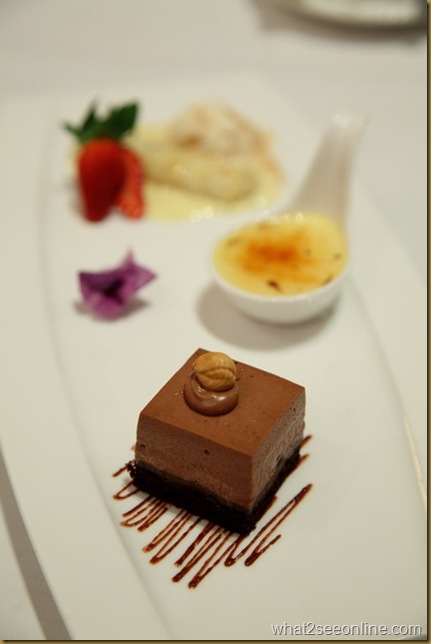 Combination trio of dessert
Chef Dave's tasting menu comes with several options of main course. Prices starts from RM148++ to RM178++ and it comes with an amuse bouche, appetizer, soup, sorbet, plus dessert and choice of coffee or tea. The menu changes throughout each season to include the finest ingredients, so some dishes may vary to the ones listed below.
Table D'Hote At Suffolk House
Chef's Tasting Menu
Amuse Bouche
Tasting Duo of Aburi Hokaido Scallop & Chawanmushi
Appetizer
Salad White Bait & Kale
Komochi Ika I Aburi Yabby I Coconut & Mint Jelly
Endive I Arugula I pearl Onion I Tamago
Salmon Roe I Tangy Olive, Lemon & Orange Emulsion
Soup
Truffle Mushroom Cappuccino
Sorbet
Textures of Mango Granita
Choice of Main Course
Escalopes of Ahi Tuna Tataki & Ceps Nantua
Roasted Sweet Potato Mash I Tomato Confit I Quail Egg Verdier
Asparagus I Fava Beans I Mozzarella en Coffret
158
Pan Seared Atlantic Salmon La Dieppoise
Parmesan Polenta I ratatouille I Spinach & Shimeiji Ricotta Crepe
Ginger & Lime Butter Emulsion
158
Duck Confit with Caramelized Ontario Peaches
Grilled Tomato with Mozerealla I White & Green Asparugus I Tangy Orange Bearnaise I Sweet
potato Puree I
148
Herb Marinated Rack of Lamb
Sweet Potato & SpinachAubergine Purée I Spicy Cucumber Coulis
Grilled Zucchini I Parmesan Polenta I Risotto I Marsala Yoghurt
168
Aged 7oz Grain-Fed Tenderloin of Beef
Fresh Pea Coulis I Sweet Potato Dauphinoise
Ragout of mushrooms I Blue Berries & Merlot Reduction
178
Dessert
Grand Marnier Crepe Suzette with
burnt butter ice-cream
Choice of Coffee or Tea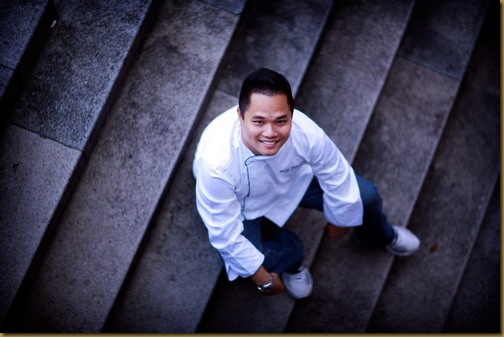 Suffolk House Restaurant new executive chef Dave Looi

Click here for the Map Location. Suffolk House Restaurant is located in Suffolk House on Jalan Air Itam, next to the Malaysian German Society.
Suffolk House Restaurant
Suffolk House
250 Jalan Air Itam
10460 Penang
Tel : 04 2283930
Business Hour :
Lunch from 12 noon – 3pm
Tea from 2.30pm – 6pm
Dinner from 7pm – 11pm
* This is a reproduction of my article published in New Straits Times
Tags: Arborio, Atlantic Salmon La Dieppoise, Beetroot, Black Olives, Black Pepper, Blue BerriesReduction, Chef Dave, Chef Dave Looi, Chili Sauce, Creme Fraiche, Culinary Pleasures, Duck Confit with Caramelized Ontario Peaches, Egg Shell, Executive Chef Dave Looi, French Cuisine, Freshly Ground Black Pepper, Garlic Clove, Great House Of Penang, Guest Chef, Herb Marinated Rack of Lamb, Intricate Textures, Light Salad, Looi, Merlot Reduction, Mushroom Cappuccino, New Straits Times (Life & Times), Onion Garlic, Orange Mango, Parrot Cay, Private Chef, Purpose Flour, Refreshing Salads, Salad White Bait & Kale, Salmon Roulade, Shimeiji Ricotta Crepe, Smoked Salmon, Smoked Salmon Roulade, Soup Ingredients, Suffolk House, Suffolk Restaurant, Tabasco Sauce, Taste Buds, Truffle Mushroom Cappuccino, Tuna Tataki, Turks And Caicos Islands, Water Melon, Water Melon Gazpacho, Watermelon Gazpacho, Wild Mushrooms, Yabby, Yellow Onion
This entry was posted on Thursday, November 22nd, 2012 at 10:04 am and is filed under
Air Itam
,
Anglo-Indian
,
Chef
,
Fine Dining
,
George Town
,
Invited Review
,
Media Preview
,
New Straits Times (Life & Times)
,
Penang
,
Pork Free
,
Recipe
,
Soup
. You can follow any responses to this entry through the
RSS 2.0
feed. You can
leave a response
, or
trackback
from your own site.