BY CK Lam
The One located in Bayan Lepas, Penang is lined with massive rows of new shophouses. Most of the outlets are dedicated to food and beverage. Among them is Wheat Connection Bakery. Opened a few months ago, Nazeri Ismail is the proprietor and pastry chef in charge.
Many would be familiar with Nazeri, the former executive pastry chef at Shangri-La's Rasa Sayang Resort & Spa, Penang. He has created many cakes for the Penang state governor's birthday celebrations and all are wonderful works of art.
"It has been a long baking journey of over 20 years and it is time I start my own bakery," said Nazeri.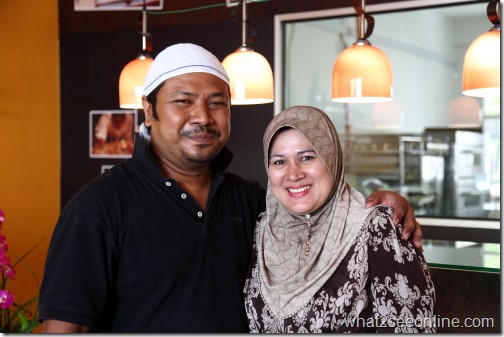 Nazeri and his wife Noraini launched their first bakery
In the front section of the bakery is where one can find cookies, cakes, pastries and muffins beautifully presented in a large glass display case. Assortments of freshly baked artisan bread are neatly stacked in baskets.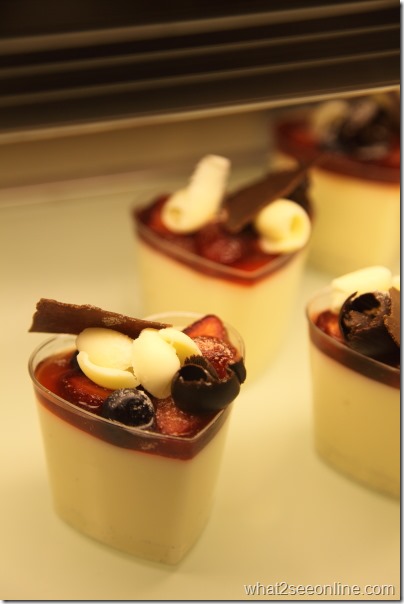 Wheat Connection Bakery has a huge cake menu with choices devoted to details, such as the strawberry mousse with toasted oat crunch, baked cheese cake, chocolate fudge cake, panna cotta with wild berries, noisette financier, chocolate eclair, opera cake and Paris Brest. Chocolate eclair and the opera cake are especially pleasing for chocolate lovers.
Chocolate Eclair
Chocolate Truffle and Dome Chocolate
The two tone Penacotta with wild berries and baked cheese cake with delicate creamy texture comes in individual portions to cater for small sized appetites.
Individual Baked Cheese Cake and Panacotta with wild berries
There are other delights and pastries displayed at the front counter. Customers can choose from a selection including the cherry crumble danish, blueberry danish, French apple tart, Portuguese tart, banana almond tart, chocolate brownies, coffee streusel, mini apple crumble, apricot mango Berliner and cinnamon roulade. Other specialties include chicken pie and quiche lorraine.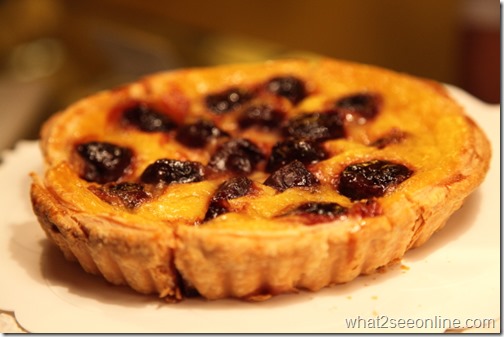 Dark pitted cherry flan
Nazeri also does hearty breads using wholesome ingredients. Baked fresh daily, the wide variety of options include ciabatta, multigrain, whole wheat, muesli, rye bread, French baguette, maize bread, French village with parmesan cheese and the Italian foccacia made with herbs and sundried tomatoes.
The baker has plans of offering sandwiches in time to come.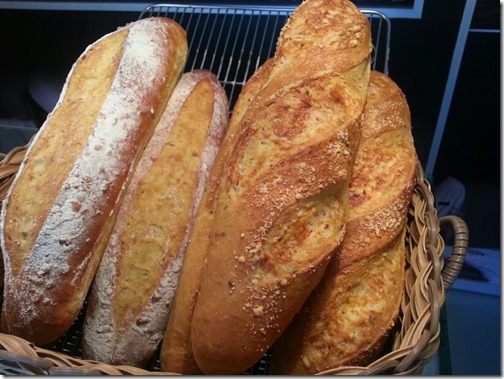 French Village with parmesan cheese and maize bread
Thick slices of crusty and crunchy bread are particularly wonderful with butter and are also enjoyable with the local favourite beef rendang and chicken curry.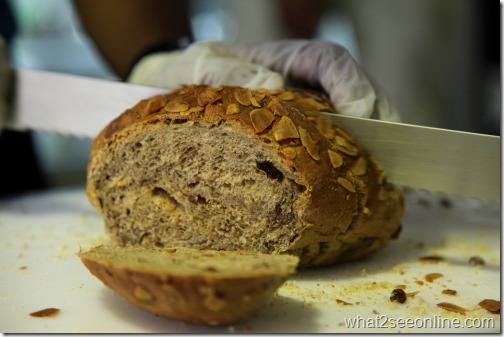 Besides offering cakes, desserts and pastries, Wheat Connection Bakery is also the place to buy birthday or wedding gifts with 3D and sugar art cakes. "Everything is made in-house," said Nazeri.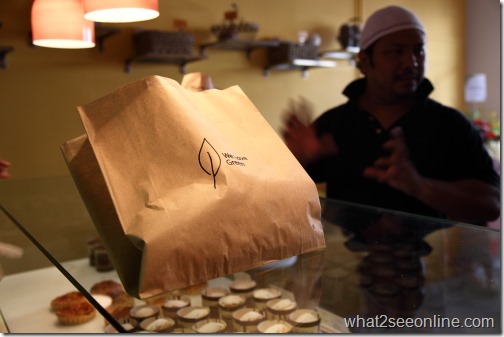 Wheat Connection Bakery opens daily at 9am right till 9pm except Sunday. Click here for the google Map Location.
  Word-of-mouth advertising had many people patronizing this neighbourhood bakery
Wheat Connection Bakery
1-1-15 The One
Jalan Mahsuri
11950 Bayan Lepas
Penang
Tel: 016-4253892 & 012-4738904
* This is a reproduction of my article published in New Straits Times
Tags: Apricot Mango Berliner, Artisan Bread, Baked Cheese Cake, Bakery, Bayan Lepas Penang, Birthday Celebrations, Cake Chocolate Eclair, Cake Menu, Cake Shop, Case Assortments, Cherry Crumble, Chocolate Fudge Cake, Chocolate Truffle, Cinnamon Roulade, Ck Lam, Coffee Streusel, Confectionery, Dome Chocolate, Executive Pastry Chef, French Apple Tart, Glass Display Case, Nazeri, Panacotta, Paris Brest, Penang State, Quiche Lorraine, Rasa Sayang Resort, Shophouses, Strawberry Mousse, The One, Western Sweets, What2seeonline.Com, Wheat Connection Bakery, Wild Berries
This entry was posted on Tuesday, September 24th, 2013 at 11:37 am and is filed under
Bakery
,
Bayan Lepas
,
Cafe
,
Cake
,
Media Preview
,
New Straits Times (Northern Streets)
,
Penang
,
Pork Free
. You can follow any responses to this entry through the
RSS 2.0
feed. You can
leave a response
, or
trackback
from your own site.