BY CK Lam
Among the many desserts in Penang, the cendol really stands out with its flavor and texture. This sweet Indian dessert is about having the right combination of ingredients and it is served ice cold.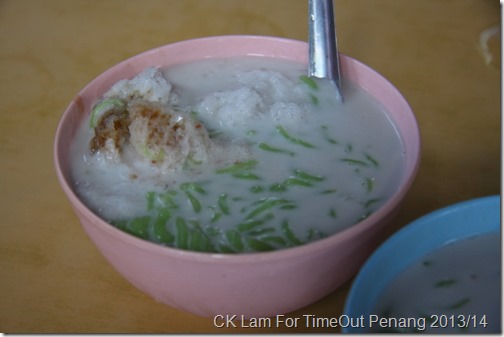 Cendol with Pulut
Cendul is made out of  finely shaved ice, red beans, aromatic palm sugar syrup, rich coconut milk and soft green rice flour noodle made from mixing rice flour and the juice of  fragrant pandan leaves.
The palm sugar has a distinct sweetness with a delicate bitter long finish that complements the creamy coconut milk while the soft, silky cendol noodles don't turn brittle in the icy bowl.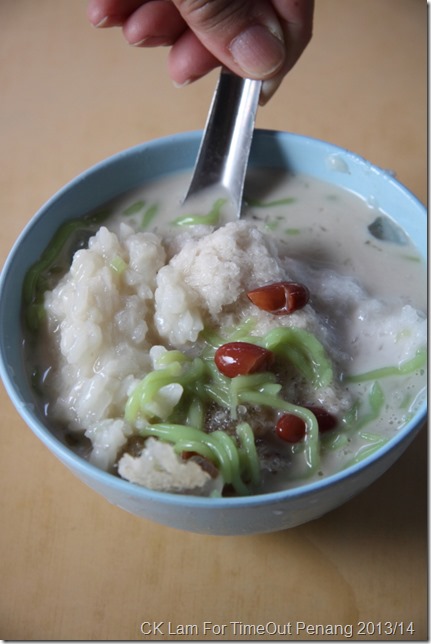 At BM Best, they add texture to this dessert with chewy, sticky steamed pulut or glutinous rice. Made fresh every day, the pulut is steamed with coconut milk that exude a wonderful aroma.
Steamed pulut (glutinous rice)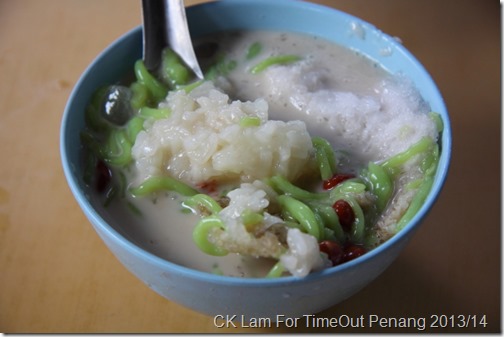 This ice-bowl of refreshing dessert does satisfy, especially on a hot day.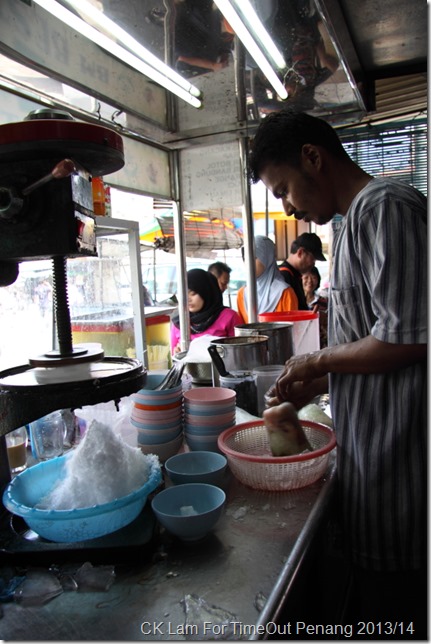 BM Best Cendol
Medan Selera Jalan Danby
Bukit Mertajam
GPS Coordinates: N5 21.817 E100 27.678
* This is a reproduction of my article published in TimeOut Penang 2013/14
Tags: BM Best Cendol, Bukit Mertajam, Cendol, Cendol with Pulut, Ck Lam, Coconut Milk, Concoction, Creamy Coconut, Danby, Distinctive Flavour, Food in BM, Glutinous Rice, Gps Coordinates, Hawker Food, Hidden Gem, Hot Day, Indian Style, Jalan Danby, Medan Selera Jalan Danby, Noodles, Palm Sugar, Pandan, Penang, Pulut, Red Beans, Refreshing Dessert, Rice Flour, Right Combination, Screw Pine, Selera, Sugar Syrup, Sweet Dessert, Sweetness, Timeout, What2seeonline.Com, White Sugar
This entry was posted on Monday, October 28th, 2013 at 10:00 am and is filed under
Bukit Mertajam
,
Cendul
,
Dessert
,
Hawker
,
Indian Cuisine
,
Mainland
,
Street Food
,
Time Out Penang
. You can follow any responses to this entry through the
RSS 2.0
feed. You can
leave a response
, or
trackback
from your own site.