BY CK Lam
Just recently, we get the first taste of Rasa Deli's croinuts, a delicious merge of croissant and doughnut. The deli at Shangri-La's Rasa Sayang Resort and Spa, Penang is making the croinuts, a version based on the cronuts created by New York-based chef Dominique Ansel.
"The croinuts are made of laminated dough and deep-fried. The soft and layered interior is filled with fresh tangy lemony flavored pastry cream and its exterior rolled with flavored sugar," says executive pastry chef, Dino Wan Teik Boon.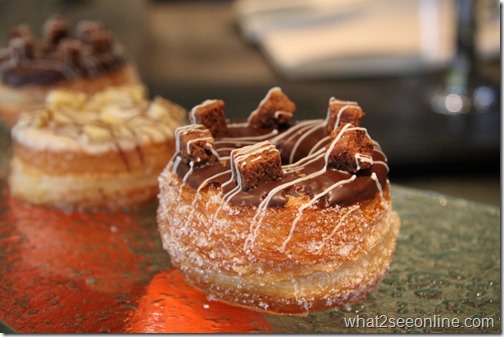 Flaky on the outside, the croinut flavors include a combination of fruity, tart and creamy tastes. Right now there are six flavors like Toffee Orange, Lemon Raspberry, Chocolate Brownie, Apple Crumble, Nutella Banana and Vanilla Oreo.
Apple Crumble with green apple
The chef shares that the croinuts are best eaten almost immediately or within two hours. We did just that over coffee and tea.
Addictive chocolate offerings include the Chocolate Brownie, Nutella Banana and Vanilla Oreo. The chef gives the Chocolate Brownie a crunchy bite with added toasted walnuts.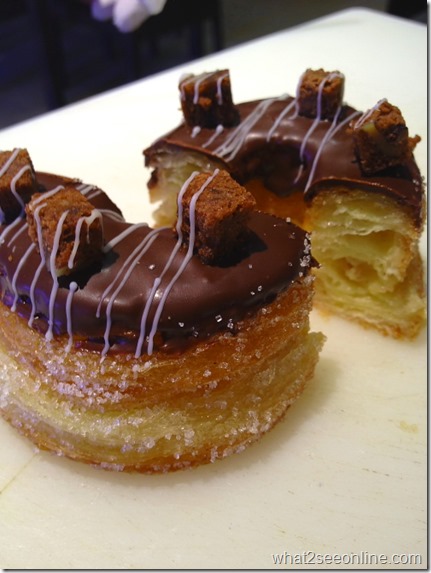 Chocolate Brownie
The Vanilla Oreo with vanilla is sprinkled with chopped pistachios and crunchy Oreo cookies while the Nutella Banana is equally appealing, with combination of nutty flavored chocolate, hazelnut and banana.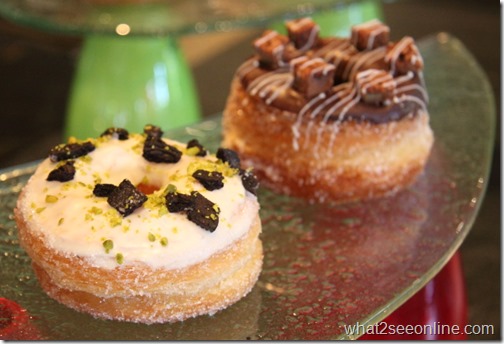 Vanilla Oreo
Nutella Banana
The Lemon Raspberry stands out from the rest with the right combination of ingredients. It is refreshing and light, with tartness of the raspberry pairing well with the light and tangy lemon pastry cream.
Lemon Rasberry
Fresh quantities of croinuts (only 100 pieces) are available daily, from 3pm to 4pm to enjoy at the premises or to takeaway. The croinut cost RM9.50+ per piece, RM18+ (two croinuts), RM34+ (four croinuts), RM50+ (six croinuts), RM65+ (eight croinuts) and RM95+ (twelve croinuts).
Rasa Deli
Shangri-La's Rasa Sayang Resort and Spa
Batu Ferringhi
Penang
Tel: 04 888 8788
Business Hour: 11am till 6.30pm (Daily)
* Many thanks to Shangri-La's Rasa Sayang Resort and Spa for laying on this invitation.
Tags: Apple Crumble, Batu Feringgi, Cake, Chef Dominique Ansel, Chocolate Brownie, Ck Lam, Croinuts, Cronuts, Dessert, Dino Wan Teik Boon, Invited Review, Lemon Raspberry, Nutella Banana, Penang, Penang Food, Rasa Deli, Shangri-La'S Rasa Sayang Resort & Spa, Tea Time, Toffee Orange, Vanilla Oreo, What2seeonline.Com
This entry was posted on Tuesday, October 8th, 2013 at 4:00 pm and is filed under
Batu Feringgi
,
Cafe
,
Invited Review
,
Pastry
,
Penang
,
Pork Free
,
Shangri-La's Rasa Sayang Resort & Spa
,
Tanjung Bungah
. You can follow any responses to this entry through the
RSS 2.0
feed. You can
leave a response
, or
trackback
from your own site.