BY CK Lam
Trendy restaurants are catching up steady in Penang and one new addition is Miam Miam. Located on the ground floor of Gurney Paragon Mall, Miam Miam Penang is a charming comforting dining place with lace pergola seating.
We were in hopes of a good lunch as Miam Miam's claims to bring a menu with a variety of savories dishes and sweet treats inspired by culinary traditions from France and Japan.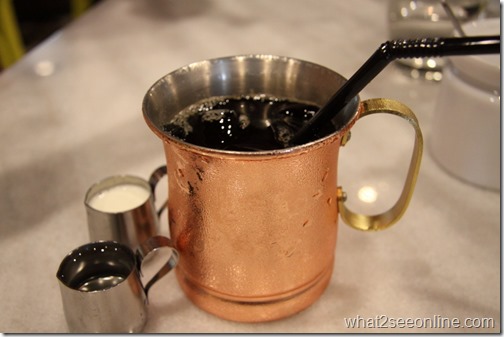 Miam Miam special blend ice coffee
The menu also features plenty of Japanese style spaghetti dishes, including Miam Miam Spaghetti, Pasta Pescatore, Pasta Arrabiata and Squid Ink Pasta.
We started with the savory dishes. The Miam Miam Spaghetti recommended by the waitress didn't skimp on the ingredients and is in fact very good value. The large portion of pasta comes with plenty of shimeiji mushrooms, eggplant and half poached onsen egg, complemented by rich layers of bacon and sausage.
Miam Miam spaghetti RM24.80
The squid ink pasta did not impress as compared to the Miam Miam spaghetti. This dish was not rich with seafood flavor and was relatively heavy in oil.
The other savory dish was the Miam Miam Pot Curry Rice. Priced at RM26.80, the dish comes with a touch of traditional Japanese-style cooking. The combination of of sausage, broccoli, egg and minced meat gave the baked rice warm comfort.
 
Squid ink pasta and Miam Miam pot baked curry rice
Miam Miam's smorgasbord of freshly baked treats include many toast and sandwiches, souffle, ranging from Matcha Souffle, Green Tea Souffle to the Classic Vanilla Souffle.  Toppings include vanilla softee, matcha softee or whipped cream.
For something more traditional, we had the pot-baked Classic Vanilla Souffle. The pastry section whipped up a fluffy and light souffle. The souffle was noticeably sweet and done beautifully with a fluffy light texture.

Vanilla Souffle  RM16.80
Pancakes come with many kind of toppings. We indulged in the Matcha Ogura Pancake with toppings of matcha ice-cream and red bean. With many items made of green tea, this pancake would swoon many green tea admirer.
Aside from the Matcha Ogura Pancake, the Chocolate Banana Pancake is also on the menu.

Matcha Ogura Pancake
Miam Miam delivers the ambience, friendly service and satisfy those craving for sweet desserts. All in all, I personally feel that the desserts here are easily more impressive than the main courses.
 
Cream and sugar syrup comes in tiny containers

Hot and ice coffee along with royal milk tea
However for those looking for sweet desserts to impress, Miam Miam is definitely a place to visit. The outlet named after the French expression 'yum yum' is open daily from 12 noon to 10pm.
Miam Miam Penang
163-C-1-01/2, St Jo's Gurney Paragon
Persiaran Gurney
10250 Penang
Tel:04 226 7818
Tags: Chocolate Banana Pancake, Ck Lam, Classic Vanilla Souffle, Green Tea Souffle, Gurney Paragon Mall, Matcha Ogura Pancake, Matcha Souffle, Miam Miam Gurney Paragon Mall, Miam Miam Penang, Miam Miam Pot Curry Rice, Miam Miam Spaghetti, Onsen Egg, Pasta Arrabiata, Pasta Pescatore, Penang Food Blog, Royal Milk Tea, Shimeiji Mushroom, Squid Ink Pasta., St Jo's Gurney Paragon, What2seeonline.Com
This entry was posted on Sunday, November 3rd, 2013 at 11:24 pm and is filed under
Cafe
,
Cake
,
Coffee
,
Dessert
,
Drinks
,
Gurney Drive
,
Gurney Paragon
,
Non-Halal
,
Penang
. You can follow any responses to this entry through the
RSS 2.0
feed. You can
leave a response
, or
trackback
from your own site.