PROFILE OF THE PENANG FOOD WRITER
CK Lam, food writer, food columnists and editor of http://www.what2seeonline.com ; featuring the Best of Penang Food. She constantly combs Penang for the best gastronomical delights and loves promoting Penang Cuisines, Culture, Heritage and Events.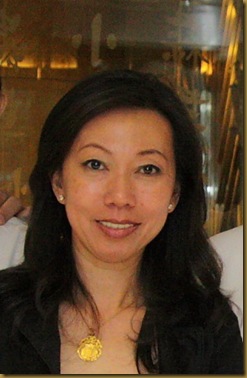 I am just an ordinary next-door lady with a wonderful caring husband and two loving sons. The food blog http://www.what2seeonline.com was created for my two boys, who weren't at home at that moment of time, keeping track with them the happenings at home and also the nice Penang food that they were missing out.
The blog was named What2see : Best of Penang Food. My love to try out various cuisines gets me into actively promoting the food in Penang as this state had always been known as a famous 'food' state in Malaysia. Over the past two and a half years, I have reviewed many restaurants and food outlets. My website has since grown from a basic blog with amateur photos into a popular guide for foodies from all over the world looking for the Best of Penang Food! My articles have since been published online and on printed materials.
I was called upon by the media to share my experience in the world of blogging. My website was featured in Guang Ming newspaper on 27th September 2008. Six month later, my work also garnered the blog to be listed into The Edge article of "65 Malaysian Websites That We Like + 1? for 2009.
This was followed with another article of me being featured in Guang Ming "we eat" on 29th March 2009 for a dining experience at the heritage dim sum eatery, Aik Hoe. A month down the road,  there was an interview write-up of me being interviewed by Kwong Wah Yit Poh on 9th April 2009.
I wrote for publications like the I.M. Magazine and the Inflight Magazine of Tiger Airways and Hong Kong Express Airline Inflight UO Magazine.
Besides that, I am presently contributing freelance articles about food and travel  to on-line portal and publications :
Time Out Penang magazine
Penang Tourist Information Portal, http://www.visitpenang.gov.my.
'Life & Times'  &  'Northern Streets' section of the New Straits Times Newspaper
I believe that Penang is blessed with a rich diverse culture through its history. This has intertwined into the cooking of the different races to come out with a diversity of cuisines unlike anywhere else in the world. I love trying out all the various cuisines and believed in sharing the experience with everyone. A Day In My Life, dining experience together with behind the scenes moments and all what's good (and bad) can be seen in this blog of mine.
Together with my family, I constantly combs Penang for the best gastronomical delights and loves promoting Penang Cuisines, Culture and Heritage. More photos can be view at my other blog http://www.penang365.com/
CONTACT :
Do feel free to contact me at:
Facebook – https://www.facebook.com/ck.lam.180
Email – cklam99@gmail.com
I would like to express my utmost appreciation to all readers & bloggers who has been supportive of What2See. For without all of you, this food blog would not have come this far. Do drop a comment or an advice as everyone of them is highly appreciated and I see all of them as an opportunity for me to improve myself.
MY BLOGROLL