BY CK Lam
Many dessert outlets are sprouting across Penang Island and one popular one is Hui Lau Shan. This Hong Kong's dessert chain journeyed to Penang with its first location in Gurney Plaza. The healthy dessert outlet has since been attracting stream of customers.
The attraction at Hui Lau Shan (HLS) is mango and its menu offers a whole wide range of selections of this tropical fruit. According to senior manager Yvonne Tan, the outlet is using two varieties of quality mango. One is the golden water lily mango from Thailand and the other from Philippines. Each variety is slightly different in flavor, with the sweetness of Thai mangoes for the ice blended and aromatic Philippines mango for topping.
At the food review, we are offered many tempting sweet desserts and not to mention some savory ones.
Fruitties Combo Series
The Fresh Fruitties Sweetie Ball with Double Juices (RM14.90) is an eye-appealing colourful dish. One can choose from a selection of juices which include watermelon, coconut, honeydew melon, mango, papaya and cantaloupe with a fragrant smell.
This dessert is presented with watermelon and mango juice together with glutinous rice balls. The natural sweetness of both the juices was delicious eaten with the chewy glutinous rice balls and the fruit balls.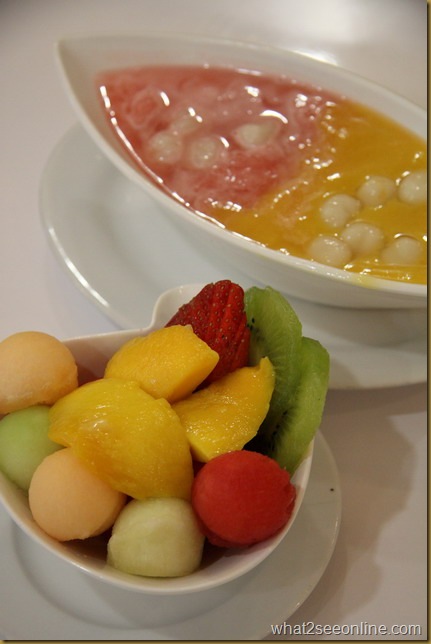 Juicy fruits – strawberry, kiwi, mango, honey dew, cantaloupe and watermelon