I was invited by Ken for dinner together with his friends from Tour2U at Restoran City Star in Taman Mayang, Petaling Jaya during my Kuala Lumpur trip. This double shop lot restaurant owned by Mr CM Wong has a nice and clean environment with one section of the restaurant air-conditioned.
Our meal consists of several recommended dishes by the owner. The first was the Charboiled Pure White Assam Fish. The fresh Fei Chow Yue at RM35 per kg was cooked in a slightly sourish and spicy soup which was kept warm under the charcoal fire.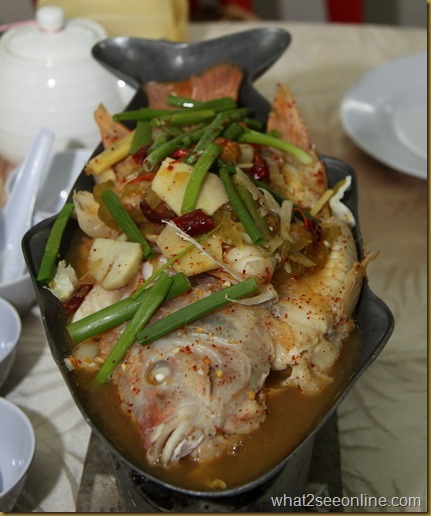 Great appetizing fish to kick start our dinner!
Tags: Array, Charcoal Fire, Chili Padi, Chinese Cuisines, Chinese Restaurant, Creamy Sauce, Fried Hor Fun, Hor Fun, Kuala Lumpur Trip, Lotus Petal, Lotus Roots, Macadamia Nuts, Mantis Prawn, Mayang, Pumpkin Taste, Recommended Dishes, Restoran City Star, Rm 50, Rm4, Salted Egg, Smooth Texture, Spare Ribs, Spicy Soup, Spring Onions, Tour2U