Posts Tagged 'Candle Light Dinner'
Looking for ways to welcome the coming double festival of the Chinese New Year & Valentine's Day? I am sure everyone is busy planning and preparing on where to celebrate with your family members and dear ones on these two special days that happen to coincide with each other. Here is a  choice of exciting offers by dining places around Georgetown.
CHINESE NEW YEAR PARTY ONBOARD LILI MARLEEN
How about by celebrating the coming Year of the Tiger on board a private yacht? There is nothing more memorable than dining in a yacht. It is an ideal way of celebrating this festival with a night of food, fun and music on a six hour cruise across the pristine seawaters of Southeast Asia in the Lili Marleen.
It departs on 15th February at 7pm from the Swettenham Pier and only return at 2am on 16th February (six-hour cruise). Entrance fee is RM388 per person which is inclusive of dinner and a welcome drink.
Contact: 017 6661042 (Farah)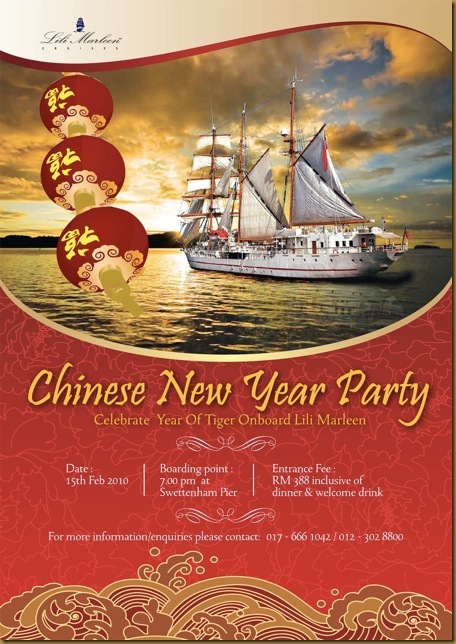 Tags: 360 Degree View, Argyll Road, Array, Bayview Hotel Georgetown, Berjaya Hotel, Candle Light Dinner, Charming Restaurant, Chinese New Year, Chinese New Year Party, Cititel Hotel, David Brown, E&O Hotel, Entrance Fee, Feringgi Grill, G Hotel Penang, Garden Cafe, Golden Sands Resort, Hi Tea, Hotel Penang, Ivy'S Kitchen, Lili Marleen, Louis Cafe, Lovely Room, New Year Eve, Penang Hill, Penang Island, Penang Road, Private Yacht, Rasa Sayang Resort And Spa, Revolving Restaurant, Sesame Restaurant, Stopover, Sweet Romance, Swettenham Pier, Tea Terrace, Valentine Gifts, Valentine S Day, Vibrant Nightlife, Welcome Drink, Year Of The Tiger