Posts Tagged 'Chardonnay'
* This article was also published in the New Straits Times (Life & Times) on 7th July 2010.
A warm welcome greeted me as I once again stepped into the charming Ferringhi Garden Restaurant located in Batu Ferringhi, Penang. Many readers came to know about this truly captivating restaurant which was first published in my blog, way back in 2008.
During that time the garden in the restaurant was not well blossomed. Fast forward by two years, the plants have now matured which subsequently makes the name of this place fits appropriately, a "restaurant within a garden"!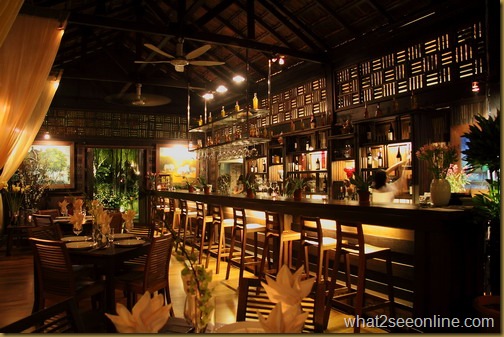 The entire indoor dining area was filled with soft yellow lights creating a warm atmosphere!
Tags: Alaskan Black Cod, Asian Flavors, Balsamic, Batu Ferringhi Penang, Cabernet Sauvignon, Chardonnay, Chilean Wines, Chocolate Souffle, Classic Wine Glasses, Course Dinner, Delicious Dips, Different Air, Earthenware Jars, Ferringhi Garden, Ferringhi Garden Restaurant, Flowering Plants, Foie Gras, Garlic Aioli, Garlic Bread, GatoNegro, Greenery, Intimate Ambiance, Italian Tomato Sauce, Japanese Kuroge-Wagyu, Japanese Wagyu, New Straits Times (Life & Times), New Straits Times (Life & Times), Norwegian clam soup, Outdoor Tables, Popula, Soothing Sounds, Subtle Blend, Tasting Menu, Warm Atmosphere, Warm Welcome, Water Features, Wine Collection, Zwiesel