Posts Tagged 'Chinese Herb'
*** The outlet has closed.
If you are in Pulau Tikus area, you are most likely to see this signboard by the road side of the bustling Burma Road. It is indicating the newly opened stall selling salted chicken (yim gouk kai). It is located just one shop away from the Bangkok Lane Mee Goreng.
This stall is the branch out from its outlet in Joo Leong Cafe in Bayan Lepas (famous for its toast bread and half boiled eggs). The chicken is wrapped in "tracing paper" and baked in two woks filled with heated coarse salt.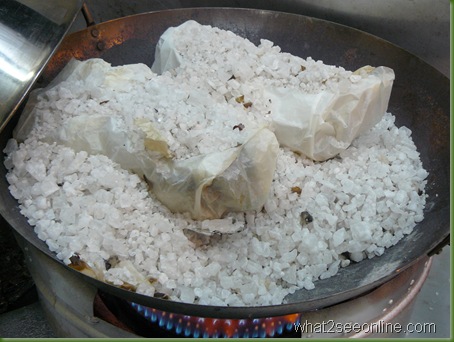 A bird cost RM22 whereas half of it goes for RM11. The chicken is quite small size, considering it as the 'kampung breed' and has less fats compare to the normal chicken. The flesh of the chicken is very tender and tasty. The combination of salt and Chinese herb of  Dong Guai gives the meat a unique flavourable aroma and it goes well with rice.
Tags: Anchovies, Blanch Vegetables, Burma Road, Chicken Leg, Chinese Herb, Coarse Salt, Delivery Services, Google, Gouk, Guai, Half Boiled Eggs, Penang, Proprietor, Pulau Tikus, Rice Side Dishes, Rm4, Salted Chicken, Side Dishes, Signboard, Toast Bread, Tracing Paper, Woks