BY CK Lam

Chee Cheong Fun is a dish of hand cut steamed flat rice noodle rolls without any filling. This little bites is a popular snack in Penang as it is simply tasty, filling and the price is reasonably cheap. The taste suits both the old and the young.
There are many Chee Cheong Fun stalls around town, the taste and texture may vary from each outlet. The rice noodles are mostly sourced from the supplier, some with springy texture while others slightly chewy. It all comes drizzled with the three basic sauces – sweet sauce (tee cheou), shrimp paste (hae ko) and chili sauce along with a dash of oil and toasted sesame seeds.
Having it drenched in the shrimp paste is Penang's specialty. You can choose to have all the sauces or request for less sauce depending on your preference. I tend to enjoy mine with all the sauces except the sweet sauce.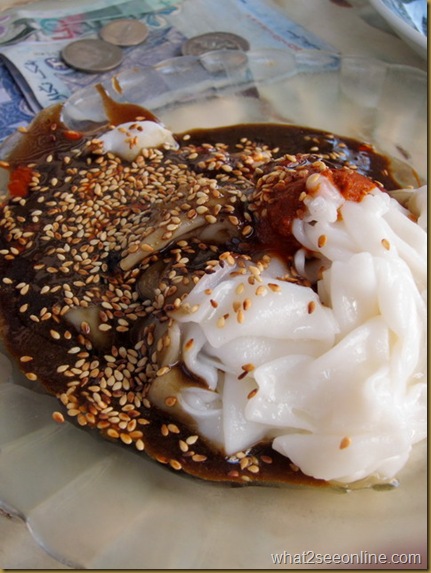 Tags: Ae, Business Hour, Chee Cheong Fun, Chili Sauce, Coffee Shop, Coffeeshop, Crowd Pleasers, Gps Coordinates, Jalan Kuala Kangsar, Kedai Kopi Sin Guat Keong, Kuta Bali Cafe, Lebu, Macalister, Macalister Lane, Macallister, New Straits Times (Life & Times), Penang, Rice Noodle, Rice Noodles, Rm2, Savory Flavor, Seow Fong Lye coffee shop, Shrimp Paste, Shrimp Sauce, Smk Hamid Khan, Sweet Sauce, Toasted Sesame Seeds