* This article was published in the New Straits Times (Northern Streets) on 1st February 2011.
Bukit Mertajam houses plenty of eateries, and Ah Meng Coffee Shop is one ideal eatery where one can find cheap and good teatime snacks. Located along Jalan Pasar, this coffee shop is famous for its Rojak Orang Hitam Putih and the Li Guang Popiah.
The ingredients of the popiah include fried bean curd, fried egg, prawn, bean sprout, crunchy lettuce and turnip. The popiah is dressed with chili and hoisin sweet sauce and topped with fried garlic oil, chili sauce and turnip-based gravy.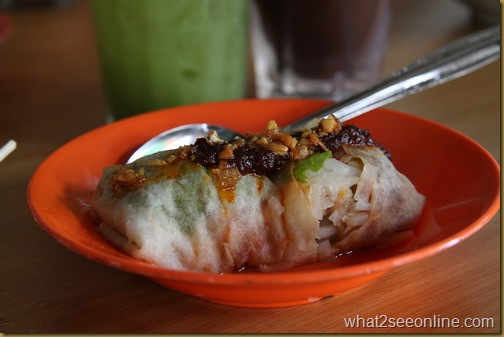 Tags: 1st February, Afternoon Snack, Ah Meng, Assam Laksa, Bukit Mertajam, Bunga Raya, Chili Paste, Chili Sauce, Chilli Paste, Coffee Shop, Coffeeshop, Eateries, Fried Bean Curd, Fried Egg, Fruit Juices, Garlic Oil, Jalan Bunga Raya, Jalan Pasar, Kedai Kopi, Kedai Kopi Ah Meng, Kopi, Li Guang, Li Guang Popiah, Mouthful, New Straits Times (Life & Times), Penang, Penang Hawker Food, Prawn, Rm3, Rojak, Rojak Orang Hitam Putih, Sour Plum, Sweet Sauce, Tea Time, Teatime Treats, Upmost