As the Earth Hour approaches, Executive Sous Chef John Brock and his culinary team of Sigi's Bar and Grill on the Beach (SBG) will be dishing up an "environmental friendly dish" for both local and international diners.
Diners will have the opportunity to savor Hungi BBQ. A Hungi, or Hangi is a New Zealand Maori cooking tradition brought to Penang for the very first time by Chef John.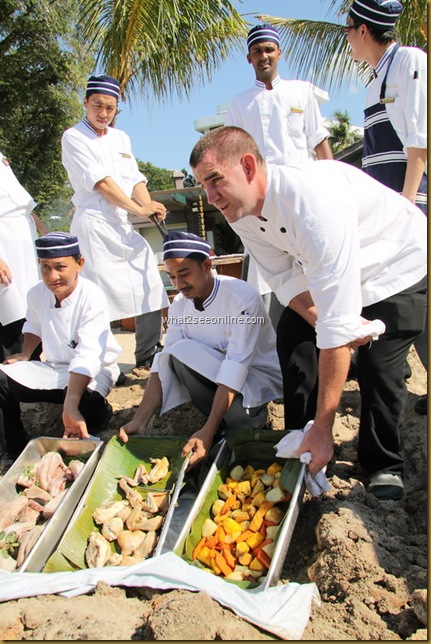 Chef John and his culinary team with their Hungi BBQ!
Tags: Aromas, Array, Banana Leaves, Batu Feringgi, BBQ, Carrots, Chef John, Chocolate Tarte, Clas, Classic Shortbread, Culinary Team, Delicious Meal, Diners, Earth Hour, Executive Sous Chef, Flavour, Gamey, Golden Sands Resort, Golden Sands Resort Penang, Hangi, Hungi BBQ, John Brock, Lamb, Mango And White Chocolate Bombe, Method Of Cooking, New Zealand Maori, Plethora, Pumpkin, Pumpkins, Rsquo, Sbg, Shortbread, Sigi, Sigi'S Bar And Grill On The Beach, Special Occasions, Tarte Au Citron, Two Feet, White Chocolate